Vossloh Group reports a strong start to 2015
Posted: 1 May 2015 | Katie Sadler, Digital Content Producer, Global Railway Review | 1 comment
Vossloh Group has reported positive results in the first three months of 2015 with sales increasing by 8.7 percent to €319.8 million.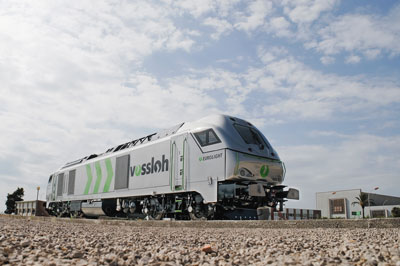 The majority of growth was reported in non-European markets with the share of Group sales from outside of Europe reaching 42.5 percent. Earnings before interest and income taxes (EBIT) of the Group 
amounted to €1.0 million in the first quarter. The decrease, compared to the prior year figure of €6.5 million, was for the most part attributable to a lower EBIT in the Core Components division as well as a slightly expanded loss compared to the prior year amount in the Transportation division.
Sales in the Core Components division, which produces high-volume industrially-manufactured products, fell slightly to €66.2 million, EBIT in the division totalled €6.4 million.
The Customized Modules division, the Group's production, installation and maintenance of individualized infrastructure modules, saw a 19.4 percent increase in sales to €115.9 million compared to €97.0 million the previous year. Q1 EBIT of the Customized Modules division rose to €5.5 million.
In the Lifecycle Solutions division, Vossloh focuses on specialized services related to the maintenance of rails and switches. Sales for this division fell slightly from €12.2 million in 2014 to €11.9 million. EBIT was slightly negative at €1.6 million in the first quarter.
Sales in the Transportation division, which includes rail vehicles as well as vehicle components and corresponding services, recorded a considerable increase in sales compared to the prior-year period. Sales in the first quarter of 2015 increased by 11.0 percent to €127.9 million, this was due to a positive sales development in the Vossloh Rail Vehicles and Vossloh Electrical Systems business units. EBIT for Q1 was negative at €5.6 million compared to the previous year at €4.7 million.
The company expects sales growth of between 3 percent and 4 percent in the current financial year and aims to achieve an EBIT margin of between 3 percent and 4 percent in 2015. 
Vossloh Group also announced its success in winning a contract for high speed fastening systems in China worth around €70 million. Vossloh Fastening Systems China will supply the route under construction from Beijing to Shenyang, a 700 km long section of the main connection from Beijing to Harbin. Speeds on the Jingshen section of the line are expected to reach 350 km/h reducing traveling times between Shenyang and Beijing from four hours to two and a half hours.