LRV approved for regional high speed line operation in Karlsruhe
The new Citylink trains of the NET 2012 series, from Vossloh Kiepe and Vossloh Rail Vehicles, have been approved for regional high speed line operation in the German city of Karlsruhe.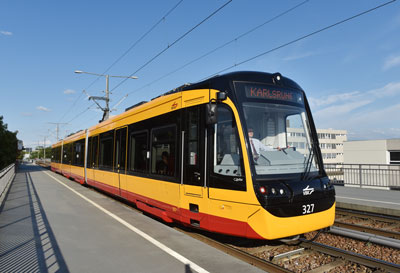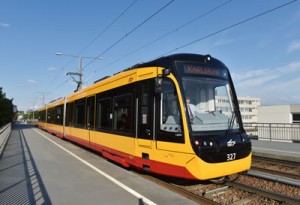 The approval, in accordance with German Regulations Governing the Construction and Operation of Railways (EBO), was passed on the 19 June 2015 by the 
Federal Railway Agency for operation, not only on the Karlsruhe Light Rail Transit Systems (BOStrab), but also the regional railway tracks of lines S1 and S11 of the Karlsruher Verkehrsverbund – Karlsruhe Transport Authority.
The vehicles have been gradually delivered and put into service on BOStrab since May 2014. Previous to the introduction, the trains were thoroughly tested in the factory of the vehicle manufacturer in Valencia and by operator Verkehrsbetriebe Karlsruhe GmbH (VBK). Approval was granted by Innotrans in Berlin four months after delivery of the first vehicle to the Karlsruhe transport company. At present, the new low-floor vehicles operate daily on the urban tramway lines in Karlsruhe.
Approval has now been granted for the LRVs to operate on the regional lines S1/S11 between Hochstetten and Bad Herrenalb / Ittersbach. The NET 2012 series can be changed from being a flexible light rail vehicle to a fast regional train reaching speeds of up to 80 km/h without passengers changing mode of transport.
The Citylink NET 2012 is a barrier-free, low-floor light rail vehicle, which has been adapted to the infrastructure of Karlsruhe and the special requirements  needed for railway operation out of the city. Despite their suitability for regional operation the vehicles have low-floor boarding areas, operating at a 340 mm platform height, which means that the passengers can board and alight at tramway level. Currently, 15 Citylink NET 2012 vehicles operate in Karlsruhe with a further 35 due for delivery by summer 2017.
Related topics
Related organisations