Transport Minister sees future of digital railway
The UK Transport Minister has been treated to a display of the technology and skills that will power the UK's future digital railway…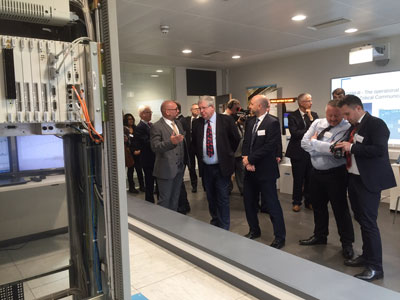 UK Transport Minister, Patrick McLoughlin, and Terry Morgan, newly appointed to develop a transport skills strategy, were treated to a display of the technology and skills that will power the UK's future digital railway at a showcase event in August.
Leading telecoms provider ADComms was one of the key partners at the launch of the newly formed National Training Academy for Rail (NTAR) in Northampton established as a joint venture between The Department for Business, Innovation and Skills (BIS) and Siemens. 
ADComms will provide all advanced telecoms skills training at the Northampton training centre when it opens in October to help address current industry shortages. With telecoms infrastructure being an essential bearer for the future of ETCS and the digital railway, the appointment of ADComms brings both rail and non-rail telecoms expertise to the NTAR academy. These telecoms skills are essential to the future of the railway, to help develop telecoms engineers of today, as well to enthuse future engineers, providing them with transferable skills for their career.  
NTAR is vital to the delivery of a digital railway infrastructure
Training courses provided by ADComms will include many aspects of telecoms infrastructure, technology and m2M integration, ranging from radio network expertise and fibre management through to IP network security and smart surveillance analytics.  Importantly, it will also use ADComms' unique FTN GSMR replica network to test and train engineers on the integration of existing and new technologies. 
"Training our rail and road workforce is essential if we want to build a transport network fit for the future," McLoughlin told an audience of rail executives and the media.
The government has pledged to create 30,000 new apprenticeships in road and rail in this parliament. Initiatives such as the NTAR are vital to the delivery of Network Rail's vision to provide a digital railway infrastructure.