Network Rail chief Mark Carne sees railway upgrades first-hand
Network Rail chief executive Mark Carne visited Northamptonshire this week to see the investment that is being made in the region…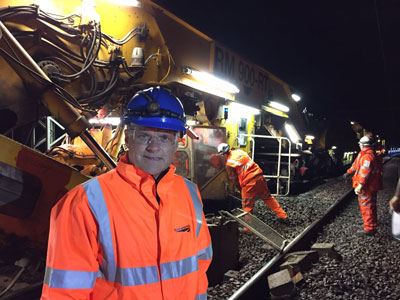 Network Rail chief executive Mark Carne visited Northamptonshire on Monday (August 24) to see the investment that is being made in the region to deliver a more reliable service for passengers. 
A High Output Ballast Cleaner – which renews the crushed rock on which the tracks and sleepers are laid – has been working on the line from Euston to the West Midlands and the north, to reduce potential track problems and provide a smoother ride for passengers.
On Monday evening and into the early hours of Tuesday morning, Mr Carne joined the team just north of Weedon for the nightshift.
High Output Ballast Cleaner helps cover double the distance per night compared with traditional methods
Mark Carne, Network Rail chief executive, said, "This work is part of a significant investment programme to deliver a better service to passengers on what is the busiest passenger and freight line in Europe.
"This is one of the most modern pieces of kit on the railway, and by using this technology, we can cover double the distance every night in comparison with traditional methods.
"I very impressed by the team, from the hard working engineers clearing the ballast to create the start point for machine, through to the skilful machine operatives and the thoughtful supervision and leadership on site."
This essential upgrade is the railway's equivalent of resurfacing a busy road. Running a safe, reliable railway depends on the track being in good condition – not just the metal rails, but the foundations on which they sit too.
The High Output Ballast Cleaner, which is half-mile long, will continue to work overnight in the area and then will move to renew other parts of the West Coast Main Line.
Network Rail currently has six trains in its high output fleet – four ballast cleaning systems and two track renewal systems, which replace the metal rails.