Refurbished fleet unveiled for ScotRail services
ScotRail has revealed the first of 40 refurbished Class 158 trains as part of a £14 million modernisation project. The £14 million refurbishment project, funded by ScotRail and jointly managed rolling stock leasing company Porterbrook, is currently being undertaken at the Knorr-Bremse RailServices' Springburn facility in Glasgow. The new trains painted in ScotRail's 'Saltire' livery, […]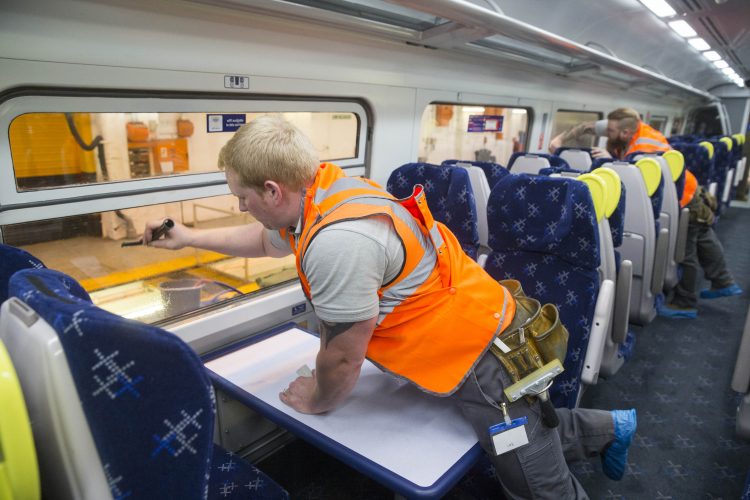 Finishing touches added to the first of 40 ScotRail refurbished Class 158 fleet.
ScotRail has revealed the first of 40 refurbished Class 158 trains as part of a £14 million modernisation project.
The £14 million refurbishment project, funded by ScotRail and jointly managed rolling stock leasing company Porterbrook, is currently being undertaken at the Knorr-Bremse RailServices' Springburn facility in Glasgow.
The new trains painted in ScotRail's 'Saltire' livery, will provide improved seating, better lighting, accessibility enhancements, at-seat power sockets for customers and upgraded carpets, finishes and toilets. In addition, the 137-seat trains will be fitted with new CCTV systems and automated passenger-counting systems.
The two-carriage Class 158 train have been upgrade with Scotland's scenic railways in mind with seats aligned alongside windows to take advantage of the region's picturesque routes.
The first carriage will leave the depot on the 02 September and will be on the track ready for the opening day of the new Borders Railway.
Commenting on the refurbished fleet, Derek Mackay, Minister for Transport and Islands said: "We are investing record amounts in Scotland's railways and, with passenger numbers increasing by more than six million last year, these refurbished trains will further improve the travel experience. I am also particularly pleased that, in the process, Scottish jobs are being supported with these improvement works delivered by workers at Knorr-Bremse RailServices' depot here in Springburn.
"Passengers will soon see more of these refurbished trains rolling out on routes all over Scotland and, fittingly, the first carriages off the production line will start their journey as part of the historic Borders Railway launch, with all the benefits that will bring for the Borders, Midlothian and Edinburgh economy."
ScotRail Alliance managing director Phil Verster added: "Completing the first refurbishment is a big moment for this exciting project, which I believe will make a real difference for passengers using Scotland's railways.
"We've listened to customers, and that feedback is reflected in the upgrades being made. Seats are better aligned alongside windows, interiors are brighter and more modern, and people can charge phones and laptops during their journeys."
Alex White, Porterbrook's Operations Director, said: "This project shows what can be achieved in terms of passenger comfort features, environment and quality. Having the work done in Springburn gives us and the industry the chance to retain and even increase a qualified local workforce, which is so critical to the rail industry as a whole."
Nick Fitzwater, managing director of Knorr-Bremse RailServices in the UK, said: "We are very proud to be involved in this major refurbishment project.
"Working closely with our customers Porterbrook and ScotRail Alliance in this way further supports our commitment to employment, growth and investment in the Springburn facility and to playing our part in supporting rail operations in Scotland."
The revamped trains will be rolled out at a rate of roughly one a month between now and April 2018 on routes across Scotland, including:
Inverness – Aberdeen/Kyle/Wick
Glasgow Queen Street – Stirling/Dunblane/Alloa
Glasgow Queen Street – Falkirk Grahamston
Glasgow Queen Street – Anniesland via Maryhill
Edinburgh – Dunblane/Perth/Glasgow Central via Shotts
Edinburgh Waverley/Glasgow Queen Street – Perth/Dundee/Aberdeen/Inverness  
Fife Circle.
Related topics
Related organisations