Borders Railway passenger service resumes after almost half a century
Borders Railway, the first domestic line to be built in the UK in over 100 years, has welcomed passengers aboard regular services operating between Edinburgh and the Scottish Borders. The Scottish Government funded £296 million Borders Railway has welcomed passengers aboard the first regular passenger service in almost half a century. The inaugural service left […]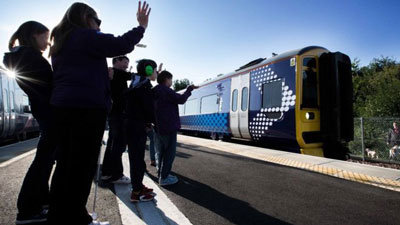 Borders Railway, the first domestic line to be built in the UK in over 100 years, has welcomed passengers aboard regular services operating between Edinburgh and the Scottish Borders.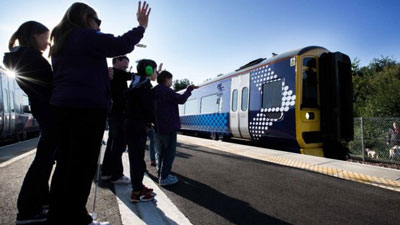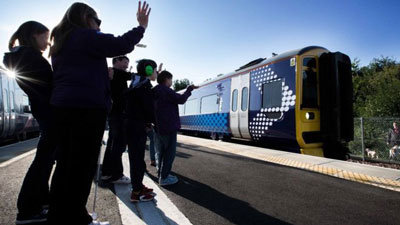 The Scottish Government funded £296 million Borders Railway has welcomed passengers aboard the first regular passenger service in almost half a century. The inaugural service left Tweedbank in the Scottish Borders at 8.45am on Sunday 06 September, bringing this long-awaited project to life 46 years after the original line, known as the Waverley Line, was torn out in the infamous Beeching cuts.
Border services are scheduled to call at Edinburgh Waverley, Brunstane and Newcraighall, followed by newly constructed stations at Shawfair, Eskbank, Newtongrange, Gnorebridge, Stow, Galashiels and Tweedbank. The service is expected to carry almost 650,000 passengers a year providing economic growth across Midlothian and the Borders.
Speaking on Sunday 06 September, Scottish Infrastructure Secretary Keith Brown said: "The Borders Railway is now open for business! Many people have waited a very long time to hear those words and I am proud and excited to be able to say them.
"The communities along the route have now been able to experience their new railway with a party to remember, and from today they will be able to make it a part of their everyday lives.
"Scotland's railways are enjoying a period of success not seen since the time that the old Waverley line was built in the Victorian era, largely thanks to the Scottish Government's record levels of investment, but also because the people of Scotland see the benefits of rail.
"The Borders Railway will be a real catalyst for growth in the Scottish Borders and Midlothian. It will open up new opportunities for work, leisure, study and investment and business for these areas which will, in turn, benefit the wider Scottish economy.
"Today promises to be a busy day for the new line and I look forward to seeing just how many people have turned up to enjoy these first ever ScotRail Borders Railway services."
Borders Railway is expected to carry almost 650,000 passengers a year
The new Borders Railway, constructed by Network Rail, consists of seven new stations joined together by thirty miles of new track. At its peak over 1,100 people were working on the project, refurbishing or building 137 bridges and placing over 1000 rails across almost 100,000 sleepers.
ScotRail Alliance Managing Director, Phil Verster said: "This is an amazing moment. This is not just the opening of a new railway line; it is the opening up of a large part of our country to incredible new opportunities to grow and to prosper.
"For fifty years, people in the Borders have campaigned to have their rail service reintroduced. I'm sure that many people thought over that time that the opening weekend would never happen. I am so pleased that we have delivered this new line and so excited about what it will do for the area and for Scotland.
Mark Carne, Chief Executive, Network Rail added: "I am enormously proud today to see 30 miles of new railway and seven new stations added to Britain's rail network. The Borders Railway will connect communities along the route to the rest of the country in a way they have not enjoyed in almost half a century. I look forward to seeing Midlothian and the Scottish Borders prosper economically and socially from this new route in the coming years.
Dominic Booth, Managing Director of Abellio UK, which operates the ScotRail franchise, concluded: "The new line is a remarkable achievement, and a powerful illustration of the importance of a modern railway serving people's transport and lifestyle needs in the 21st century.
"Scotland's railways face an exciting future, and nowhere is that better illustrated today than in the Borders."
Her Majesty the Queen will officially open the line on Wednesday 09 September 2015.