Tender issued for Glasgow Queen Street station rebuild
An invitation to tender has been issued by Network Rail for the £112 million transformation of Glasgow Queen Street station. With passenger numbers set to grow by nearly 10 million over the next 15 years, Network Rail has issued a £112 million tender for the transformation of Glasgow Queen Street station, Scotland's third busiest railway […]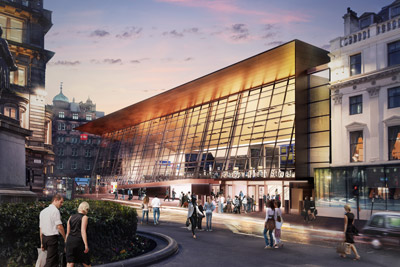 An invitation to tender has been issued by Network Rail for the £112 million transformation of Glasgow Queen Street station.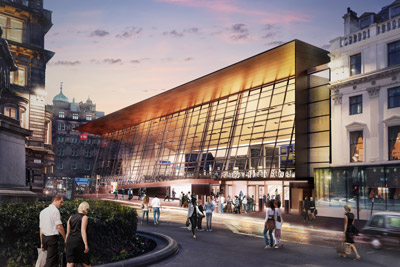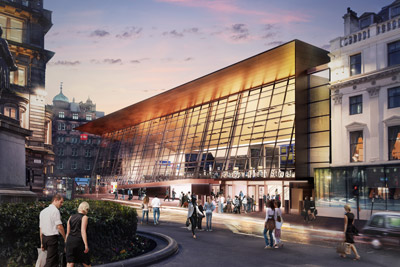 With passenger numbers set to grow by nearly 10 million over the next 15 years, Network Rail has issued a £112 million tender for the transformation of Glasgow Queen Street station, Scotland's third busiest railway station.
Glasgow Queen Street station expected to accommodate 28 million passengers by 2030
In order to handle the expected 28 million passengers by 2030, the station's platforms and concourse will need to be extended to accommodate the 70 faster, longer and greener Hitachi Class 385 electric trains due to be rolled out on Scottish railways in December 2018 as part of the £742m Edinburgh-Glasgow Improvement Programme (EGIP).
According to Network Rail the redevelopment will create a landmark, modern station which reflects Queen Street's role as a gateway to the city. Due to for completion in 2019, the station will be an important departure point for travellers to the north and east.
The rebuild project will include:
Demolition of the Millennium Hotel's 1970s extension above the station
Demolition of Consort House
Removal of the canopy over the footway in Dundas Street
Redevelopment of the station concourse, south and west façades, including reconstruction and extension of station buildings
Improved station entrances at Dundas Street and George Square
New lighting and public address systems
New ticket office and staff accommodation block
Construction of extended platforms to accommodate eight-car trains.
Phil Verster, managing director of the ScotRail Alliance, said: "This is another tremendously exciting step forward in our plans to transform Scotland's railway. We recently announced our largest ever Train Improvement Plan, which will deliver new trains, thousands of extra seats and great facilities such as at-seat power points and enhanced Wi-Fi across our fleet.
"This is another tremendously exciting step forward in our plans to transform Scotland's railway"
"Today's we are confirming that one of our busiest and most important stations will also be transformed, making it larger and with much better facilities for our growing number of customers.
"Scotland's railway is about more than running metal boxes up and down the tracks. We are all about using trains to connect people with jobs, businesses with customers and communities with more opportunities to grow and prosper. The changes we are making in the coming years will make sure that we have a modern fleet, running on improved infrastructure to and from world-class stations. That is a rail network we can all be proud of."
Rodger Querns, programme director for the Edinburgh Glasgow Improvement Programme, added: "This is further good progress in the delivery of EGIP. We have already successfully completed a number of key elements of EGIP including the electrification of the Cumbernauld line and Haymarket station and are on the ground across the Edinburgh-Glasgow railway preparing the line for electrification and building Edinburgh Gateway Interchange at Gogar, where we are also making good progress.
"We look forward to delivering this challenging, but exciting project that will realise huge improvements for passengers."
Once the tendering exercise is complete, the contract will be awarded in autumn 2016.
Related topics
Related organisations