Installation of a static train weighing system at Hitachi North Pole depot
A static weighing system (PTW 500-VB2X) which can provide individual wheel weights across the total train has been installed at Hitachi Rail Europe's new North Pole Depot…
This depot will form an integral part of the 'Intercity Express Programme' (IEP) with trains operating on the East Coast Main Line and Great Western Main Line.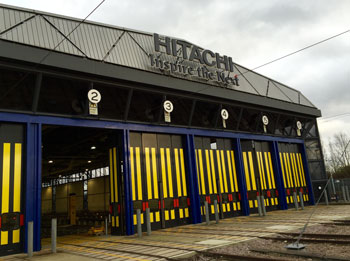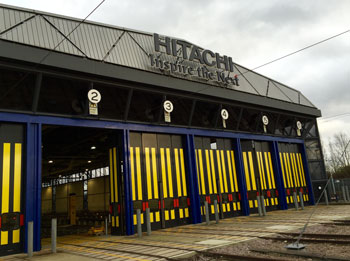 The North Pole Depot was previously used for Eurostar's fleet of trains up until 2007. Hitachi have now reopened the site to provide maintenance to a variety of different trainsets such as the Class 800 and Class 801 Hitachi Super Express trains.
Weighwell's portable patented systems have a basework length of only 500mm and can be installed without major modifications to the existing rail (such as drilling or welding). This allows a full train to be weighed instantaneously with minimal installation time.
The PTW 500-VB2X interfaces with Weighwell's in house developed train weighing software. The ptwX software is used to provide the weighing results for the range of static train weighing systems. Designed with the end user in mind and used as a diagnostic reporting tool the software can provide the wheel load information for all 8 wheels (4 axles) at the same time within set parameters (tolerances).
The ptwX software can ultimately help enhance the role that train engineers and depot managers have carried out for decades, with information that can allow for greater efficiency and precision. This is beneficial in fleet refurbishment and modification.
The Portable Train Weigher (PTW) can weigh single axles, bogies and the total train and is the first ever mobile equipment used for testing the weight of railway rolling stock. For further information about Weighwell's PTW's please visit www.weighwell.com or telephone +44 (0) 114 2699955.