German train crash leaves ten dead and numerous injured
German train crash reports suggest ten passengers have been killed and numerous injured following a head-on collision between two passenger trains in the German state of Bavaria. The incident occurred at 6:48 am local time on Tuesday 09 February 2016, on a single-track line between Kolbermoor and Bad Aibling in the southern German state of […]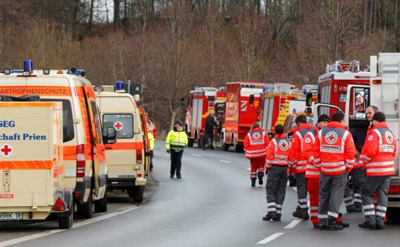 Image: Reuters
German train crash reports suggest ten passengers have been killed and numerous injured following a head-on collision between two passenger trains in the German state of Bavaria.
The incident occurred at 6:48 am local time on Tuesday 09 February 2016, on a single-track line between Kolbermoor and Bad Aibling in the southern German state of Bavaria. According to reports two Meridian passenger trains, part of the Transdev group, struck each other in a head-on collision approximately 60 kilometres (37 miles) from Munich. Upon collision one train derailed and several carriages of that train overturned.
Cause of German train crash not yet known
"The current toll is four dead, 15 critically injured, 40 severely injured and a total of 100 injured," said police spokesman Martin Winkler in the town of Rosenheim. Since Winkler made this announcement the death toll has increased to ten victims, according to the AFP news agency.
"The accident was a huge shock to us. We do everything to help travellers, families and employees," said Bernd Rosenbusch, Managing Director of the Bavarian Oberland Bahn GmbH, which operates Meridian.
The cause of the collision is not yet known, however there has been speculation about the automatic braking system and human error. A police investigation has now begun following the recovery of two of the three data recorders on board the trains.