All-in-one converter successfully commissioned for Končar DEMU prototype
The main task of this particular converter is to transform the incoming power from the diesel-generator power pack into traction power by the propulsion converter part…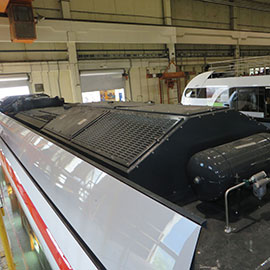 The main task of this particular converter is to transform the incoming power from the diesel-generator power pack into traction power by the propulsion converter part.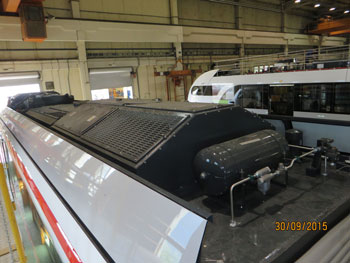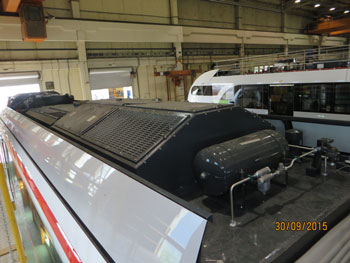 The auxiliary power supply converter part supplies energy to the on-board network and the vehicle battery directly from the same DC link. Energy recuperated during braking is fed back into the DC link, where it may be consumed by the auxiliary systems or dissipated into heat by the braking chopper.
All propulsion and auxiliary supply equipment as well as cooling system are integrated into a roof-mounted converter box, while a high degree of functional integration as well as maintenance cost optimized design are realized. The increased power density of this converter enables compact and light-weighted vehicle design.
The converter is similar to the KONTRAC GP 550 DE, the leaflet for which can be downloaded from our website.
For more than two years, three converters KONTRAC GP 550 DE have worked effectively on a DEMU prototype produced by another Croatian manufacturer.
Aside from its drive, the converter's traction control unit is responsible for controlling a diesel-generator power pack.
Other versions of the converter can be used on diesel-electric shunting locomotives.
Our activities in Electric traction
In the field of electric transportation we have been operating a number of years from the founding of the Company. Thanks to intensive development, monitoring global trends and constant technological progress we have developed into a reputable and experienced manufacturer of electronic equipment and the required partner in different activities related to the railway tracks.
We develop, design, produce and maintain a wide variety of electronic equipment for electric locomotives, electric trains, passenger cars and trams.
Our products are the result of our own knowledge and great experience, based on consistent compliance with all professional norms, as well as branch and rigorous international standards.
The result is high quality, high reliability in operation and their resistance to unfavourable working environment which guarantees a long service life with maximum availability.