Eurotunnel increases capacity at Folkestone terminal
Eurotunnel has expanded capacity at its Folkestone terminal facility in Kent, as part of the groups Terminal 2015 project. Eurotunnel has opened five new freight access lanes and a new check-in facility for trucks at its terminal in Folkestone. It is hoped the addition will increase traffic flow through the terminal by up to 300 […]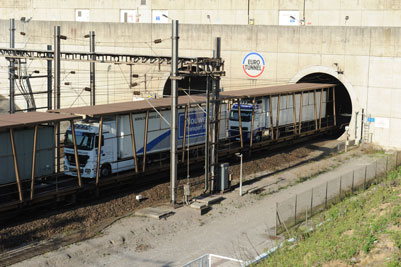 © Eurotunnel
Eurotunnel has expanded capacity at its Folkestone terminal facility in Kent, as part of the groups Terminal 2015 project.
Eurotunnel has opened five new freight access lanes and a new check-in facility for trucks at its terminal in Folkestone. It is hoped the addition will increase traffic flow through the terminal by up to 300 vehicles per hour.
The development forms part of Eurotunnel's Terminal 2015 project, which includes terminal expansion at both Folkestone and Coquelles, increasing the rate of flow and the purchase of three new freight shuttles.
Capacity at Eurotunnel Folkstone check-in facility increases to 300 vehicles per hour
The five new access lanes have been designed to speed traffic off the M20 motorway at junction 11A improving motoring conditions for local communities. The new check-in facility has a capacity of up to 300 vehicles per hour and will enable Eurotunnel to process enough trucks to fill a shuttle departure every seven and a half minutes, once the new shuttles come into service from later in 2016.
Commenting on the new facility, Jacques Gounon, Chairman and Chief Executive Officer of Groupe Eurotunnel SE, said: "The UK economy continues to grow and trade with Europe is a huge part of that. This new access and check-in facility for trucks will ensure that Eurotunnel is in good shape to carry the commercial loads that the UK economy generates and will help keep traffic flowing in Kent".