New "formation flying" trains to make railway repairs faster and cheaper
Network Rail will soon be trialling new "formation flying" engineering trains that will not only save the company £250,000 per week but passengers will also benefit from faster trains and less disruptions.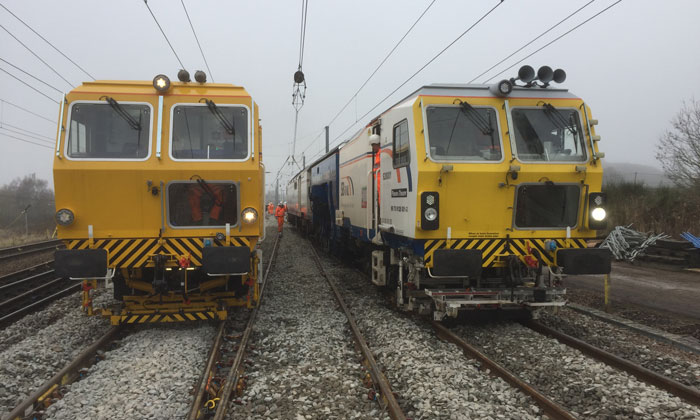 "Formation flying" engineering trains are a world first and they will be used to repair and renew 20,000 miles of railway track. They were first used successfully at Sandy in Bedfordshire on a set of railway switches and crossings which were being replaced as part of the Railway Upgrade Plan.
Saving time and money
This is good news for Network Rail and passengers alike as this will vastly shorten the necessary delays that take place after major rail upgrades. The delays are due to speed restrictions which are enforced after fresh track is laid down as the ballast (the stones beneath the track that give support) needs to settle and form a solid foundation. These delays mean Network Rail have to pay compensation to the train operators for the financial impact of this disruption.
However, the new "formation flying" trains will simultaneously deliver tamping and dynamic track stabilisation (DTS) which simulates the equivalent of 200 trains passing over the tracks consecutively. This means that passenger trains will be able to start using the tracks immediately at speeds of as high as 125mph – saving thousands of pounds of compensation and decreasing passenger delays.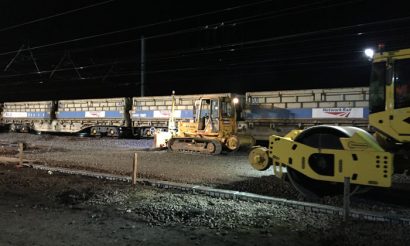 "Formation flying" and the 'high speed handback' programme
This is part of Network Rail's 'highspeed handback' campaign which focuses on saving time and money during engineering works by increasing focus on accuracy and quality and 'getting things right first time'. Furthermore, the work at Sandy was Network Rail's first time using high speed handback on a crossing – the most complex part of a switching and crossing layout.
Network Rail's programme director for track, Steve Featherstone said: "We monitored the work at Sandy during the weekend and had progressive assurance throughout to make sure we built everything to the highest possible quality levels. This allowed trains to run at 125mph right away – the first time we've achieved this on a crossing. Ultimately this is about passengers. Our new techniques mean we can handback the railway safely, on time and with no speed restrictions meaning passengers get to their destination on time and as planned."