Hitachi to create 250 jobs at new rail depot
Hitachi Rail Europe which is building and maintaining the new intercity trains, aims to employ 250 people at its new Doncaster depot.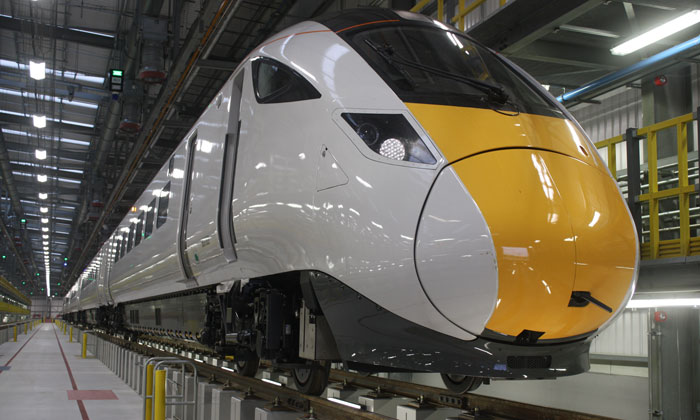 Intercity train at the Doncaster depot
Hitachi Rail Europe (HRE), which is building and maintaining the new pioneering intercity trains, is on schedule to employ 250 people at its new £80 million Doncaster depot.
The company is hiring a brand-new team to maintain its new fleets of intercity trains (which are inspired by Japanese bullet trains) that are due to start running next year and will connect northern cities to London and Scotland.
The depot and its employees
The depot (which is situated on a 11,000m site that has housed trains since 1878) has the primary role of making sure each train, having carried thousands of people a day, is ready to offer passengers the same service the next day. This means the Doncaster depot needs staff that can do everything from maintaining the engines to keeping the trains clean.
So far, 60 people have joined the team, with the next wave of recruitment underway, focussing on hiring local engineers with relevant experience. The depot is also looking to take on new train maintenance apprentices to start in September 2017.
Doncaster
Doncaster was chosen as the site for the new depot (which will be maintaining the intercity express trains for the next 27-and-a-half years) due to its close proximity to the East Coast mainline and its local expertise.
"We are proud to carry on Doncaster's rich rail history by building a modern depot which will soon service new trains carrying millions of passengers," said Geoff Elliott, General Manager for East Coast maintenance. "Our newly built depot is a clean and modern environment which will break all stereotypes. We are offering people the opportunity to work on 21st century trains using industry-leading technology and tailored training."
Modern trains
The new depot will be home to 65 of VirginTrains' class 800 Azuma (coming into service on the east coast in 2018), and 19 trains for Transpeninne Express. The new trains will deliver a step change in passenger experience, offering people more seats and modern technology.
HRE's train manufacturing facility at Newton Aycliffe, County Durham, will build the new fleets of intercity trains, while the Doncaster depot will be one of the first calling points for newly-built trains, before testing on the network begins.
"In a thriving industry attracting more and more passengers every year, we're going to need more and more people to maintain our busy network and new investment in trains," added Rail Minister Paul Maynard MP. "I welcome Hitachi Rail's recruitment drive as it demonstrates the commitment government, train operators and manufacturers have in the future of our railways."
To apply for a job at the new Doncaster depot click here.