Bern railway station expansion work begins
Work to expand Bern's main station – the Zukunft Bahnhof Bern Project – is underway.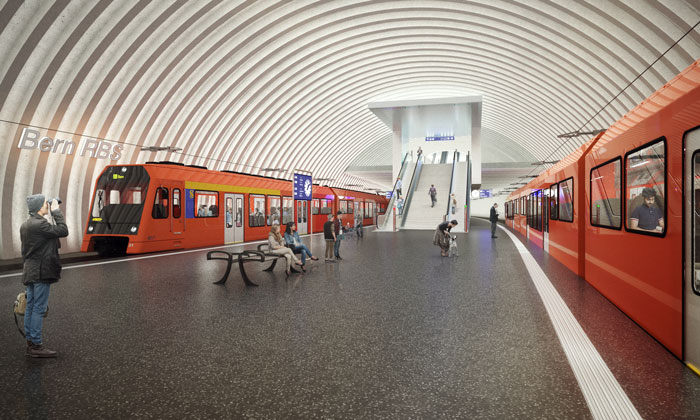 The new incarnation of Bern station is designed to be 'bigger, lighter and friendlier' and provide a substantial capacity increase to the currently crammed infrastructure. Its platforms and passageways are being enlarged, providing more space for passengers. The connecting routes around the station, into the city and to the tram and bus stops are also set to be overhauled, making them shorter and easier to use. The new RBS station will also enable RBS to further expand its S-Bahn services.
The work will encompass two major expansion phases. Between 2017 and 2025, SBB and RBS will be working on two large projects:
Firstly, the construction of a new low RBS station and a new additional SBB underpass, the "Mitte" underpass, with a second main entrance in the Bubenberg Centre and an entrance from the Länggasse area. The new RBS station with four tracks will be built under the existing tracks 2 to 7 of the SBB station and connected to the existing Schanztunnel by a new connecting tunnel.
Three installation sites will be required for the construction, namely: Hirschenpark (between Bierhübeli and Tiefenaustrasse), Eilgutareal (north of the SBB station) and Laupenstrasse (between Belpstrasse and Schlösslistrasse). The City of Bern will also be reorganising the traffic arrangements around the station and in the neighbouring districts in conjunction with this expansion work. This stage is expected to be completed by 2025.
In the second stage, SBB plans to expand the station out to the sides. This will include four additional platforms under the "Grosse Schanze", enabling further expansion of regional and long-distance services. This work is expected to begin around 2035.
Bernhard Egger-Jenzer, Construction, Traffic and Energy Director of the Canton of Berne, has welcomed the realisation of 10 years of planning to begin the expansion.
The construction costs for the RBS station amount to 614 million francs, with the SBB project costs amounting to 360 million francs.
Related topics
Related organisations
Related regions