STLC in Russia orders high-capacity freight cars
The State Transport Leasing Company (STLC) in Russia has ordered five, 122 freight cars from the United Wagon Company (UWC).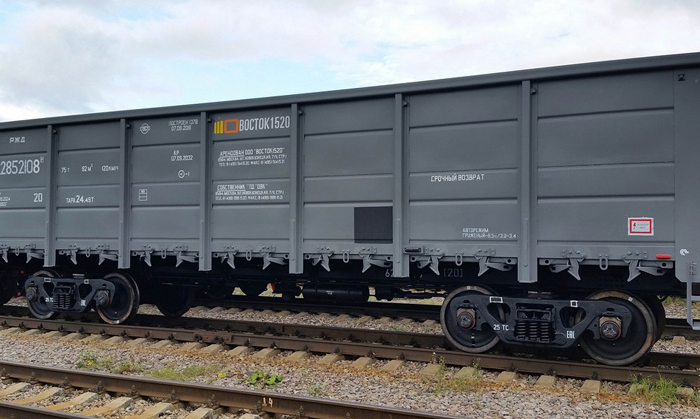 UWC will be supplying two types of vehicle to STLC, which will be manufactured at the Tikhvin Freight Car Building Plant (which is a main production facility of United Wagon Company) and Vostok 1520 transport company (which is part of First Heavy Haul Company), will be the lessee of the freight cars for the term of 15 years.
The freight cars have an enhanced load capacity of 75-77 tons (compared to 70 tons for standard freight cars in Russia), and the use of 1-VM loading gauge and increased internal dimensions give an increase of capacity to 98m3 (compared to 86m3 in standard freight cars).
Bogies with an axle load of 25 tons provide efficient transportation, using full load capacity when carrying varying densities of cargo.
The freight cars also have an extended scheduled maintenance period of every 800,000km or eight years.
Demand for modern freight cars is particularly strong"
"We are facing significant demand for up-to-date railway equipment from real sector companies," said Anton Borisevich, First Deputy CEO of STLC. "Demand for modern freight cars is particularly strong. The deal with UWC will strengthen the leading positions of our company on the railway leasing market and provide our customers with new rolling stock."
The State Transport Leasing Company (STLC) is the largest leasing company in Russia. It leases equipment for various transportation as well as special equipment to domestic transport enterprises, and also makes investments into the development of Russia's transport infrastructure.
The Russian Federation, represented by the Russian Ministry of Transport, is the company's sole shareholder.  
Related topics
Related organisations
Related regions