Crossrail awards GBRf with maintenance contract
GB Railfreight (GBRf) – the third largest rail freight operator in the UK – has won the Crossrail Yellow Plant contract, agreeing a five-year deal with the potential for a three-year extension.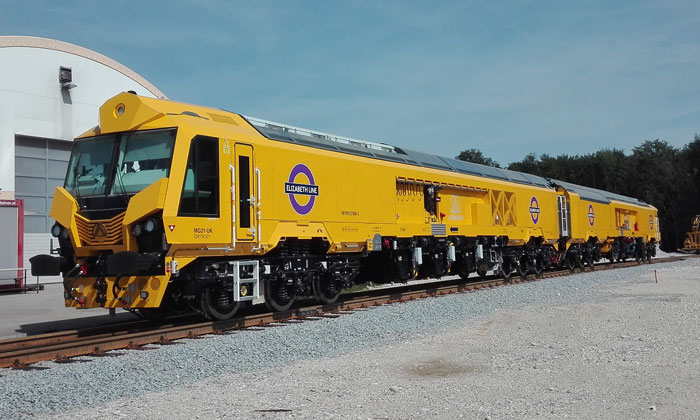 Linsinger MG31 - Elizabeth line maintenance train
The contract will see GBRf operating and maintaining Yellow Plant for Transport for London (TfL) on the newly-built Crossrail Elizabeth line.
Delivering this contract will see GBRf's involvement in the Crossrail construction project come full circle. In 2012 GBRf supported the Crossrail tunnel excavation, taking London spoil from Westbourne Park to Northfleet. The product ended up on Wallasea Island, creating Europe's largest man-made wetland nature reserve which supports GBRf's sustainability goals. Since then, GBRf has been heavily involved in the Crossrail tunnel fit-out, supplying up to 27 drivers a day, seven days a week.
The contract demonstrates just how far GBRf has come in recent years. Operating and maintaining Yellow Plant sees the company diversify from its traditional business model of 'hook and haul', to a more varied business model. This enhances and progresses GBRf's vision for growth in both its engineering and operations.
John Smith, Managing Director of GBRf said: "Having been heavily involved with delivery of construction rail services for the project, the award of a longer-term operations and maintenance contract shows just how valued GBRf's contribution has been. Whilst mainly invisible to those above ground Crossrail is a civil engineering marvel that will transform London's transport system. I'm extremely proud of GBRf's involvement with the whole venture."
Mark Wyborn, GBRf's Infrastructure General Manager, commented: "…this paves the way for diversification and sustainability. It is a great opportunity to continue the hard work on the Elizabeth line and knowing that GBRf has contributed to each phase of this huge infrastructure build and will continue to do so, is fantastic for us."
The contract is expected to begin in September 2018.