Rail Alliance Middle East launched at Rail Live 2018
Rail Alliance is offering support to their members who want to take advantage of the growing pipeline of opportunities in the Middle East.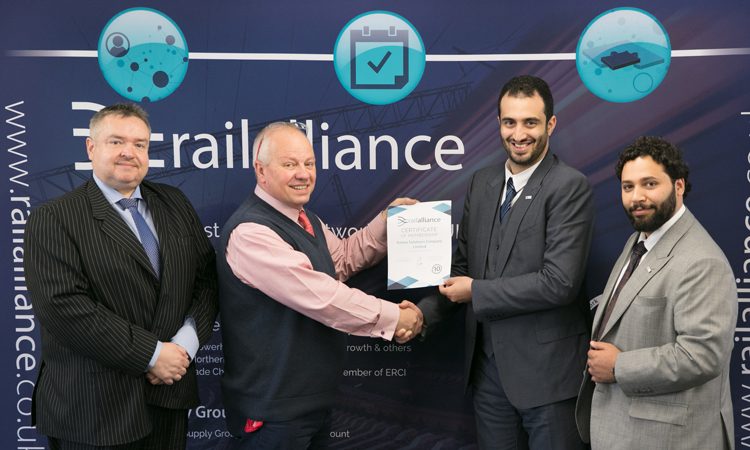 Left to right: MD, Future Solutions Ltd, Andy Hammond, Colin Flack, Chairman Rail Alliance, Chairman, Future Solutions Ltd, HRH Prince Abdulaziz Bin Faisel Al Saud and Group CEO, Future Solutions Ltd, Mohammed Mutabagani
Launched at Rail Live 2018, Rail Alliance Middle East offers any Rail Alliance member direct access to the exciting growth market in the Middle East, with all the advantages that a local partner or sponsor offers organisations outside of the UAE.  
The Rail Alliance is a business-to-business networking organisation for the rail industry, providing its 400+ members with impartial information and advice whilst signposting the wide range of assistance that is available.
The initiative is headed by Chairman, HRH Prince Abdulaziz Bin Faisel Al Saud, Group CEO, Mohammed Mutabagani and Managing Director, Andrew Hammond of Future Solutions.
Although members are offered information, knowledge and connections from across the Middle East, the project has a particular focus on Saudi Arabia.
Colin Flack, Chairman at the Rail Alliance, said: "Helping businesses to thrive is at the heart of what we do as an organisation and to be able to offer members a real route into working on Middle East rail projects is a great prospect. We have a number of members who have expressed an interest in doing more business in the Middle East and working with MD Andy Hammond and Group CEO Mohammed Mutabagani (based in Riyadh) allows us to create the platform and environment that facilitates the relationship needed to do business there."
Members based in the UK with aspirations to do more in the Middle East were able to introduce their organisations to HRH Prince Abdulaziz Bin Faisal Al Saud and Future Solutions Ltd. XRAIL Group and Pauley, established UK members, have already taken advantage of the newly stated Rail Alliance Middle East, both signing agreements with Future Rail to explore potential business opportunities.