Aberdeen-Dyce rail enhancements near successful completion
More frequent services, offering more seats, will soon be operating across Scotland as a result of the government-funded rail improvements.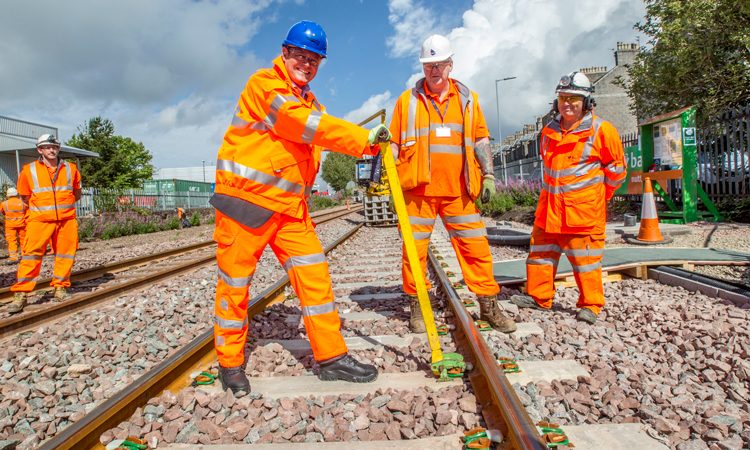 Engineering work to double-track six miles of railway between Dyce and Aberdeen is nearing completion with the last section of new track clipped into place, ahead of the reopening of the rail line for customers on 20 August 2018.
Since Network Rail started work in May 2018, over 12 miles of new rails have been laid across 13,200 new sleepers and 66,000 tonnes of stone ballast.
Signalling systems along the line have been upgraded during the 14-week closure and five bridges have been either replaced or refurbished.
Over the next three weeks, engineers will be putting the finishing touches to the new infrastructure – packing the track into the ballast and checking the alignment before completing the work on new signalling systems.
These upgrades between Aberdeen and Dyce are being delivered as part of the Scottish Government-funded Aberdeen-Inverness Improvement Project to reduce journey times and increase route capacity.
Once complete, the project will provide a day-time hourly commuter service between Inverness and Elgin by December 2018 and a half hourly service between Aberdeen and Inverurie by the end of 2019. In the long term this will increase end-to-end services to an hourly frequency.
Alex Hynes, ScotRail Alliance Managing Director, said: "The Aberdeen-Inverness Improvement Project will deliver more seats on more frequent services – opening up new job and leisure opportunities for communities in the North East.
"Over the last three months our engineers have been working around-the-clock to deliver a complex programme of works as quickly as possible for our customers and we appreciate the understanding they, and our line-side neighbours, have shown during this vital enhancement programme.
"Across the country we are currently delivering the biggest investment programme in our rail network since Victorian times as we work with the government to build the best railway Scotland has ever had."