Bombardier opens high-tech laboratory in Mannheim for railway technology
Baden-Württemberg Transport Minister, Winfried Hermann, and the Thuringian Environment Minister, Anja Siegesmund, attended the opening ceremony.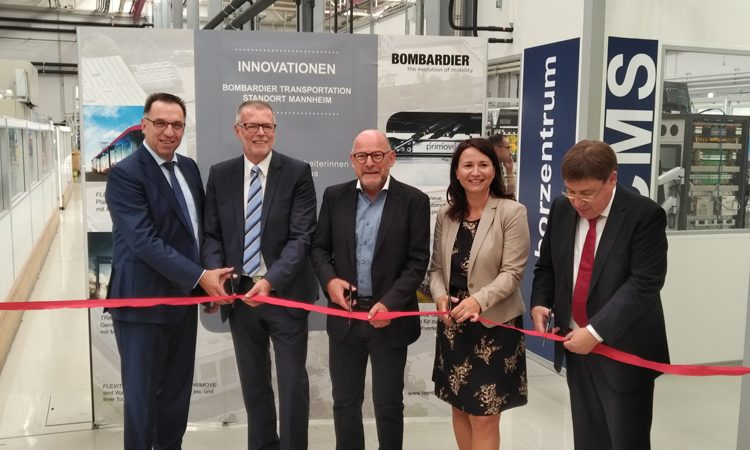 Michael Fohrer, Managing Director of Bombardier Transportation Germany, Michael Hirschböck, Site Manager, Mannheim, Bombardier Transportation, Winfried Hermann, Transport Minister, Baden-Württemberg, Anja Siegesmund, Minister of the Environment, Thuringia, and Lothar Quast, Mayor of Mannheim, open the new high-tech laboratory in Mannheim
Bombardier Transportation has opened a new high-tech laboratory in Mannheim which will develop and test pioneering electronics systems for train control (TCMS) and signalling and control systems.
This means Mannheim will be witness to the programming of trains and work on the digital network for communication between the train and track section for greater safety in rail transport. Both are key elements in the digitisation strategy of the federal government and the rail industry.
Bombardier has invested approximately €1 million into the new laboratory. The groups involved in the construction were, for the most part, businesses from Mannheim and the surrounding area. Around 40 employees now have an ultra-modern workplace in the IT laboratory, which boasts around 1,140m2 of floorspace.
"The laboratory for vehicle control and signalling technology offers all possibilities to make the rail transport of the future safer and more efficient," said Transport Minister, Winfried Hermann. "In Germany we are at the precipice of a dramatic technological revolution – including in railways. Digitisation of railways will allow us to respond adequately to the automation of road transport and to secure competitiveness within Europe."
"Mannheim is a site with a long tradition that has for over 100 years been set apart by its pioneering spirit. The company is banking on this location. We are making targeted investments, in future technologies," says Michael Fohrer, Managing Director of Bombardier Transportation Germany. "With the high-tech laboratory we are vigorously driving digitalisation forward."
During the inauguration, visitors were able to learn more about Mannheim's contribution to Bombardier's new battery-powered train. The battery components for the BOMBARDIER TALENT 3-type train come from Mannheim: The train can run quietly and cleanly on non-electrified sections of track and is the first battery-powered train to be newly developed in Europe for more than 60 years. It will go into operation in 2019, with the testing phase beginning in September 2018.