Australasian and UK rail industries to develop a new partnership
The RIA, with 220 rail companies in membership, and the ARA, with 140 members, will together promote a closer working relationship.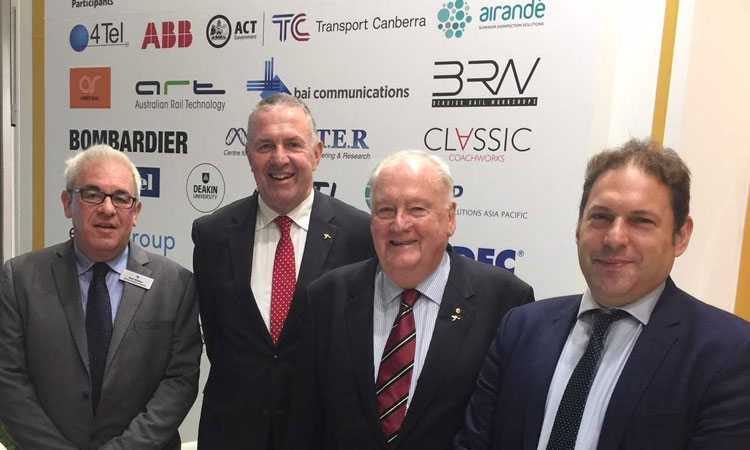 RIA Exports Director Neil Walker, ARA Chief Executive Danny Broad, ARA Chair Bob Herbert, and RIA Chief Executive Darren Caplan at the ARA stand in InnoTrans
At the Australasian Railway Association (ARA) stall in InnoTrans (Hall 10.2, Stand 212), it has been announced that the ARA and the UK's Railway Industry Association (RIA) are forming a Memorandum of Understanding (MoU) on behalf of their various memberships, which will see both organisations working closer together.
Both ARA and RIA have many common interests and deliver common services in their markets, which face similar opportunities and challenges. Both the UK and Australia rail sectors are expected to see continued significant investment in rail, but face issues recruiting new entrants into the rail industry, upskilling those already in the sector, smoothing out rail funding pipelines and promoting the benefits of rail as a key driver of economic growth.
A number of multinational rail companies are members of both trade organisations already.
Darren Caplan, Chief Executive of the UK RIA, said: "This partnership with the Australasian Railway Association is a truly exciting opportunity for RIA and the UK rail industry, in the months ahead. It is a great example of an industry reaching out to fellow colleagues across the globe, to develop new trade links and cooperation, which is especially important as the UK prepares to leave the EU. I see lots of common ground to form this working relationship, for the benefit of both RIA, ARA and our respective members – and we look forward to collaborating in the very near future!"
Danny Broad, Chief Executive Officer of ARA, said: "Future engagement with the Railway Industry Association of the United Kingdom will provide potential benefits and opportunities for all members of the Australasian Railway Association including our passenger and freight operators, track managers, suppliers, manufacturers, consultants and contractors. It's an extremely exciting time to be in the rail industry in Australia and New Zealand with investment in new rail infrastructure and rolling stock over the next 15 years forecast to be around $100 billion. Working and collaborating with the RIA on common industry challenges will provide consolidation of ideas for possible suitable outcomes for the rail sectors covered by both the ARA and RIA."