One in seven drivers dice with death at level crossings every day, research says
To help increase awareness of the dangers at level crossings, Network Rail is partnering with British Transport Police on a national safety campaign targeted at drivers.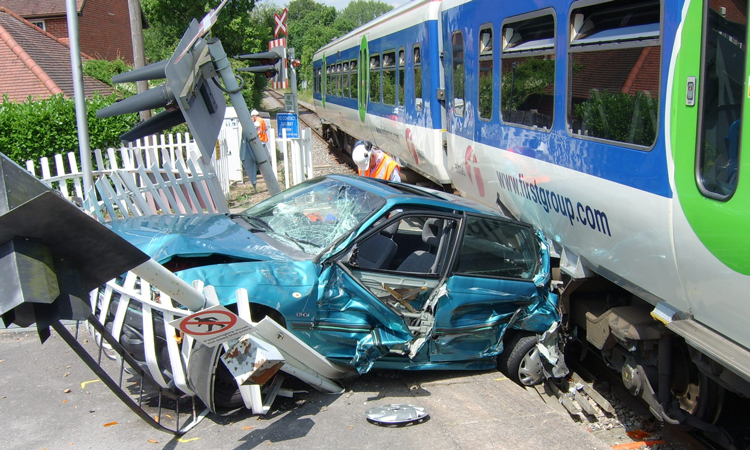 New research from Network Rail has revealed that one in seven drivers report they wouldn't wait for the barrier or gate to open at a level crossing before driving their vehicle over.
In the last five years alone, six people have lost their lives in vehicles at level crossings, with many more being hurt and injured.
Every week, approximately 46 incidents involving vehicles occur at level crossings across the country; lorries are the most common specific vehicle type involved, with cars the second most common at 28 per cent.
The study, carried out by Populus on behalf of Network Rail, revealed a lack of knowledge may be to blame, with almost a third of UK drivers reporting they have never been taught how to use a level crossing.
While Britain has the safest rail network in Europe, level crossings are one of the biggest public safety risks. Network Rail's 20,000 miles of track is crossed by around 3,800 public and private road crossings.
Nearly half of the drivers surveyed felt their passengers were the biggest distraction while driving. The thought of arriving late also distracted nearly a third of drivers, with exams or a hospital appointment being the top reasons for not waiting at a crossing.
The findings showed that one in nine (11 per cent) drivers would go straight over a level crossing if they had checked the train timetable and believed no train was coming. This is particularly dangerous as freight trains are not listed on the public timetable and often pass through level crossings at speeds of up to 100mph.
Allan Spence, Head of Public and Passenger Safety at Network Rail, said: "It's clear that there is a lack of knowledge around how dangerous railway crossings can be. We are seeing drivers take risks at level crossings every day – putting themselves and others in danger.
"We are investing more than £100 million to improve level crossing safety across Britain as part of the Railway Upgrade Plan, but we need drivers to obey the law at level crossings. By staying behind the barrier until it is safe to cross and paying attention to the warnings at level crossings, we can all keep ourselves and those in our vehicles out of harm's way."
Network Rail's level crossing and community safety managers will continue to work with British Transport Police officers and raise awareness of level crossing safety across the rail network. They will hold safety events and encourage people to stay alert and avoid distractions when using a level crossing.
Inspector Becky Warren from British Transport Police, said: "We run a number of activities at level crossings throughout the UK. We want to raise awareness, help to educate drivers in how best to use level crossings and the potential dangers and consequences of deliberate miss use. Failing to stop when the lights come on, or worse still when the barriers start to come down, not only puts you and others in danger but are also offences which will lead to prosecution."