Opinsta signs agreements with Dubai government for bespoke apps
Opinsta and the Dubai Entity, Road and Transport Authority (RTA), have announced they've signed a Memorandum of Understanding (MoU) on the 27 November 2018 for the development of two of Opinsta's enterprise-grade apps that will support the transport infrastructure in Dubai.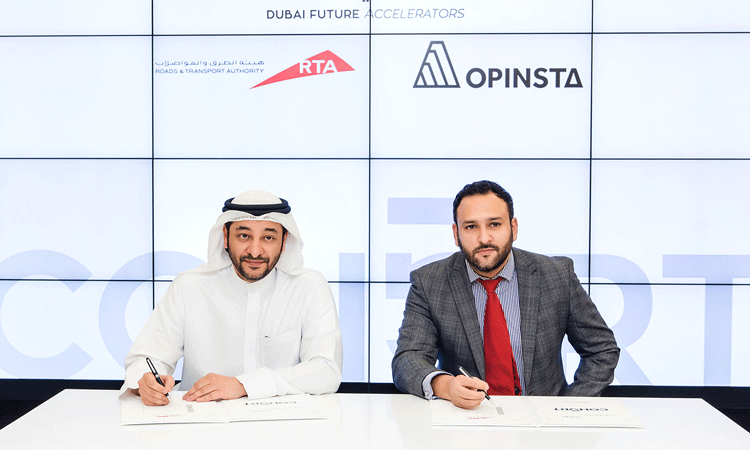 The MoU, signed by the CEO of Strategy and Corporate Governance at the Entity, Road and Transport Authority (RTA), Nasser Hamad Bu Shahab, demonstrates the Dubai government's intention to co-create and use these new and bespoke developed apps by Opinsta to support their mission to find pioneering solutions for local and national challenges.
This partnership has come about from the exclusive Dubai Future Accelerators Program, set up in 2016 by His Highness Sheikh Hamdan bin Mohammed bin Rashid al Maktoum, which facilitates partnerships between entrepreneurs, private sector organisations and government entities to co-create solutions. It is extremely difficult to be accepted on to and is highly subscribed to by many world-class innovation organisations and start-ups, with only 42 out of 620 applicants from around the world being selected.
The programme takes accepted companies through a rigorous process of collaboration and innovative development. Companies meet with government partners and learn about areas of opportunity to begin to brainstorm ideas to form their proposals. After pitching to the relevant stakeholders and management within RTA, the decision is made whether to sign the MoU and to progress with implementing the proposed solution.
Following this massive accomplishment for Opinsta, CEO Raj Verma, said: "I am extremely proud of this achievement. It was my honour to sign an MoU with the CEO of Strategy and Corporate Governance at the Roads and Transport Authority, Nasser Hamad Bu Shahab. I'd like to thank everyone who has supported Opinsta on this journey and our amazing team. There are exciting times ahead as we develop our projects in the Middle East and we're proud to support the Dubai government with their consistent drive for world-class innovation and excellence."
The two parties will work together to develop these solutions as, like the RTA, Opinsta attaches great importance to collaboration, and developing bespoke, specific apps that to meet the requirements of its clients.  
Nasser Hamad Bu Shahab, CEO  of Strategy and Corporate Governance at the Roads and Transport Authority, said: "Our government departments understand the importance of innovation, future technology and those organisations at the forefront of that. The Future Accelerator Program allows us to tap into what could be the technology to catapult Dubai's aviation and travel, trade, financial services and technology to the next level. This platform allows us, in a short time, to work with some of the brightest and most creative minds from around the world." He added: "We are thrilled to have signed an MoU with Opinsta and look forward to the outcomes of its innovative solutions."
Saeed Al Falasi, The Executive Director, Platforms of the Future at Dubai Future Foundation, added: "The Dubai Future Accelerator Program aims to pair government entities with companies to co create the future for the advancement of humanity. The collaboration between RTA and Opinsta is a testament to our aim and efforts and is seen as a step closer towards shaping a better future for Dubai through the adoption of technologies." 
Related topics
Related organisations
Related people