KEP successfully tests P80 point machine with new turnout design
Field tests have seen KEP's P80 point machine complete 1,200 switches, while operating in extreme temperatures, without fault.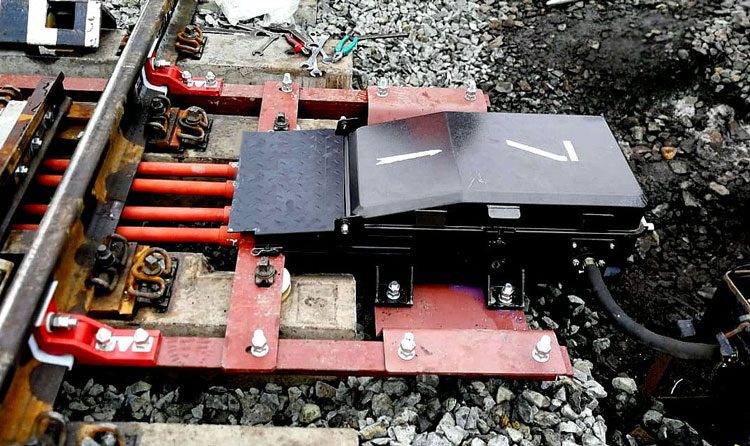 Alstom's JV KazElektroPrivod (KEP) has successfully tested its wayside electromechanical P80 point machine during a six month period on a newly installed turnout at Shiderty station, Ekibastuz, in the Pavlodar region of Kazakhstan.
The tests were conducted in cooperation with KTZ (Kazakhstan Railways) and PMK (Prommashkomplekt) who developed the new design of turnout. KEP has since received official confirmation from the KTZ Ekibastuz signalling and communication department that during the field tests from November 2018 to May 2019 no technical deviations were detected. P80 functioned through a severe winter operating in temperatures lower than -40ºC and completed 1,200 switches. The P80's mechanism is protected from ice and snow and does not require heating, thus making it highly suited for operation in severe weather conditions.
"We are very pleased that these field tests proved our point machines' flexibility and adaptability to Kazakhstan's environment and maintenance conditions, as well as demonstrated uninterrupted operation and absolute compatibility with the upgraded turnouts manufactured by our partner in Kazakhstan," commented Guillaume Tritter, Alstom Managing Director for Kazakhstan.
Manufactured in Almaty, Alstom's P80 point machine is designed to operate requiring little or very low levels of maintenance while providing the highest level of safety. P80 is suitable for mainlines, metro and freight lines. The point machine is certified for speeds up to 180km/h and a lifetime of up to 20 years of commercial operation. So far, Alstom has installed more than 50,000 point machines in over 30 countries worldwide.
KEP was formed in 2013 and was awarded a €90 million contract for the supply of 10,000 point machines to KTZ over a 10 year period. Today KEP is owned 50/50 by Alstom and Special Oil Projects. To date 2,820 point machines have been in commercial operation and have proven to be reliable and suitable for Kazakhstan's rail lines.
Related organisations
Related regions
Related people