Scottish Government announces funding for local rail developments
Eight communities across Scotland are set to benefit from a share of the Local Rail Development Fund (LRDF) which is thought to be worth £817,000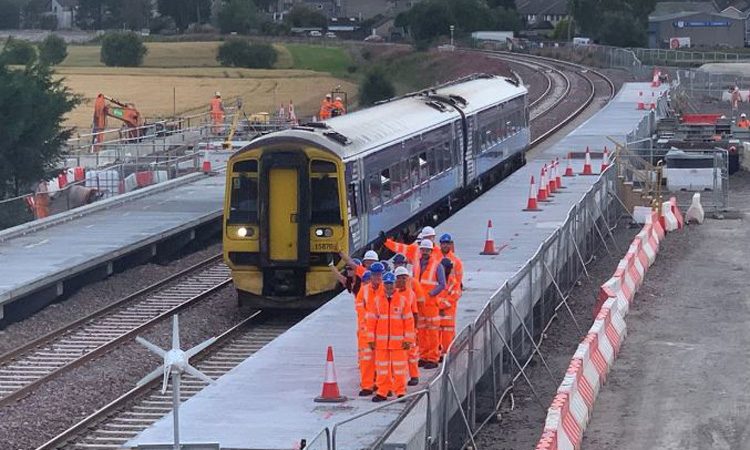 The Cabinet Secretary, Michael Matheson, announced the funding during a visit to see progress at the £14.5 million Kintore station site, which is being progressed by Transport Scotland and Network Rail, in partnership with Nestrans and Aberdeenshire Council. The station project forms part of the wider £330 million Aberdeen – Inverness Improvements project, the latest phase of which has seen the line between Aberdeen and Inverurie double tracked.
LRDF supports local and regional initiatives through grants to fund appraisal work; this will help applicants develop an evidence base for potential improvements. The Cabinet Secretary was joined in Kintore by Nestrans who have secured funding to take forward appraisal work for a project which explores cross-Aberdeen rail travel.
Matheson said: "Since 2007, we have demonstrated our commitment to Scotland's railway by investing around £8 billion in rail services and infrastructure. Future investment partly relies on local communities embracing the potential it offers and, in turn, bringing forward new ideas.
"We know that the costs of transport appraisal can be a significant barrier, but appraisals are a fundamental evidence-gathering step when considering transport issues and opportunities. The Local Rail Development Fund responds to this by providing practical help for local stakeholders and I am pleased that the Fund remains popular with those looking to secure local benefits.
"This visit to the Kintore station site today allows me to see at first hand progress on this project and the latest phase of the double tracking that is fundamental to the overall Aberdeen – Inverness Improvement programme. This is a fitting setting to announce the latest round of Local Rail Development Fund awards."
Margaret Bochel, Nestrans Vice-Chair welcomed the announcement of the funding. She said: "The recent investment in dualling the majority of the line between Inverurie and Aberdeen has provided the opportunity for enhanced local rail service, and significant increase in rail capacity. This grant will give Nestrans and partners the opportunity to consider whether further rail stations would enhance this local rail service. Our work at Kintore has proved a successful model of regional partnership working with Transport Scotland, Network Rail, and ScotRail, and we hope that we'll be able to continue this positive relationship with this next piece of work"
The LRDF has attracted strong interest, with the most recent eight awards bringing the total amount allocated to around £1.5 million of an available £2 million funding pot.