Heathrow's vision for future rail access
Heathrow Airport today sets out a new rail strategy with a view to improving passenger experience…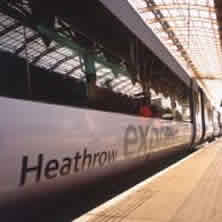 Heathrow Airport today sets out a new rail strategy with a view to improving passenger experience, taking cars off the road and placing the economic benefits of the UK's only hub airport at the centre of the national rail network.
Heathrow has already invested more than £1 billion on Heathrow Express and other rail services, and has committed £230 million to Crossrail, making the airport operator the largest private sector contributor to the project.
The new programme, called the Wider Heathrow Integrated Rail Strategy (WHIRS), will seek to build on previous investment by ensuring that Heathrow has fast, frequent and comfortable rail connections for passengers, whilst at the same time significantly improving links to the surrounding community to get the local economy moving.
The first priority for WHIRS will be to ensure that Crossrail provides passenger-friendly, convenient connections for Heathrow travellers. The airport operator will also continue to invest in enhancements to Heathrow Express to ensure that passengers continue to have the choice of a premium, express service into central London.
There is a strong case for rail access from the west of Heathrow, providing a direct connection with Slough, Reading and the Thames Valley for the first time, as well as the South West via the Great Western Mainline.
Heathrow also welcomes the Government's plan for placing the airport at the heart of the UK's high speed rail network, and will work with them to ensure high speed rail is properly linked to Heathrow and the regional rail network for the benefit of all passengers.
The concept of connecting the airport to the south has long been mooted and Heathrow remains supportive of a southern connection to the airport. Following an internal strategic review, however, and in consultation with airlines and other key stakeholders, Heathrow has decided to withdraw its Transport and Works Act Order application for the proposed Airtrack link to Staines.
Heathrow's surface access director Allan Gregory said:
"We've listened to the concerns raised by local residents about the impact of Airtrack and worked hard to try and resolve issues including level crossings. Despite our considerable efforts, including discussions with Network Rail and the local highway authorities, we have been unable to develop solutions which fully address these concerns.
"The project has also been affected by the comprehensive spending review and the likelihood that there will be no public sector funding support forthcoming for the project. We have considered alternative scheme options and how these might be funded but in the absence of securing additional funding in the current economic climate, Heathrow Airport is unable to justify meeting the full cost of the project and unfortunately we have no option but to withdraw Airtrack's Transport and Works Act Order application.
"Improving rail services to Heathrow is one of our key objectives. We have a once in a lifetime opportunity to link Heathrow with high speed rail, Crossrail and the national rail network and we look forward to working with the Department for Transport, Network Rail and others to realise this vision, which will deliver benefits for businesses in the Thames Valley, London and the whole UK economy."