Bombardier Transportation presents TRAXX AC locomotive with Last Mile Diesel at Transport Logistic
Bombardier Transportation to premiere a BOMBARDIER TRAXX AC locomotive…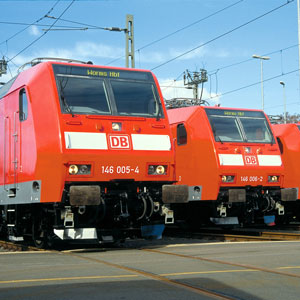 Bombardier TRAXX P160 AC locomotives
At this year's Transport Logistic trade fair from May 10 to 13, Bombardier Transportation will premiere a BOMBARDIER TRAXX AC locomotive with a supplementary diesel motor.
Known as Last Mile Diesel, this innovation removes the need to change locomotives in shunting areas of a rail network. The new technology offers increased flexibility, for example at stations where a system change takes place, at terminals, at ports or on construction sites. There the last metres of rail, the so-called last mile, are generally not electrified. Until now shunting locomotives have had to replace electric locomotives in these areas to close the gap. The new TRAXX AC Locomotive with Last Mile Diesel enables the seamless transport of goods by rail.
Ake Wennberg, President of Locomotives and Equipment division, Bombardier Transportation, said: "Our Last Mile locomotive offers real innovation, giving rise to whole new possibilities in rail freight transportation. I am certain that this new product will impress our customers." The first five locomotives of this type were already ordered by the leasing firm Railpool at the end of last year. "This fulfills a long-held wish for us, the market has been waiting for this opportunity. We are convinced by this solution," explained Dr Walter Breinl, Managing Director of Railpool GmbH.
Three of these five locomotives will be leased by the Swiss private rail firm BLS Cargo. "The Last Mile Locomotive enables us to develop new markets for BLS Cargo," said Dr. Dirk Stahl, CEO of BLS Cargo. "We can offer customers in Switzerland, Germany and Austria innovative and above all efficient rail logistics solutions."
The TRAXX AC locomotive with Last Mile Diesel is a further development of the tried and tested TRAXX platform that has been developed in close co-operation with our customers. Furthermore, the development of the Last Mile Diesel is based on the positive experiences with the two-system BOMBARDIER ALP 45 Dual Power locomotive in the North American market. As a next step, the development of a TRAXX DC locomotive with a Last Mile Diesel engine is planned.
The TRAXX product family is designed for both the transport of freight as well as passengers on national and international routes on all networks. It is available in three electrical variants (for multi-system, AC and DC locomotives), as well as in a diesel-electric variant. All TRAXX locomotives are distinguished by their modular design and their highly efficient BOMBARDIER MITRAC drive and control systems. In total, more than 1,500 TRAXX locomotives have been sold.
Related organisations
Related people