New viaduct section inched into place
A major section of the new viaduct being built outside London Bridge was inched into place over Borough High Street during the bank holiday weekend…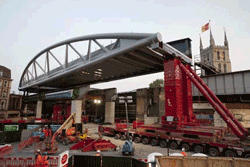 A major section of the new viaduct being built outside London Bridge was inched into place over Borough High Street during the bank holiday weekend.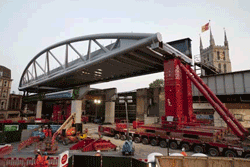 Work on the 1,200-tonne, 72m long bridge, started at 2am on Saturday morning, 30 April, and the road re-opened to traffic at 5am on Tuesday. The complicated engineering operation saw the bridge travel an average of 7mm per second using specialist machinery before being lowered into place.
Borough Viaduct is only two tracks wide yet is used by all services from London Bridge to Charing Cross and Blackfriars. The project to widen the viaduct to four tracks will unlock this major bottleneck and create two dedicated tracks for Thameslink route services.
The extra tracks will be linked into the network once London Bridge itself has been redeveloped, in 2018.
Martin Jurkowski, Network Rail's project director leading the London Bridge redevelopment, said that finding space for the widened viaduct in such a densely built up urban area had been a challenge; in some places the viaduct is no more than 16cm away from existing buildings.
The 507m-long viaduct is nestled between listed buildings, its foundations strategically located to avoid London Underground tunnels and the popular Borough Market that has been partly relocated.
Mr Jurkowski added: "With the new bridge becoming a significant new local landmark we wanted to involve the community in its construction. We hosted hundreds of people over the weekend onboard a Routemaster bus which was positioned to provide a great view of the completion of this important milestone for the Thameslink Programme."
With the bridge now in place, the final part of the installation will be completed as planned this coming weekend (7 and 8 May), during which time Borough High Street will be closed again.
You can view timelapse footage here.
Related organisations
Related people