Rolling stock sale complete
Metro has welcomed the successful sale of rolling stock to the rail leasing company Porterbrook, which will release funding for local transport development schemes…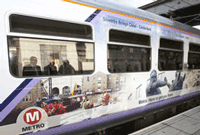 Metro has welcomed the successful sale of rolling stock to the rail leasing company Porterbrook, which will release funding for local transport development schemes.
Porterbrook has purchased Metro's seven Class 155 units and 10 Class 144 Centre Cars, which will continue to be lease by Northern until at least the end of the current franchise in 2013.
"Financed by Metro in the 1980s when it funded British Rail to run local services, these well-travelled units will require significant modification in future years, and Porterbrook are better placed to manage and fund this process," said Metro Chairman Cllr Chris Greaves.
Local rail improvements
"This deal keeps the carriages in Northern's hands until the end of the franchise while at the same time releasing significant funding for local rail improvements which could include the proposed new stations at Kirkstall Forge, Apperley Bridge and Low Moor."
A station at Low Moor station between Bradford and Halifax would mean better services on the Caldervale Line and new stations with large park-and-ride facilities at Kirkstall Forge and Apperley Bridge would reduce congestion on the busy road corridor between Bradford and Leeds.
Kirkstall Forge and Apperley Bridge stations are key elements of the Leeds Rail Growth Package. As required by the Government as part of the Comprehensive Spending Review, Metro is currently preparing a revised bid for the Leeds Rail Growth Package that will be submitted this summer.
The proceeds from this sale of Metro's carriages will be added to the £4m already secured from Kirkstall Forge site developer CEG as part of the increased local contribution the Government is seeking through the Spending Review.
Related topics
Related people