Etihad Rail boosts its fleet size with order for 38 EMD locomotives
The contract with Progress Rail will see Etihad Rail's fleet expand from seven locomotives to 45 for use on the UAE nationwide rail network.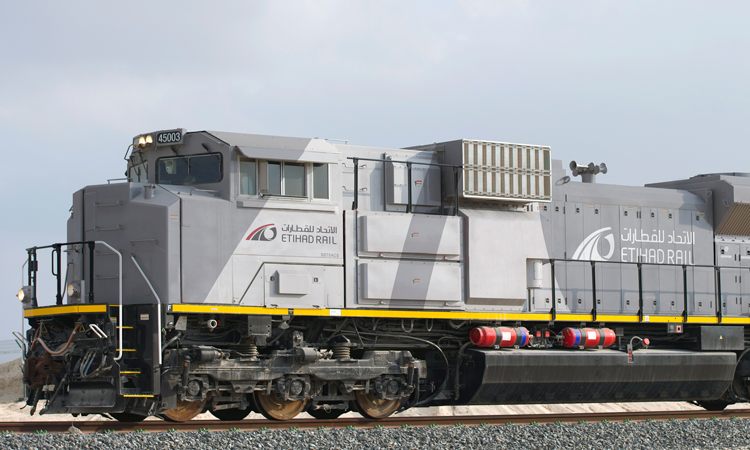 Credit: Etihad Rail
The Board of Directors of the United Arab Emirates' (UAE) national railway developer and operator, Etihad Rail, has announced that Progress Rail Locomotive Inc. has been awarded the contract for the supply of 38 new locomotives. The order will significantly boost the capabilities of the operator's fleet, increasing from seven locomotives to 45.
Progress Rail will be responsible for the design, manufacture, testing and shipping of 38 EMD locomotives, which will be designed to withstand the high temperatures and humidity of the gulf region. The new fleet will feature a state-of-the-art air filtration system, that has the capabilities to filter sand from the air intake, and pulse cleaning systems, ensuring consistently effective and efficient operations while passing through desert areas.
The contract was signed by the CEO of Etihad Rail, Shadi Malak, and Progress Rail's Regional Director of International Sales for North Africa and Middle East, Ramzi Imad. The signing was witnessed by His Highness Sheikh Theyab bin Mohamed bin Zayed Al Nahyan – Member of the Executive Council, Chairman of Abu Dhabi Crown Prince's Court and Chairman of Etihad Rail.
H.H. Sheikh Theyab bin Mohamed said: "In the year of '2020: Towards the next 50', we are moving forward in completing all the necessary components for this national project that contributes to the UAE's progress and enhances the country's prestigious global position. The cutting-edge fleet of locomotives will raise the bar in the transportation system and logistics services in the country and increase the network's annual capacity to more than 60 million tonnes, compared to the current annual capacity of approximately 7.2 million tonnes. Our advanced locomotives fleet will serve the needs of the customers of this national strategic project, which will transform the transport industry in the country and the region."
Featuring powerful motors that are supported by advanced emission reduction technology, the new fleet will accommodate carbon emission reductions of 70-80 per cent. Since becoming operational in 2016, Etihad Rail's current fleet, consisting of seven locomotives, has contributed to decreasing the number of truck trips on the roads of Al Dhafrah by more than one million. As the new locomotives are designed to haul a 100-wagon train, they are able to replace 5,600 daily on-road truck trips.