Bombardier Transportation announces proposed downsizing at its Derby facility
Bombardier Transportation announced that it will initiate a 90 day statutory consultation process to downsize…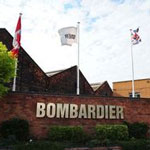 Bombardier Transportation today announced that it will initiate a 90 day statutory consultation process to downsize and adjust capacity at its train manufacturing facility in Derby. Employees were told today that there was not sufficient workload going forward to keep the facility operating at current levels. A total of 446 permanent jobs and 983 temporary contract staff would be affected in the proposed readjustment.
Derby is now completing orders for metro cars for London Underground's SubSurface Lines and Victoria Line and Turbostar diesel multiple units for London Midland. All but the SubSurface Lines contract will be complete by the end of September this year.
"The culmination and successful delivery of these projects and the loss of the Thameslink contract ,which would have secured workload at this site, means that it is inevitable that we must adjust capacity in line with economic reality," said Francis Paonessa, President of the Passengers Division for the UK.
"We regret this outcome but without new orders we cannot maintain the current level of employment and activity at Derby" Francis Paonessa added. "Over the next 90 days together with employee representatives we will work with individual employees to ensure the best possible outcome for our people,"
Bombardier acquired the Derby site from Daimler Chrysler in 2001 and over the ten year period has invested substantially in creating a state-of-the-art train manufacturing facility and centre of excellence for high technology rail engineering. The company has also successfully exported UK-built trains. Derby site currently employs 3000 and supports an estimated 12,000 employees in its supply chain.
Colin S Walton, Chairman of Bombardier Transportation in the UK, commented: "The loss of the Thameslink contract, has forced us to conduct a UK-wide review of our operations. This announcement today is part of an on-going process."
Related organisations
Related people