The Future of Rail Freight: 'We have to invest in the future viability of rail freight transport'
As part of Global Railway Review's 'The Future of Rail Freight' series, Dr. Clemens Först, spokesperson of the Board of Rail Cargo Austria AG, discusses how the sector can increase the modal share for rail freight in Europe and how investments in technology can help to achieve this.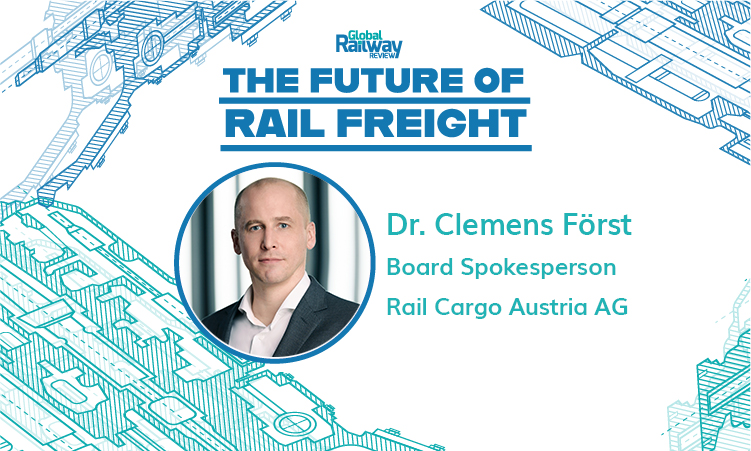 What more can rail freight do in its contribution to the decarbonisation of the industry?
Our goal is to shift more freight on to rails. For the next 10+ years, rail is going to be the only way we can reconcile climate targets with economic growth and, thus, with the growth of the transport sector. In Austria, we are currently one of the benchmark countries when it comes to modal share. However, freight transport is primarily an international business, which is why we are committed to increasing the modal split in Europe to at least match the Austrian level of around 30 per cent. For this to happen, three essential conditions need to be met:
First of all, we, as a railway sector, need to do our homework and offer superior rail logistics services that are easily accessible. A lot has been done over the last years, but we are aware that there is still ample room for improvement. We, the Rail Cargo Group, are getting the company ready to take on the future – for instance, with our ground-breaking digitalisation initiatives and by equipping our fleet of freight wagons with modern sensor technology
We need a uniform, high-performance rail infrastructure throughout Europe that has enough capacities for rail freight transport – this means uniform power grids, train control systems and no regional distinctions in regulations
We need a level economic playing field – this means we need cost transparency between rail and road, which includes what are known as external costs like CO2 emissions, road safety and traffic jams.
Only once all three of these conditions have been met can the modal share of rail freight transport be increased and CO2 emissions reduced.
To what extent do you think the rail freight industry needs to make quantum leaps in technology to improve activities?
Europe needs to invest in three technologies that will facilitate a step-change in the modal shift:
Digital Automatic Coupling to enhance productivity, especially for single wagon loads
Digital infrastructure management to create the capacity needed and allow for fast, international train path ordering
A digital platform for all rail freight related data.
Within the Rail Freight Forward Coalition, the European rail freight sector is currently proposing these three technologies for the European Green Deal.
What must the rail freight industry concentrate on in order to claim more of the supply chain and become more competitive?
The impact of the slump in rail freight volumes brought on by the coronaviris crisis already exceeds that of the financial crisis. The European rail freight transport industry never fully recovered from the losses that ensued; rail transport has been virtually stagnant for the past 15 years (long before the pandemic). If we want to stand a chance against trucks, we have to invest in the future viability of rail freight transport, especially in the fields of digitalisation and innovation, as well as in training our train drivers and acquiring modern multi-system locomotives.
What do you think will be the lasting effects of the COVID-19 crisis on the rail freight industry?
Currently, the risk that the crisis could significantly weaken the sector is real, and we are aware that many of its participants may not survive the drop in volumes and revenues. It is a transport policy imperative to avoid this scenario since rail has already proven its systemic relevance during this crisis and is going to be the only climate-friendly mode of land transport for the next 10+ years. Decisive measures on European and national levels are urgently needed!
What key themes and trends will be important for Rail Cargo Austria to focus on to help support the future of the rail freight sector?
We firmly expect that mobility and freight transport will pick up again once we have emerged from the coronavirus crisis. Only when the transport industry becomes healthier and more climate friendly will we enjoy better air quality, less noise pollution, fewer traffic jams and, simultaneously, much greater mobility than we have today. This is why rail freight transport is crucial for reaching the European environmental and climate targets.
We see ourselves as the logistical backbone of the Austrian economy. We were able to fulfil our great responsibility as a transport company by keeping our network services up and running despite huge losses in sales revenues. We hope that more state funding opportunities will soon be made available for rail freight transport.
Dr. Clemens Först has been the spokesperson of the Board of Rail Cargo Austria AG since 2017. Prior to this, he worked in a variety of roles across the rail freight industry, including at DB Cargo, Rail Cargo Hungaria and ÖBB-Holding, among others. Clemens holds a doctorate in Theoretical Physics and Chemistry from the University of Vienna and the Clausthal University of Technology.