In-Depth Focus – Rail: Thinking Long-Term
This In-Depth Focus explores several project developments and what long-term opportunities lie ahead for the rail industry, including: the importance of financing; what changes must take place to recover and move forward from the coronavirus pandemic; the continued approach to tackling climate change; and focusing on how improving passenger and rail freight services will be crucial for rail's longevity.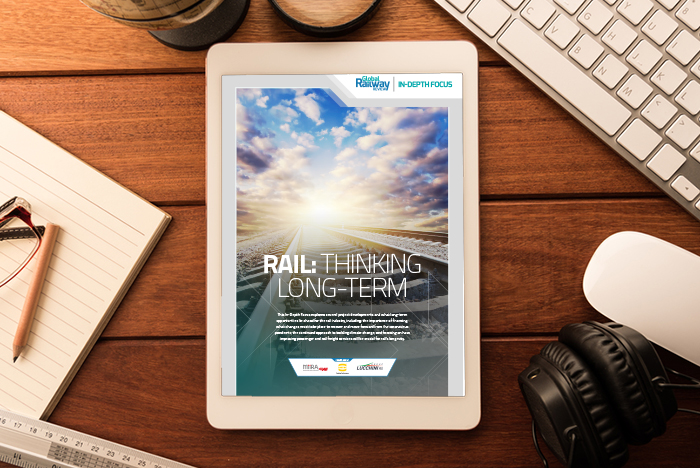 Included in this In-Depth Focus:
COVID-19, climate change and the future of rail
Philippe Citroën, Director General of UNIFE, considers the path that Europe's rail industry must take as it seeks to move forward from the coronavirus pandemic while tackling climate change.
Rail Baltica: Capturing the greenfield and transforming mobility
Kaspars Briškens, Head of Strategy and Development at the Rail Baltica joint venture, RB Rail AS, explores some of the long-term benefits that the Rail Baltica project must achieve with the help of innovation, digitalisation and sustainable greenfield infrastructure development.
A bright future for U.S. rail freight
Ian Jefferies, President and CEO of the Association of American Railroads (AAR), writes that there is an optimistic future for rail freight demand in the U.S., but investment in technology, streamlining operations and modernising services will be crucial for long-term success.
Degraded Mode Working System: What is it and what does it mean for the rail industry?
Richard Jones, Senior Technical & Innovation Manager at the Railway Industry Association (RIA), provides an insight into the Degraded Mode Working System (DMWS) which, in the event of a signalling problem, can give an instruction to a train driver that it is safe to proceed beyond the failure locality to a distant position determined by the signaller, and how this system fits in with the future digital transformation of the UK's railway network.
Railway financing – expand your scope, you'll need it
Martha Lawrence and Helena Goetsch from the World Bank explain that railways can tap into private sector financing for much needed investment, using a variety of instruments at sovereign, corporate and project levels. But the keys to unlocking that financing are funding and risk mitigation.