A passenger-centric response to the challenges of COVID-19
Steve White, COO and Deputy CEO of Govia Thameslink Railway (GTR), looks at how the UK's biggest rail franchise had to modify its operations to support colleagues, society and passengers through the COVID-19 pandemic.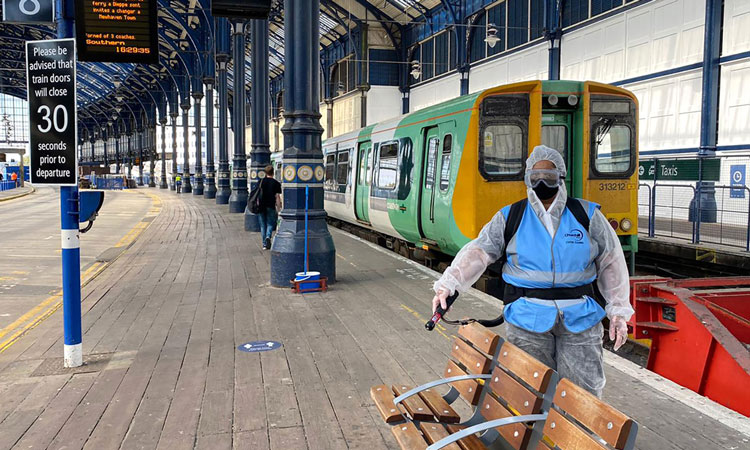 The rail industry is embracing the philosophy of 'Putting Passengers First'. At Govia Thameslink Railway (GTR), we have embarked on a mission to fundamentally and irreversibly change our business for the better. Earlier in 2020, we refreshed our brand ethos to demonstrate this. 'We're with You' epitomises the company's commitment to making our passengers' experiences the best they can be.
Recent years represent a period of significant change and improvement at GTR, seeing the biggest post-privatisation rolling stock cascade and significant infrastructure investment result in hundreds of new and improved services for our customers.
Pre-COVID-19, GTR was a fast growing and rapidly improving operator, but the pandemic necessitated new priorities which were established to support our passengers, our people and wider communities.
For public transport, the pandemic gave us the opportunity to support key workers with a galvanising sense of purpose. It also provided the opportunity to deliver a punctual and reliable service for customers, with Japanese levels of performance and a rapid adoption of technology.
Following the announcement from Whitehall that the UK government is actively encouraging people to return to work, train operating companies (TOCs) now stand ready to support the economic recovery through the provision of safe, clean, sustainable and reliable transport.
Harnessing humanity and innovation to facilitate the return to public transport, in a safe and convenient way for passengers
When discussing how we could react most effectively to support our passengers, we outlined two critical areas of focus that we believed would best help us provide the appropriate safety and welfare assurances that passengers need: Communication and cleanliness.
Communicating health and safety guidelines
To help make the new guidelines as easy to understand and convenient to follow as possible for our passengers, staff and the communities we service, we launched our 'Behind the Scenes' initiative, demonstrating how key workers are supporting key workers and other rail passengers.
Pre‑COVID-19, GTR was a fast growing and rapidly improving operator, but the pandemic necessitated new priorities which were established to support our passengers, our people and wider communities.
As part of the initiative, key workers from the Southern, Thameslink and Great Northern services helped to produce a 'top 10 tips' list, a visual display and an educational video, explaining how passengers can keep themselves and those around them safe whilst using one of our services in the 'new world of travel.'
We are confident that this will provide some reassurance to passengers, serving as a friendly reminder to those who are currently using our service or thinking about returning to it.
Throughout the pandemic, key workers have been using our services to get to work and do the incredible job that they do, and we've been proud to support them.
To help reassure those travelling, we produced an informative video with some of our key workers across the network. The video provides advice and visual examples of how to stay safe in the new world of travel. It also highlights the endeavour taking place behind-the-scenes to keep everyone safe.
Our people have made us incredibly proud of their proactive response to supporting passengers and making sure their colleagues are safe and happy.
Cleanliness
Perception is reality, so ensuring that our passengers feel safe and comfortable whilst using our services is a core part of our philosophy.
Since the outbreak of the virus, we have stepped up our efforts to reassure passengers and colleagues that we are with them. We spoke with our team and with passengers to better understand what more we could do, and we were determined to be very visible in meeting our commitments to their safety.
A key part of this is cleanliness – onboard and elsewhere on the network. Across the entire network of trains, stations and staff, areas are being treated with a powerful new viruscide that kills the virus for up to 30 days. The viruscide is distributed by electrostatic wands – the same that were used in the Nightingale Hospitals – to ensure that the product sticks to surfaces.
This product was the next step in further improving our already enhanced cleaning regime, which represents a huge endeavour, with all 2,700 of our train carriages being sanitised every night. To make sure that no carriage is missed, we developed an app that tells staff, at-a-glance, when each train carriage was last treated with the long-lasting viruscide.
Across the entire network of trains, stations and staff, areas are being treated with a powerful new viruscide that kills the virus for up to 30 days.
Utilising the best advice from our in-house Occupational Health team of doctors, we have been constantly ensuring that our colleagues are aware of the very latest health advice to keep them well informed and our passengers safe. This important support team is part of our ethos; we are the only TOC to have a Chief Medical Officer.
We have also introduced 1,000 hands-free sanitiser points at stations, one-way footpaths and queuing systems at the busiest stations, and installed 19,000 floor signs and 25,000 train signs, posters, adverts and announcements to remind people to socially distance across our network.
Looking to the future
It is our role now to support our people and our passengers, as well as rebuild confidence and trust in public transport.
We are collaborating with industry colleagues, innovating and changing at a faster pace than ever before.
Our aim now is to Build Back Better and ensure that the post-COVID-19 railway is better performing, lower cost, more sustainable, data driven and, ultimately, smarter than its predecessor.

Steve White joined Govia Thameslink Railway (GTR) as Chief Operating Officer in September 2018 from London Underground. In 2019, the company introduced a new leadership team and strategy designed to change the company fundamentally and irreversibly for the benefit of customers and colleagues. Steve's role spans across the Southern, Gatwick Express, Thameslink and Great Northern networks, where his team are responsible for specifying, planning and executing the expansion of the railway and delivering improvements in performance and customer experience. Before joining GTR, Steve worked as a Director in suburban, metro and high-speed railways with roles at Silverlink Trains, Eurostar, Siemens PLC and Transport for London (TfL). At London Underground, Steve was responsible for the operation of the vertically integrated sub-surface network during a period of major change, which included the migration to Digital Signalling. Steve is a Chartered Engineer and Chartered Director.