Quo vadis mobility?
Dr. Ben Möbius, Managing Director of the German Railway Industry Association (VDB), explores four guiding principles which could help to pave the way for a mobility revolution, supported by the German railway industry.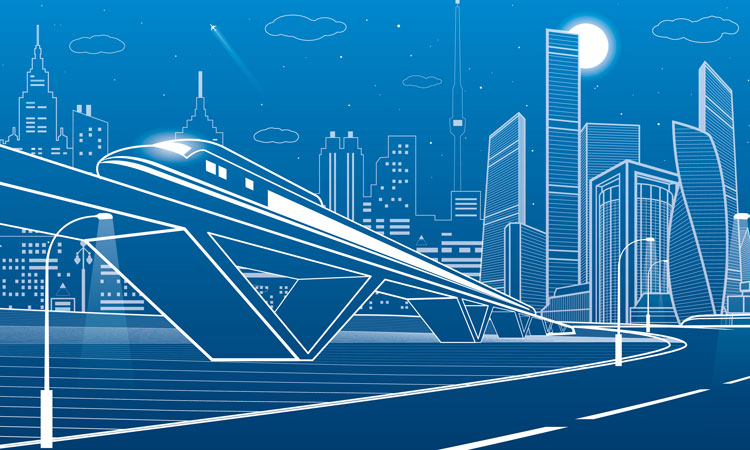 What does the future of mobility look like? More autonomous, more electric, more digitally connected, zero emissions in support of the Paris Agreement. Rail must live up to its responsibility to deliver a lion's share to this transition. The German railway industry's promise: with the advent and evolution of new technologies, we can successfully address greenhouse gas (GHG) emissions, pollution and congestion. And, by the same token, we can give rise to a fascinating, very popular, climate friendly mobility option with an amazing travel experience. By 2030, there will be 40 megacities on earth (with more than 10 million inhabitants). But will there be blue skies above these metropolises? Today, thick smog, ozone levels and ridiculously long traffic jams are often leading to a collapse of urban mobility. There is an urgent case for a mobility revolution. So, the destination seems to be clear – but how do we get there.
1. Follow a customer-oriented political paradigm for clean mobility
Future mobility adapts to its customers – not the other way around. Political interventionism, moralising or abdicating comfort? No need. Clean mobility is a promise for tomorrow. For the best offers, individual choice and social cohesion. Strong political incentives are an essential condition for digital rail, or 'Schiene 4.0', to create tailor-made and more powerful but zero emission mobility around the world. In a not-so-distant future, modern automated trams could transport more people even more quietly and comfortably. No more traffic jams or long searches for parking spaces. Autonomous metros will allow for radically higher frequency, translating into shorter waiting times, more available seating and higher punctuality, and they can save around 30 per cent in energy. Low-emission regional railways – e.g., with hydrogen, battery or hybrid drive – will seamlessly link rural areas to cities. High-speed trains will connect metropolises as fast as aircraft, which can already be observed in Berlin, Munich and Hamburg. 'Mobility on demand' will integrate a wide variety of modes, and railway stations will become intermodal travel hubs. Digital connectivity and data aggregation will make mobility disruptively smarter. And iconic designs for next generation trains will keep people excited about rail travel, making it an event sui generis.
2. Help rail transport fully recover from the effects of the COVID-19 pandemic
The rail industry faces economic headwind due to the pandemic, and so do railway operators, as they are still hit with revenue losses. It is now essential both to mitigate detrimental financial effects and to regain the passengers' trust. Noteworthily, sophisticated contact-tracing studies in countries such as France, Austria, and Japan have failed to link any COVID-19 clusters to public transit. Still, industry, operators and policy makers must hold an open dialogue. On trains and at stations, many people come together in a confined space. This makes it all the more important to continuously ensure and optimise health protection. The railway industry in Germany is a partner in integrating technical solutions. Health protection, for instance, is at the heart of train design. Contactless entry doors open thanks to motion sensors. Operators might flexibly adjust the distances between seats – and increase them at any time by rotating the seats. Surfaces can be coated to prevent the spread of viruses. Also, UV light can help to rapidly disinfect trains.
3. Invest now in zero emission digital technologies for a 'green restart'
Europe is at a critical juncture. Economic recovery from the pandemic must not come at the expense of ambitious climate goals. To the contrary, stimulus measures need to be integrated into a large-scale climate protection strategy for a 'green restart'. Berlin and Brussels thus drafted recovery measures aiming at climate-friendly growth and resilient climate industries. The railway industry will function as a durable engine, combining economic upturn and climate protection. Investments in digital rail have a double effect: they significantly reduce emissions and strengthen forward-looking, systemically relevant climate industries. Rightfully, Germany and the European Union (EU) adhere to electrification and digitalisation targets and push towards a resolute European Train Control System (ETCS) rollout. As ETCS shifts infrastructure functionality into the vehicle, public investments in on-board units are imperative for the digital infrastructure to unfold its full potential.
4. Implement innovations more quickly to get the best value for tax payers' money
Funding for research and development (R&D) is crucial for innovations, which must subsequently be implemented more quickly. Progressive tender processes can contribute decisively to a sustainable development. Tenders must ask for innovation and be based on the principles of total cost of ownership, as well as an optimised cost-benefit-ratio. A climate bonus within public tenders generates a ramp-up for the green restart. Applicable law already provides for precisely this, with the MEAT principle (Most Economically Advantageous Tender). With MEAT enabling contracting authorities to take account of criteria reflecting qualitative aspects and lifecycle costs, progressive tenders facilitate best value for tax payers' money. Often, it is innovation that inspires people to switch to rail. A case in point is automation. Automatic Train Operation (ATO) can drastically increase headways between vehicles, allowing to carry fewer people per vehicle. So, no train, even during rush hour, will be overcrowded. Around one billion passengers are already travelling in driverless trains in 15 European cities. And sensors installed in rail vehicles can be used to determine the utilisation of the individual cars in real time. Passengers can thus be informed at the platform which train compartments are free. By making a tangible difference in people's lives, innovations are genuinely propelling climate friendly mobility.
Digital rail is the driving force of next level mobility: 100 per cent attractive, zero emission. From high-end and disruptive to incremental solutions – the cutting-edge portfolio is available 'Made in Germany'. Our industrial excellence fuels and defines the next mobility revolution. For this transition to gain pace, we believe in a rather persistent bedrock: global partnership. Built on mutual trust, regional added value and on a shared passion to implement clean mobility conducive to the economic restart, better quality of life and climate protection. Quintessentially, this is the mission that the German railway industry stands for: Let's re-invent mobility. Together. Now.

Ben Möbius has been the Managing Director of the German Railway Industry Association (VDB) since May 2015. He studied political science and history in Hamburg, Bamberg and Cambridge. After having worked as a journalist for the Hamburger Abendblatt and F.A.Z., Ben started his career in the Federation of German Industries (BDI) in 2001 as the Personal Assistant to, and Speechwriter for, the former BDI President, Dr. Michael Rogowski. Following this, Ben's BDI positions included: Officer for European Affairs; Head of Office of the BDI President and the BDI Executive Board; Head of the Department for European Affairs; Head of the Department responsible for mobility, infrastructure, telecommunications and digital economy; and Managing Director of the Traffic Committee of the BDI and the Committee for Digital Economy, Telecommunications and Media. Ben is a member of a number of advisory bodies and committees, including the Scientific Institute for Infrastructure and Communication Services; the trade fairs, InnoTrans and Transport Logistics; as well as a member of the Board of Editors for some technical industry magazines, including as an Advisory Board Member for Global Railway Review.