Boosting the implementation of innovative projects for a competitive railway
In this article for Global Railway Review, colleagues from the European Rail Freight Corridor ScanMed and the Swedish Transport Administration (Trafikverket) explain that the Rail Freight Corridors want to strengthen their cooperation with the Shift2Rail Joint Undertaking in implementing innovative railway projects in order to be able to meet tomorrow's transport needs.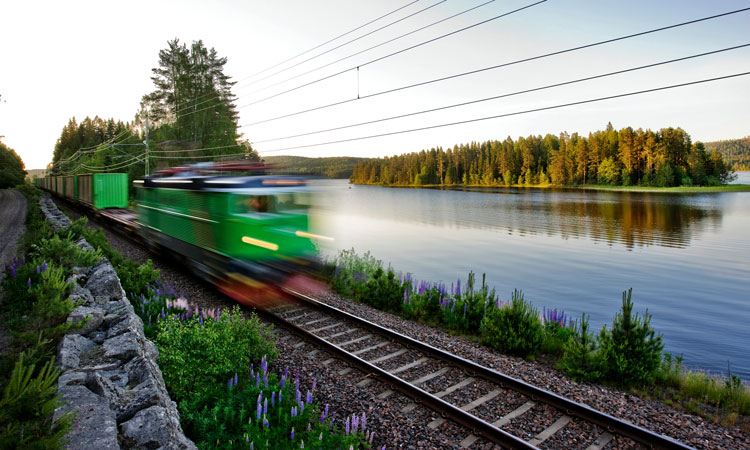 The railway must be an inclusive, affordable and accessible alternative for travel and freight transport. The railway is the most environmentally friendly mode of land transport and, therefore, the investments in a competitive railway are important.
The Shift2Rail Joint Undertaking (S2R JU) has a strong focus on more efficient freight transport. In collaboration with the Rail Freight Corridors (RFCs) and their stakeholders, smart solutions can be tested and implemented. The freight corridors can also capture new needs from the market that S2R JU can explore and develop. Cooperation between the RFCs and S2R JU is ongoing and will be strengthened based on market interest.
"Cooperation is important to strengthen the railway's attractiveness so that the railway becomes the natural transport alternative as part of a transport solution," explains Linda Thulin, President of the European Rail Freight Corridor ScanMed. "S2R JU develops better and new services that we in the RFCs can offer to the market. Together with our customers and stakeholders, we can ensure that the new opportunities are used. A common plan is needed, where both us, the customers, the terminals, the ports and the other concerned stakeholders can adapt their business to be able to take advantage of the innovations in a concrete manner."
To follow are some examples of the innovative solutions that are developed and demonstrated within the framework of the freight programme in S2R JU.
Digital automatic coupling
With digital automatic couplings (DAC) and complementary digital solutions, freight traffic by rail can be radically improved in terms of capacity, punctuality, working environment, efficiency and profitability.
In addition to the actual assembly and disassembly of freight wagons, there are more necessary tasks that are currently performed manually. The brake and air hoses need to be connected, the carriage order must be ensured and the brakes tested. The brake weight of the train must be identified and a brake calculation performed. Work that is both risky and time consuming.
Three types of DACs are demonstrated in a real environment
Within the FR8RAIL IV project, which is part of the Freight Program IP5 in S2R JU, a demonstration is now underway together with European industry players to test different levels of automation and evaluate function, compatibility in the system, power, costs, etc. The tests are carried out in Germany, Austria, Switzerland and Sweden, where the focus is on winter conditions.
"An investment in DACs also means that energy supply and secure data communication is achieved, which opens up new modern logistics concepts and a number of digital applications," says Jan Bergstrand, Coordinator at the Swedish Transport Administration (Trafikverket) for the S2R JU Freight Programme.
Smart port reads the railway goods automatically
The freight programme within S2R JU has developed a smart port – Intelligent Video Gate (IVG) – which, with the help of smart cameras, sensors and RFID technology, can collect data about the freight wagons and process the data in real time. The technology enables, for example, the automatic registration of trolleys and units. Damage control of the unit is thus carried out completely automatically. All collected data can then be used for the terminal's planning and control of loading and unloading.
Jan continued: "There is a lot of money to be saved when it comes to the work on marshalling yards and intermodal terminals because much is done manually and/or semi-manually today."
Implementation within one to two years
Upon departure, the composition of the train can be dotted off and the information passed on to customers, receiving terminals and traffic management. The gate can also be part of the train's start process with, among other things, vision and brake tests. The technology, which is already used for truck traffic, will be tested for transports between Cologne and Malmö.
"With this solution, we can have a better operation and handling in terms of quality, and the terminal work becomes more time-efficient," says Emanuele Mastrodonato, Managing Director of ScanMed. "The goal is to be able to implement IVGs in full on a number of terminals within one to two years. Our RFC can be a facilitator with a well-established cooperation with everyone in the logistic chain."
Self-learning software
Digitalisation brings with it the ability to manage and improve the quality of all forms of routine work, whether the tasks are physical or cognitive. We see algorithms and software that are self-learning and artificial intelligence (AI) that not only processes pre-standardised data, but which, through analysis of input data, can learn patterns and, at the next opportunity, give a better answer than before.
"There are already digital AI services today that optimise the best possible overall solution based on complex structures with a number of included parameters," said Jan. "It can definitely be relevant for all or parts of the transport system, and we have to be involved in this development. The challenge is to pick among the possibilities in a wise and efficient way."
835m-long freight train tested between Sweden and Germany
Longer trains provide the opportunity for increased load, which contributes to more sustainable and attractive freight traffic by rail. In view of the train's environmental benefits, it is particularly justified to enable longer freight trains, partly to meet an increased need for transport, and partly to move a certain part of the goods from road to rail. Therefore, an 835m-long freight train is now being tested on the Maschen–Malmö route.
"In the freight corridors, we plan and offer capacity based on customer needs," explains Emanuele. "With longer trains, we can offer the international transport market a good opportunity to create more cost-effective services."
Longer trains can meet the increased need for freight transport
Travel and transport are necessary for a society to function and a prerequisite for economic development, job creation and housing. By 2050, freight transport is expected to increase by 80 per cent and passenger transport by 50 per cent within the European Union (EU).
The EU is working on many different measures to increase railway capacity, from scheduling and simplified administration to the introduction of the European Rail Traffic Management System (ERTMS). Long trains are allowed in several countries, and the EU has decided that traffic of at least 740m-long trains should be possible on the trans-European transport network (TEN-T). RFC ScanMed has conducted a study on longer heavier trains along the corridor.
"Running longer trains can be a key measure towards a climate-smart railway and a way to better use capacity. We must also ensure that these trains work in traffic management, which we analyse in order to offer a robust capacity," says Emanuele.
The intelligent freight train increases productivity
The intelligent freight train is an innovative solution that is being developed within the logistics project FR8HUB, which is part of S2R JU. Trafikverket is one of the key players in the work. As part of the intelligent freight train, the concept 'the innovative freight wagon' is developed and demonstrated. Tests have been conducted in several countries in Europe.
"Intelligent freight trains mean that locomotives, wagons and facilities are connected to each other and the outside world," explains Jan. "It is possible to transfer data, give commands and monitor in real time. This will give the freight sector within the railway a significant increase in productivity."
With the support of telematics, sensors and cameras, a wide range of options are offered for automating manual tasks. The technology can also be used to provide advanced decision support to, for example, an optimised capacity and a minimised energy consumption.
Increased logistics value and reduced maintenance costs
With the help of sensor technology, you can also increase the logistics value in the customer's distribution chain, as well as detect problems and fix errors at the right time (e.g. before they cause accidents). This means more reliable freight transport and more efficient maintenance works.
"Delays due to the vehicle must be reduced," says Jan. "Locomotives and carriages must not stand still unnecessarily. Potential sources of error must be identified before a disturbance occurs in the operational design. Relying on service opportunities after a certain distance must be replaced with more proactive methods."
A common European railway system
Rail has demonstrated that it can satisfy the mobility needs of goods and passengers, accommodate capacity growth and protect natural resources and the environment. There are still big challenges ahead, but, by collaborating, we drive joint innovation development so that solutions can be implemented and become useful across borders in a common European railway system.
"If you are interested in testing smart solutions that are now being developed and being part of making them work in practice, throughout real traffic flows, do not hesitate to contact us," concludes Linda.

After serving as an Officer for the Italian Navy, Emanuele Mastrodonato (a chartered Electronic Engineer) has worked in the railway sector since 2002, starting at RFI (the Italian infrastructure manager) where he was as a project manager responsible for major construction and maintenance contracts, and more recently at the Community of European Railways and Infrastructure Companies (CER) where he was responsible for interoperability and later as Digitalisation Coordinator, covering both freight and passenger transport. In January 2019, Emanuele joined the European Rail Freight Corridor ScanMed as Managing Director.

Jan Bergstrand is the Vice Chairman of the Shift2Rail Joint Undertaking's Innovation Programme 5 and Senior Strategic Analyst and Programme Manager at Trafikverket. Jan has experience from management positions in marketing, sales and business development at both a railway undertaking company and shipping and freight forwarding company. Jan has also been Vice President and President of logistics consultant companies, and was also previously a chief strategist at Trafikverket.

Linda Thulin is the President of the European Rail Freight Corridor ScanMed and responsible for International Relations on Railways at Trafikverket. She has approximately 20 years of experience in the railway sector and has been responsible for roles such as national traffic management, business development, maintenance strategy, traffic information, customers and associations.