Midnight Trains: Rethinking and reinventing the night train experience
With its 'hotel on rails' concept, French company Midnight Trains is planning to play a big part in the resurgence of the night train in Europe and reinvent a product for the modern-day rail traveller.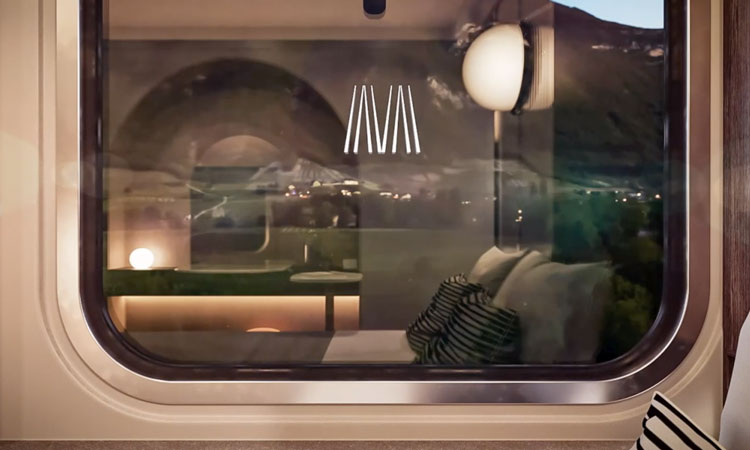 How it began
Our team has been working on how to rethink the night trains experience and reinvent a product which is more than a century old, with the ambition to make it the forefront of modern travelling.
Midnight Trains was founded by Adrien Aumont and Romain Payet, two French entrepreneurs from the tech industry.
Adrien Aumont had the idea during a dinner in Athens with Hervé Marro in 2019 (who is now the Director of Communications and Institutional Relations at Midnight Trains). Hervé told Adrien that he had had a 'wake-up call' a year before after measuring the impact of his flights on the planet and had decided to stop flying unless necessary.
Adrien immediately understood that the way that people think about travel as climate change becomes more acute would change, and the need of alternatives would become essential. 
When travelling from Paris to most major European cities, travellers do not have any alternative. Furthermore, transport operators (air or rail) have been focused on reducing prices for the last two decades, totally forgetting the customer experience and associated services.
And so, Midnight Trains was born, with the aim to reinvent the night trains experience to create the most comfortable and sustainable way to travel across long distances in Europe.
Hotel on rails
Today, when we think of night trains, we either think of the old-fashioned luxury Orient Express, or the sleeper trains of recent decades which are rustic, uncomfortable and offer no privacy.
If we see our trains as 'hotels on rails', it's because we are convinced that the 21st century has to create a new myth of night trains.
We want to create a new standard of sleeper trains. We believe that sleeper trains of recent decades face three major issues:
Lack of privacy when you share a compartment with strangers
Poor catering services, despite most travellers planning to have dinner onboard
Few digital services to enhance the experience.
With our 'hotels on rails', we want to solve those problems. 
Our team has been working on how to rethink the night trains experience and reinvent a product which is more than a century old, with the ambition to make it the forefront of modern travelling.
The experience on our 'hotels on rails' will be based on three key services:
Complete privacy, with 100 per cent private rooms, whether you are travelling on your own, as a couple, with friends or with family
Comfortable restaurant areas to enjoy seasonal products, homemade cocktails, craft beers and living wines – all served at your table, at the bar or in your room
A cutting-edge application with unique services from booking to arrival, such as dedicated support and a personalised experience throughout your journey.
From Paris to Europe
Midnight Trains is a French company founded by Parisian entrepreneurs for European travellers.
Our first hub will be based in Paris, one of the most visited cities worldwide and the entry point to Europe for most international travellers.
From the French capital, we will target routes of 800km to 1,500km and cities such as Madrid, Lisbon, Porto, Milan, Venice, Florence, Rome, Vienna, Prague, Budapest, Berlin, Hamburg, Copenhagen and even Edinburgh.
We plan to launch our first line in 2024 and then expand the network with three to five new lines between 2025 and 2027.
Although the first route is not yet defined, it will most likely be to Spain or Italy.
Future developments
Launching a railway company is not an easy task, even more so when the founding team is not familiar with the industry.
We have been working hard for almost a year to define the offer, the project roadmap and to gather the best specialists around the project.
We have associated industry experts to the project through our advisory board, composed of: Odile Fagot (SNCF, Akiem, Eurostar); Franck Gervais (SNCF, Thalys, Accor, Pierre&Vacances Center Parcs); Cyril Aouizerate (Mama Shelter, Mob Hotel); and Thierry Roussel (Direct Energie, 9 Télécom, Club Internet).
We are also working with Yellow Window (industrial designers), Apex Rail (financial advisors) and RailTarget (engineering advisors) in order to reach the next milestones.
Our focus is now to execute the plan within the roadmap in order to launch our first trains in 2024. 
Our focus is now to execute the plan within the roadmap in order to launch our first trains in 2024.
In order to do so, we are currently analysing the opportunity to use several second-hand coaches throughout Europe and also discussing with manufacturers on the possibilities of newly built coaches. We want to create a new experience for travellers. From our point of view, this new experience starts with the type of compartments that we will propose and their design. Thus, we will choose the option that fits best with our vision of 'hotels on rails'. 
We will then discuss with potential financial partners in order to secure the financing of assets.
Finally, as we do not plan – at least in the short-term – to become a railway undertaking, we will engage in discussions with potential private operators, from both the freight and passenger sectors.
The team
Adrien Aumont is a serial entrepreneur. He co-founded KissKissBankBank, the leading crowdfunding platform in Europe, and later sold to La Banque Postale in 2017. Romain Payet started his career in mergers and acquisitions, co-founded a crowdfunding platform and joined Adrien Aumont as Secretary General of KissKissBankBank in 2015. 
The team is completed by Yorgo Tloupas, Artistic Director and Partner, and Hervé Marro, Director of Communications and Institutional Relations.
Midnight Trains is funded by a group of French entrepreneurs amongst whom Xavier Niel, via its fund Kima Ventures; Pauline Duval; Boris Paillard, Romain Paillard and Sébastien Saunier, co-founders of the coding school Le Wagon; Vincent Ricordeau and Ombline Le Lasseur, co-founders of KissKissBankBank.
We will also be expecting to hire a Railway Operations Director to join our team by the end of 2021.