Russian Railways' digital solutions for international freight transportation and logistics
Sergey Pavlov, First Deputy Managing Director of International Business Development and International Affairs at Russian Railways (RZD), explains why digital technologies are significant to international trade and the benefits that they bring to cargo transportation.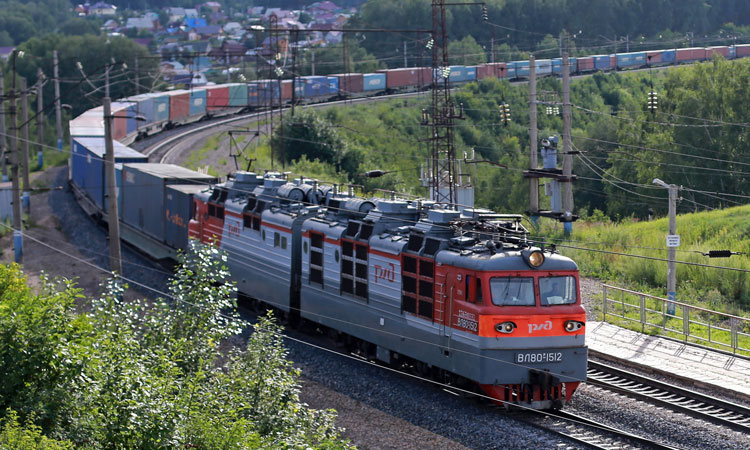 Due to the pandemic and the transition of a large part of international trade online, digital services are necessary for any transportation company to be successful.
Today, Russian Railways (RZD) is one of the world's largest railway holdings: we're first in terms of freight and passenger traffic; second in the world in terms of freight turnover; and third in regards to the operational length of our railway lines. We are also a global leader in safety and energy efficiency in freight transport, helping to achieve the United Nations' (UN) Sustainable Development Goals (SDGs) and carry out the Paris Agreement.
In response to the challenges of these times, we are introducing innovative ways to manage the transportation process, establishing ways to interact both within the holding and with Russian and foreign clients.
Digital transformation
First and foremost, we are working on digital technologies at all stages of cargo transportation. Moreover, we are focusing on transitioning from individual software development to complex platform solutions.
We now have a strategy for digitally transforming the company by 2025, according to which we will be creating a unified information space for freight transportation and logistics. We must increase efficiency in working with our transport and logistics consumers and expand the efficiency of the sales system, including through integration into e-commerce systems (Internet of Things (IoT), online sales of services and smart contracts), while ensuring that at least 90 per cent of customer‑service operations are automated.
We are paying special attention to developing paperless technologies for transporting goods internationally. This makes it possible to increase the route speed of international cross-border freight traffic, primarily container traffic, through Russia's railway infrastructure. This is being carried out in close cooperation with foreign carriers and customs and tax authorities on the basis of an integrated network technology with electronic legal documents.
Paperless technology
Since early 2019, the transportation of goods internationally using complex electronic technologies has also been implemented to, and from, Russian ports.
Together with the Russian customs authorities and the FESCO Transportation Group, we are continuing to implement INTERTRAN paperless technology, which is used to optimise our interaction with all participants in intermodal transportation through seaports. This shortens the paperwork process by four days, which further increases the competitiveness of our services. In 2020, we extended this technology to all RZD stations that accept containers. As part of this project, transit traffic from China to Belarus through the port of Vladivostok became completely digital in 2020, as well.
Now, we are working to expand the international geography of this project together with our partners in other countries. A total of 10,500 containers were transported using INTERTRAN technology in 2020, and more than 3,300 containers were transported in the first quarter of 2021 alone.
Regarding transit container traffic as a whole, the end of 2020 saw a 34 per cent growth to a record 831,000 TEUs; in the first quarter of 2021, 230,000 TEUs were transported in transit, an increase of 73 per cent over 2020.
Of course, this trend was partly affected by the pandemic, as well as the related disruptions in the operation of shipping lines and a shortage of empty containers.
Prospects
Nevertheless, the main advantages for our customers are the high manufacturability of services, delivery speeds and stable schedules and tariffs.
We see good prospects for further integrating Russian routes into global supply chains and achieving the ambitious goal of increasing the volume of container transit to 1.7 million TEUs by 2024.
There are also good prospects for taking advantage of the multimodal transport potential through the ports of Baltiysk and Kaliningrad.
Digital cross-border transit
Regular multimodal container transportation between China and Scandinavia using the common CIM/SMGS consignment note through the Mukran Port (Germany) and the Baltiysk port (Kaliningrad Region) has been launched as part of the services provided by UTLC ERA, a subsidiary of Russian Railways. An important issue of the digitalisation of transit container shipping is to convert multimodal container transportation CIM/SMGS consignment notes to an electronic format. This will require our foreign partners to be ready to interact with national customs administrations in an electronic format.
Another important direction of our efforts is to further accelerate and simplify the transit of cargo and containers through the bottlenecks – interstate border junctions. In this regard, the right solution seems to be to reach agreement with carriers of neighbouring countries on the exchange of not only shipping documents, but also electronic shipping documents, such as invoices and packing lists. Such information exchange is provided, for example, with Finland, Latvia and Lithuania. This allows us to inform the Russian customs administrations about goods imported into the customs territory of the EAEU in advance.
We see, as a prospective direction, the expansion in using the services of the electronic trading platform 'Cargo Transportation' (ETP GP) for foreign participants. Its purpose is to submit to any interested client an optimal offer for basic transportation services with or without the provision of rolling stock for this transportation in digital format. As of March 2021, more than 6,000 companies were registered with this platform.
It is also important to note that foreign enterprises from Belarus, Kazakhstan, Ukraine, Latvia, Finland, Poland, the Republic of Korea and Kyrgyzstan use the platform along with Russian companies. The strategic goal for the development of the platform is to expand the number of services available to foreign companies and attract foreign service providers.
In 2020, for the first time, a transit container train was delivered from China to Europe using digital technologies of the ETP GP platform on the territory of the Russian Federation. It is planned to expand the use of this service by organising digital transit not only across the territory of Russia, but also along the railroads of neighbouring countries (Belarus, Kazakhstan and China).
It should be noted that promising directions of transit traffic digitalisation are worked out in a multilateral format that is also within the framework of the seven-party working group on container train transportation on the China-Europe route. The members are railway companies from Russia, China, Kazakhstan, Mongolia, Belarus, Poland and Germany.
End-to-end timetables
Reliability and timeliness of cargo delivery are the most important customer demands. Therefore, the group members consider the development and implementation of an end-to-end container train schedule to be very important. Test shipments on a hard schedule are already being carried out on the direction Chongqing–Duisburg. To extend this practice to other routes, together with our colleagues, we are preparing for approval a procedure for developing end-to-end timetables for container trains on the China–Europe route.
Cargo tracking with blockchain technology
In 2020, we also began the workout of technical and technological issues for tracking cargo along the entire route using blockchain technology. Taking into account the need of participants in international container transportation for the operational monitoring of container trains' locations, the use of blockchain technology will allow equal access to information to improve the quality of resource planning at border crossings and the efficiency of interaction between carriers in terms of prompt response to emerging deviations.
In Russia, there is a positive practical experience of implementing the project 'Distributed Data Register in cargo transportation' on the blockchain platform for transportation through the ports of the North-West. As for Russian Railways, we can confirm the effects both in terms of acquiring a tool for transparency and objectivity of transportation data, as well as digital tracking along the entire route. This is demanded by customers and is a serious competitive advantage for rail transportation. Within the framework of this project, all participants need not to conclude a mass of agreements. All of the rules are fixed in an electronic smart contract, including mutual settlements and automatic debiting of funds in case of violation of the terms of the agreement that eliminates the need of claim handling.
Taking into account our customers' demand for traceability of cargo shipments, the participants of the seven-party agreement are working on the development of electronic data exchange for tracking cargo movement using the existing system.
We also note the growing interest of our European partners in the development of transit transportation for food cargo and agricultural products from European Union (EU) countries to China that use electronic navigation seals.
All of these steps are aimed at further cooperation in the digital format and creating a single information space for international transport along the transport corridors of railways in Russia.
Biography

Sergey Pavlov graduated from the Leningrad Institute of Railway Transport Engineers with a degree in Railway Construction, Track and Track Facilities; and from the Academy of National Economy under the Government of the Russian Federation. Between 1987 and 2007, he held various positions in both the Ministry of Railways and Russian Railways. Between 2007 and 2009, he was Head of the Department for Railway Research and Design at Lengiprotrans before moving to Zarubezhstroytechnologia as Technical Director until 2013. Between 2013 and 2019, Sergey headed RZD International, a subsidiary of Russian Railways, which manages Russian Railways' infrastructure projects abroad.