Green travel, bright futures
Adrian Share, Executive Vice President, Rail Infrastructure at Brightline West explains how offering a connected, green and efficient rail system is key to getting people out of their cars and transforming attitudes to train travel in America.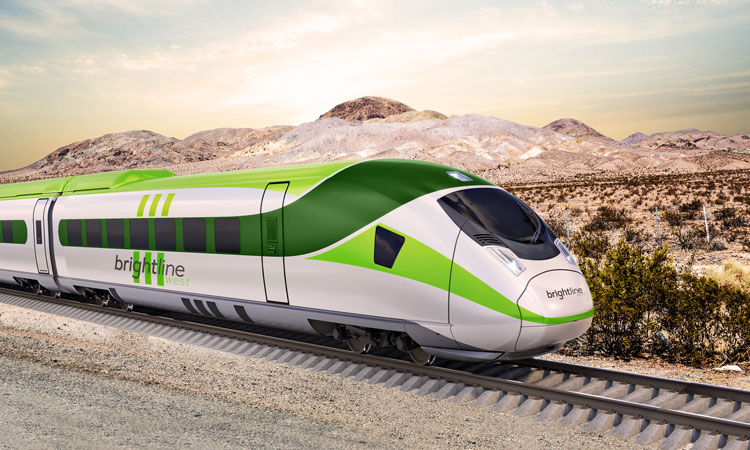 The future of transportation is green, and it reflects a shift in thinking about how we connect to the places that matter to us: work, home, school, visiting family and friends, our favourite restaurants and stores, vacation spots, and others. We all need options that take cars off the road, reduce congestion and emissions, improve safety and efficiency, and connect us to our desired destinations.
Brightline, the first privately-owned passenger rail company in more than a century, is using this shared future vision as a platform for redefining train travel in America. Brightline's inaugural system in South Florida connects Miami, Fort Lauderdale, and West Palm Beach. Our planned extension to Orlando is now more than halfway done and on schedule to be completed by the end of 2022. Brightline's Orlando station will be located at Orlando International Airport, and expansion plans to Disney Springs and Tampa are currently underway. These projects would extend connectivity to about half of all Florida residents, as well as millions of visitors. Brightline's second system, Brightline West, is currently in development and will connect Southern California and Las Vegas through several intercity projects, including stations in Las Vegas, Victor Valley, Rancho Cucamonga, and Palmdale, and providing connectivity to the Los Angeles Metro area. It is expected to carry 11 million passengers annually.
Green mobility
Brightline's approach to sustainable, eco-friendly transportation begins with our flagship system serving South Florida. The system utilises bio‑diesel Siemens trainsets that remove three million cars from the road and 160,000 tonnes of CO2 each year. These trains provide a 68 per cent reduction in emissions, reducing particulate matter and NOx from the air. Furthermore, the trains' fuel‑efficient engine reduces fuel consumption by about 20 per cent.
Brightline West will utilise zero-emission, fully electric trainsets powered by an overhead catenary system. The line is expected to remove three million cars and about 400,000 tonnes of CO2 from the atmosphere every year, helping both Nevada and California reach their respective emission reduction goals, as well as cutting the trip time between the two cities in half. When placed in service, Brightline West will be the greenest form of mass transportation in the country.
Sustainable stations
Our sustainability efforts also extend to our stations and transit-oriented development around those areas. Strong development along transportation hubs can lead to decreased vehicle ownership and greater walkability in communities and neighbourhoods. In fact, our flagship station, MiamiCentral, spans over six downtown city blocks, creating a true mixed-use urban experience and providing several community amenities in a bustling urban centre. The centre features more than 800 residences, retail and office spaces, and a major transit hub connecting local and multi-city transit options.
Brightline West's stations in Las Vegas, Victor Valley, and Rancho Cucamonga will follow the sustainable development pathways of the Florida system, connecting to other transit options, retail, office, and housing, and spurring additional development around those station areas. In Rancho Cucamonga, the Brightline West station will connect to the existing Metrolink station, as well as other local transit systems and a planned Boring Company tunnel that would connect the area to Ontario International Airport. In Las Vegas, the station will have shuttle service and last mile connectivity to Las Vegas Strip resorts and other popular destinations.
Brightline stations also incorporate green design and operational elements, including electric vehicle charging stations, water fill stations, water-efficient irrigation systems, optimised energy performance, paperless ticketing, and recycled, reclaimed, and sustainably sourced materials wherever possible. Our hospitality-focused approach to transportation has earned several awards and accolades, as well as a loyal following in South Florida, helping to advance a message that getting out of your car and utilising a greener form of transportation to get around doesn't have to be painful – in fact, it is more productive, fun, and relaxing than sitting in your car in traffic.
A brighter quality of life
Beyond the immediate threat that significant traffic congestion and emissions pose for people, places, and the environment, traffic congestion costs people time, efficiency, productivity, and increases stress and anxiety among those who are routinely subjected to it. Both Brightline systems serve existing transportation corridors with significant congestion. Los Angeles and Miami have consistently ranked among the worst cities for commuters and congestion, and according to the INRIX Global Traffic Scorecard, cost Americans an average of 99 hours and $1,377 per driver in 2019 – nearly $88 billion in total.
The benefits of reducing congestion through expanded train and transit options extend into improving the quality of life and safety of millions of Americans every day. Traffic accidents due to distracted driving, excessive speed, impaired drivers, and other causes continue to rise year-over- year; in 2020, even among a pandemic, the National Safety Council estimated an eight per cent increase in traffic-crash deaths nationwide. By comparison, train travel remains one of the safest forms of mass transit in the U.S and in most parts of the world.
The future of transportation needs to be greener, cleaner, and safer. Through Brightline, it is not only possible – it is in motion.

Adrian Share is responsible for overseeing the design and engineering of the rail system, maintenance depot and related rail infrastructure of the Brightline West line. He is a 30-year transit veteran, who previously worked at Brightline Florida, overseeing the engineering, construction management and final delivery of the Miami to West Palm Beach segment as well as the engineering and environmental work of the West Palm Beach to Orlando segment for rail infrastructure. Prior to joining Brightline Florida, Adrian served as Florida District Leader and Program Manager at HNTB Corporation, and also as the Florida High-Speed Rail Project Manager from 2008 to 2011. He holds a Bachelor of Science in Civil Engineering from Tulane University and also holds a Master of Business Administration from Northeastern University. Adrian is a Professional Engineer in Florida and previously served as the Chair of the Transportation Committee of the Florida Institute of Consulting Engineers.