Brightline West acquires site in Las Vegas for high-speed rail station
Located at the south end of the famed Las Vegas Blvd., the 110-acre location will create a convenient hub for passengers to connect easily upon arrival in Las Vegas.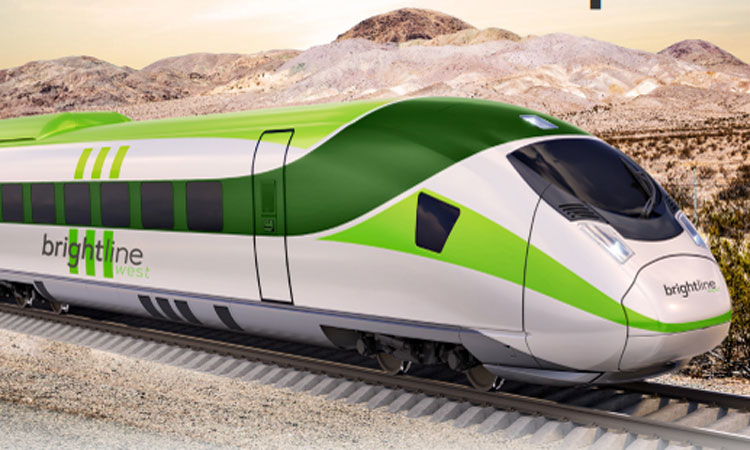 A rendering of a Brightline West train. Credit: Brightline West
Brightline Holdings has achieved a significant milestone with the successful acquisition of a 110-acre site that will serve as the future home for Brightline West.
Brightline, the only private provider of high-speed passenger rail in America, is developing Brightline West to connect Las Vegas to Los Angeles with its brand of modern, eco-friendly transportation services, and is expected to carry more than 11 million passengers annually. 
The site will be developed to include the Las Vegas Terminal and other mobility connections to take passengers to and from all key area destinations.
Located at the south end of Las Vegas Blvd., this ideal location offers visibility and easy access to Las Vegas' most iconic destinations including the Las Vegas Strip, the Raiders' Allegiant Stadium and McCarran International Airport. The location creates a convenient hub for passengers to connect easily upon arrival in Las Vegas and as a central location within the city for those traveling to Southern California. 
Michael Reininger, Chief Executive Officer of Brightline Holdings, said: "We have continued our pioneering efforts throughout a period of unprecedented change to advance the development of Brightline West, and we now have secured our new home. Today's announcement represents another important milestone for the project and is tangible evidence of our commitment and progress. The location and quality of the site matches our aspirations for what will be the showcase for new high-speed rail in the country."
Plans are currently being developed for the terminal station, which will encompass 65,000ft2 of building area and include many innovative amenities for travellers, including ample parking and connections to various ground transportation systems – both existing and planned.   
Sarah Watterson, President and Chief Development Officer of Brightline West, said: "The site affords us the size and optimum characteristics to fully execute our vision that will be anchored by the most convenient connection between two of the most significant markets in the West. Building upon our experiences in major Florida cities, we will now bring creativity, innovation and environmental focus to this new gateway for Las Vegas."
Brightline West is the most advanced and shovel-ready high-speed rail project in the nation and is poised to bring economic and environmental benefits to the region. It will utilise fully electric, zero emission trains to connect Las Vegas and Los Angeles through multiple intercity projects. 
Guests departing Las Vegas will have fast and convenient access to all of the Greater Los Angeles area from station points in the Victor Valley, Rancho Cucamonga and Palmdale with direct access via California Metrolink to key points in Los Angeles, such as Union Station.