Brisbane's Cross River Rail project making city-shaping progress
Graeme Newton, CEO of the Cross River Rail Delivery Authority, discusses how work is progressing on the mega project and why it will transform travel in Australia's third largest city.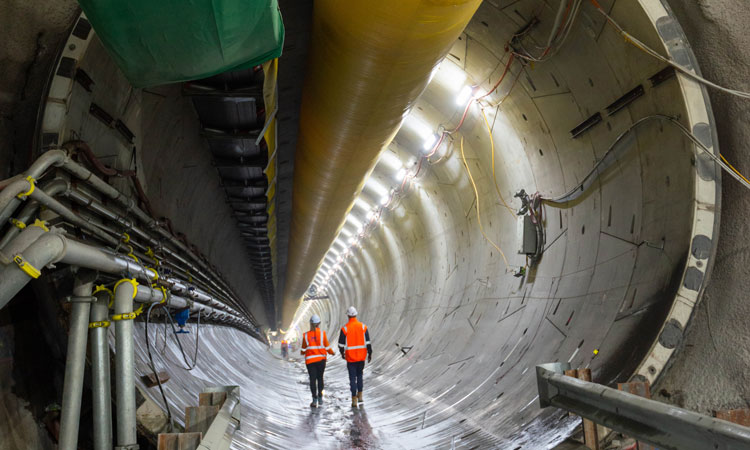 Entrance to the TBM tunnel from Woolloongabba.
Like many Brisbane locals, I adore our river. The iconic body of water snakes through the heart of our city, and is central to our way of life in the state capital of tropical Queensland.
But, because it effectively cuts our city in half, we are a slave to it.
Our beloved river is a natural barrier which makes public transport – rail in particular – difficult, with one bridge serving as the only inner-city rail crossing.
It means the Merivale Bridge creates a bottleneck, limiting the ability to increase capacity on South East Queensland's rail network, and is a point of frailty that can result in cascading delays across the network.
To ensure the rail network is able to service a growing population into the future, the solution was to build Cross River Rail – a new underground for Brisbane that goes directly under the river.
It's a decision that has already paid dividends before a single train has gone through a tunnel, with Cross River Rail central to Brisbane's successful bid to host the 2032 Olympic and Paralympic Games.
Cross River Rail is Queensland's biggest infrastructure project – a new 10.2km rail line that includes 5.9km of twin tunnels under the Brisbane River and CBD.
It will include four new underground stations in convenient locations – Boggo Road, Woolloongabba, Albert Street and Roma Street – as well as two new aboveground stations and a suite of complementary works required to improve the region's rail network. The new stations will connect commuters to key Games venues in 2032, which will be a few minutes train ride from one another.
Cross River Rail's peak of construction
Wherever you go around Brisbane at the moment, you would be hard-pressed not to come across a Cross River Rail hoarding or work site – and that is only the work you can see on the surface. We are currently in the peak of construction, with around 2,700 people working on our project, including across 15 active work sites. This year's (2021) focus has been carving out the project's twin tunnels beneath the Brisbane River and CBD – making 2021 our year of tunnelling. The bulk of the tunnels have been excavated by our two massive Tunnel Boring Machines (TBMs), which launched from the project's epicentre at Woolloongabba, just south of the river, in early 2021. Heading north, TBMs Else and Merle – named after trailblazing engineer Else Shepherd AM and pioneering feminist Merle Thornton AM – churned through an average of 20-30 metres a day on their journey towards the project's northern portal, where trains will enter and exit the tunnels. While at work, the 1,350-tonne mega machines lined the tunnel walls with over 27,000 concrete segments, each weighing about 4.2 tonnes. At the same time, a pair of 115-tonne roadheaders travelled south from Woolloongabba, carving nearly 900 metres each before breaking through into our southern-most underground station, Boggo Road, in September 2021 – two months ahead of schedule.
This stretch of tunnelling marked a particularly impressive feat of engineering, with the roadheaders working as shallow as eight metres below the surface, at times carving out tunnel below live rail lines. With tunnelling successfully drawing to a close, focus in the new year (2022) will shift towards the mechanical and electrical supporting infrastructure as well as construction of the stations themselves. The project's marquee underground stations are already starting to take shape, especially at Woolloongabba, which will service the city's main Olympic stadium in 2032. The station is being built in the 33-metre station box from the ground up using an innovative jump form method – essentially a self-supporting method of concrete construction where each level is built on top of the previous one. Elsewhere across the project, work is ongoing in the rail corridor to prepare the wider network for Cross River Rail. Important works are occurring over Christmas 2021 to ensure the project's southern portal area integrates smoothly with existing rail infrastructure. Meanwhile, the project hit a major milestone in recent weeks when the first track was laid at the new Mayne Yard North stabling facility, which will increase the capacity of the network's existing inner-city train depot. And trains are being fitted out with world-class signalling technology at a specialist facility west of the city, which will not only improve safety and reliability across the network, but ensure trains can operate safely through the twin tunnels.
Transforming South East Queensland
Unlocking South East Queensland's bottleneck by adding a second inner-city river crossing to the rail network, Cross River Rail will mean quicker journeys, stations in more convenient locations, and the capacity to increase train services as our population grows. It will make public transport a more viable option for the whole region and help to ease congestion on our roads. However, this is more than just a rail project. A region-shaping investment, Cross River Rail is a once-in-a-generation catalyst for urban renewal and economic development in some of the city's most underutilised spaces, while also creating new public spaces and community precincts.
Around $20 billion of city-shaping investment is expected to flow into the precincts surrounding the four new underground stations and the upgraded aboveground station at Exhibition, laying the platform for job growth across South East Queensland for decades to come. This is yet another example of the key role Cross River Rail will play in the lead up to the 2032 Games, with stations expected to service at least three key Olympic and Paralympic venues. While Cross River Rail will play a major role in shaping South East Queensland in the future, the project is already having a massive impact throughout the state now. Cross River Rail will create around 7,700 jobs and 450 apprentice and trainee opportunities. The project currently injects around $4.1 million a day into the economy, with over 90 per cent of this flowing directly to Queensland businesses. In fact, more than 1,500 Queensland subcontractors and suppliers have benefitted from Cross River Rail to date.
Sustainability
As well as this direct economic contribution, we are also committed to sustainability. For example, over 80 per cent of the spoil generated by Cross River Rail to date has been recycled or stockpiled for reuse, with the material being beneficially used at other sites, in other transport projects such as the Pacific Motorway upgrades, and even to make bricks. The economic shot in the arm provided by the project could not have come at a better time, as Queensland unites and recovers from the COVID-19 pandemic. Continuing work throughout the pandemic has allowed the project to remain on schedule and on budget, which is a testament to the tireless efforts and professionalism of the entire team. Major construction on Cross River Rail is scheduled to be completed in 2024, with the first passengers being welcomed in 2025.

Graeme Newton has 30 years' experience as a senior executive in the infrastructure sector, leading large and complex, high profile, multi-billion-dollar projects within the private and public sector. His vast experience and industry expertise has seen him awarded both the National Award for Excellence and the QUT Outstanding Alumni Award. Graeme was appointed by the Queensland Premier in 2011 as the first CEO of the Queensland Reconstruction Authority. Over the years, Graeme has worked in a range of infrastructure leadership roles including as Director-General for the Department of Infrastructure and Planning, the Coordinator-General under the State Development and Public Works Organisation Act 1971 (Qld) and has also worked for Deloitte Australia as Lead Partner for the Queensland Government. Graeme's key strengths are in strategy, delivery, transformation and building high-performing teams.