Next generation train control 'Made in Germany'
Dan Woywod, Head of Railway Technology at the German Railway Industry Association (VDB), shares his insights into how Germany's use of ATO with ETCS will optimise both urban mobility and regional operations, as the country strives to digitalise its entire rail network by 2035.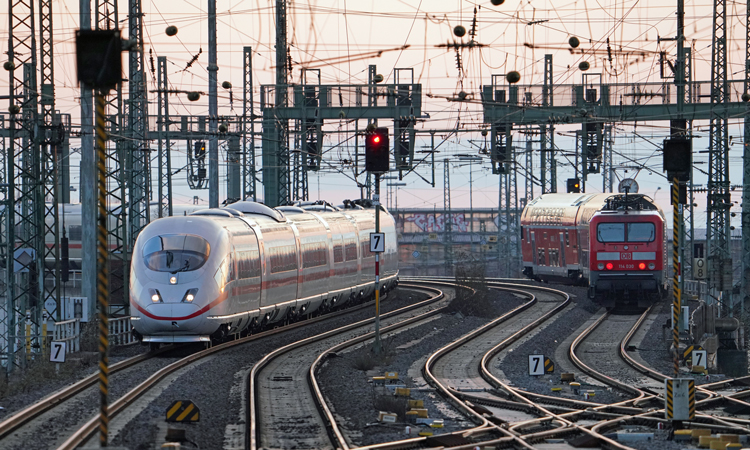 Growing cities across the globe are facing similar challenges: pollution darkens the sky, space is running out, traffic jams rob people of their time and slow down the global logistics boom. Climate protection can no longer be postponed. The targets in Europe have rightfully been set high: climate-neutral by 2050. To achieve this important goal, transport emissions e.g. in Germany, must be reduced by at least 50 per cent. At the same time, the demand for mobility is increasing in both passenger and freight transportation.
It is thus evident that the solution to green mobility cannot be the restriction of traffic. An emission-free society can only succeed through more mobility with fewer emissions. Rail transport already accounts for less than one per cent of emissions in the transport sector. If rail passenger numbers double as anticipated by 2030, Germany would save up to 26 million tonnes of CO2. But, in order to achieve this goal, rail transportation must boost its capacity – and attractivity.
Demand follows best offers. Digitalisation is catapulting rail into a new era: more capacity, more punctuality, more energy efficiency, shorter travel and waiting times – in brief: 100 per cent reliability. Automated driving, high-speed trains, a strong Europe on rails – the European Train Control System (ETCS) makes it possible for main line rail. In urban rail, the similar Communication Based Train Control System (CBTC) enables automatic metros that run more often, more punctually and improve energy efficiency by 30 per cent through precisely calculated travel curves. Furthermore, the smart control system allows for the transportation of up to 35 per cent more passengers and goods on existing routes – across European borders. Today, locomotives must often either be changed at borders or have several train control systems on board – such anachronisms slow down Europe's growth as well as its transition to carbon neutrality.
However, success stories show that we are moving in the right direction: In 2018, more than one million people switched from car and plane to rail for their journey from Berlin to Munich. While 36 per cent of Italian travellers chose the train for long-distances in 2011, today the numbers are up to 70 per cent. In France, rail has a market share of 90 per cent on routes under two hours. And in Spain, around 63 per cent of passengers use the train on their way from Madrid to Barcelona – until 2008 the connection used to be one of the busiest flight connections in the world.
What made the difference? The expansion of digital high-speed rail connections with ETCS. Shorter travel times, higher punctuality – increasing passenger numbers, more climate protection. The task is clear: Germany must adhere to its targets and digitalise its entire rail network by 2035.
ATO over ETCS
In order to equip and use ETCS, the local rail network must be fully equipped with digital control and safety technology. Digital interlockings form an indispensable basis for ETCS. Yet, a high percentage of installed signalling equipment, particularly in regional lines in Germany, date back to, from todays point of view, an almost ancient period. They must be upgraded in order to support and operate a digital network. In 2020, the German railway industry and Deutsche Bahn set the starting point for a digital rollout with an acceleration programme for the modernisation and replacement of outdated interlockings, creating the basis for further digitalisation and automation of rail traffic. The federal government is providing €500 million from the German recovery package for the technological upgrade. Optimised processes allow digital interlockings to be built within one year (from planning to start of operation) instead of the previously standard five year time frame. Subsequently, the acceleration programme will serve as a demonstrator and best practise for the entire rail infrastructure digitalisation process.
However, digital infrastructure is of no use without intelligent trains. For ETCS to work, rail vehicles must be equipped with an ETCS on-board unit – including options for other systems such as Automatic Train Operation (ATO) or the Train Integrity Monitoring System (TIMS), where necessary. Around 12,750 existing vehicles must be retrofitted by 2030 in Germany alone. At the same time, all upcoming rolling stock procurement must be geared to the integration of ETCS on-board units.
The 'Digital Rail for Germany' initiative sets out to test and lay out the foundations for the nationwide ETCS roll-out. As part of a starter package for the initiative, railway infrastructure in the Stuttgart region will be gradually equipped with digital control and safety technology. In the coming years, the 'Digital Node Stuttgart' project will ultimately enable automatic operation in the area. Initially, over 400 city and regional trains will be equipped with 'ATO over ETCS': For the first time in Germany, entire full-line fleets will be operating with ATO Grade of Automation 2 (GoA 2) and ETCS Level 3. Through CTMS, a system taking into account a vehicle's traction and braking status, ATO GoA 2 can be used to guide the following train, in anticipation of the movement of the preceding train. In addition, optimised ETCS braking curves and shortened processing times contribute to the densest possible train sequence.
While many field elements are no longer required, a number of components on vehicles have to be retrofitted, including the ETCS on-board unit. Although railway companies benefit in the long-term from the efficiency gains of the infrastructure, state support is required due to high initial investments, especially regarding vehicle modification. Within the scope of the pilot project, the federal government is funding ERTMS and ATO vehicle equipment – for the first time – with up to €200 million. The European Union (EU) is contributing up to €21 million from the CEF Transport Blending Facility 2019 for regional and suburban rail fleets.
Next generation train control 'Made in Germany'
Digital, automatic train operation is set to become the new normal for railway transportation in Germany. During the 2021 Intelligent Transport Systems (ITS) World Congress, the city of Hamburg launched highly automated rail operations for a 23km-long section of its city train line. The pilot project for the Digital S-Bahn showcases how new technologies can help improve the performance of local public transport in growing cities. The project integrates rail infrastructure with rail vehicles by leveraging ETCS and ATO in a standard open rail environment – which remains unique in the world to this day. The electronic signalling system monitors points to ensure they are in the proper position and sets signals for the trains. The new ETCS computer in the signal box receives train control information, including signal commands and speed limits. The computer transmits the driving instructions by radio to the relevant trains, which it monitors continuously. Intelligent operations-control technology and a new train control system optimise the performance of the railway, thus paving the way for sustainable mobility services.
In the future, automated trains will not only optimise urban mobility, but regional rail operations as well. In 2021, test operations for driverless regional trains started in regular passenger service in the German Region of Lower Saxony. After three years, the Federal Railway Authority will evaluate the test in order to approve regular operation. The trains are equipped with ATO technology in order to test two levels of automation: The third grade (GoA3) will be tested during passenger operations. It includes a fully autonomous train journey, however a driver or an attendant who can intervene in the operation in case of emergency will be present in a cab. At the same time, the fourth grade (GoA4), which provides a fully unmanned service, will be used for shunting operations.
Digitalised, autonomous rail transportation allows for both more mobility and fewer emissions. The next generation of train control systems 'Made in Germany' create more capacity, more energy efficiency and allow for best offers to simply inspire people to switch to the environmentally friendly rail.

Dan Woywod has been Head of Railway Technology at the German Railway Industry Association (VDB) since 2011. In his function he is in charge of technical regulations, standards and norms, authorisation procedures, control command and signalling on-board (CCS), research projects and innovative rail technologies. He started his career at Siemens where he held several positions in the division of transportation systems in the area of train control technology and as a Project Manager in sales. He worked for several years as Senior Project Manager for order processing for mainline railways for the rail vehicle manufacturer Stadler Pankow GmbH.