Optimising Brightline's on‑board experience
Tom Rutkowski, VP & Chief Mechanical Officer at Brightline, dives into the development of train interiors today and how train operators are meeting the changing needs of rail travellers, what they want from their on-board experience, and how modern interiors can harness innovation while improving safety measures.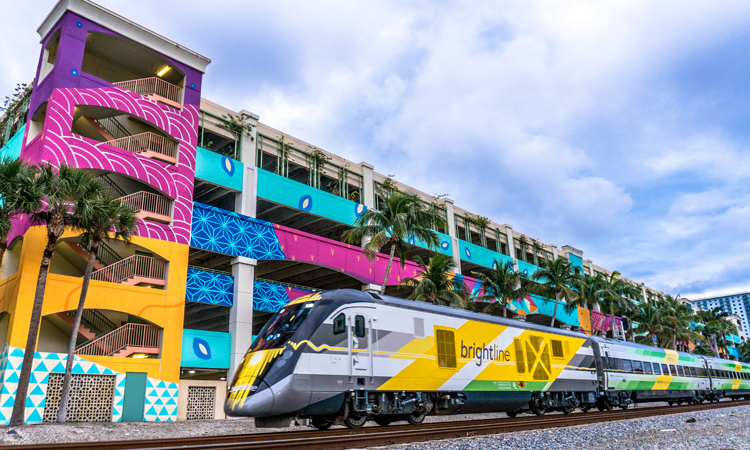 Bright and airy, Brightline's stations are designed to offer guests an elevated journey at the intersection of lifestyle and hospitality. Each of our Florida train stations are located in the heart of downtown Miami, Fort Lauderdale, West Palm Beach and soon in Orlando. And while our stations are intended to delight guests from the beginning to the end of their trip, we've paid particular attention to optimising our on-board experience, with special attention given to the interiors of our coaches.
Imagineered by a team of architects and interior designers from Rockwell Group, our trains were designed with guests' safety and comfort front of mind. Working with Rockwell Group, we strove to go above and beyond the norm to provide a safe, fun, and welcoming ride for everyone aboard, without compromising on convenience and comfort.
The seats
Every seat (in both our SMART and PREMIUM coaches) is big and comfy, wider than most other transit sets with a 39-inch seat pitch throughout. They are all made of a blend of real and synthetic leather (real, durable leather down the middle saddle of the seat – where there will be the most wear and tear). We worked with the same seat supplier as Bentley Motors, Ferrari and Audi to ensure top-quality, luxury upholstery.
We worked with the same seat supplier as Bentley Motors, Ferrari and Audi to ensure top-quality, luxury upholstery.
Sustainability remains one of Brightline's top priorities, so when we renovated the interiors of our coaches we partnered with ReThreaded, a conscious gift company that repurposed leather sourced from our old seats and upcycled it into wallets, purses, and more. ReThreaded offers employment opportunities for survivors of human trafficking, a major issue in the hospitality and transportation industries, so through this partnership we were able to not only reduce our environmental impact and improve our coach interiors, but also help create access and opportunity for others.
Our seats are designed to recline in place, sliding down and then back. This feature eliminates frustration when the guest in front of you leans back and invades your space – these seats recline without compromising your neighbour's legroom.
Connectivity is also a priority. In addition to providing free Wi-Fi, there are a multitude of built-in power outlets and USB connections under the armrests, in the seat pedestals, and in pop-up style table units.
The multi-task tray
Every seat is equipped with a very functional tray table, designed to give guests more convenience – it's almost like having two trays in one! A smaller section of the tray table can be folded down to accommodate guests' phones or smaller items to save space, while the larger tray table can be utilised for laptops, books, and food. Guests travelling in a group may opt to reserve seats at one of our on-board tables, which offer seating for four and a spacious, expandable table with pop-up outlets.
Touchless hygiene
Our trainsets consist of two locomotives and four coaches. Every coach includes a spacious restroom that is ADA accessible and features a touchless environment. The toilet has a touchless flush, which can be activated with the wave of your hand. For those who forget to flush, it will automatically take care of that when the door is opened. The sink is integrated into the vanity area which also includes a large back-lit mirror. Each restroom also includes a Dyson Airblade faucet that both dispenses water and dries hands from the same fixture, preventing water from dripping onto the floor and eliminating the need for paper towels.
Accessibility
Brightline's interior aisles are 32-inches wide, providing ample space for wheelchairs and strollers to easily glide throughout the coach with access to all areas, including the restrooms. It is one of the only trains in the world where a wheelchair can go from one end of the train to the other. Interior vestibule doors also slide open and close automatically, so guests can seamlessly move between coaches.
Level boarding
Level boarding is a unique feature on Brightline trains. The station platform and the train door are slightly different heights (about three inches different). As part of the automated door system on the train, Brightline utilises a 'gap filler' that literally bridges the gap and height change between the train and the platform. The gap filler makes it possible to keep the platforms far enough away that freight trains can pass by, while still providing passengers a seamless way of stepping (or rolling) into and out of the train. Brightline is one of the only trains in the industry to leverage this kind of innovation.
On-board Wi-Fi
Brightline offers free, speedy Wi-Fi to all passengers, powered by multiple antennas on every trainset for continuous connection in every coach. Guests can bring their own device and work, binge watch TV series or movies, play games with their children, and otherwise stay entertained and productive throughout their trip.
Luggage
Each coach has plenty of room for guests' luggage, as well as larger items such as sporting goods. The compartment at the end of the last SMART coach on each trainset is reserved for checked bags and there are luggage towers in each car for larger carry-on bags. At each seat, overhead luggage racks are available for carry-on bags, and under seat storage space can be used for small personal items.
Bikes on-board
Brightline welcomes and encourages all kinds of car-free (and carefree!) transportation. Each of our coaches are equipped with bike racks, enabling an easy and convenient option for cyclists who would like to travel to and from our stations on two wheels.
Pets welcome
We also designed our coaches to be comfortable for furry friends. Seats in all coaches offer enough space to accommodate small pets in carriers, and larger pets are welcome to come aboard in one of our provided carriers and ride in our designated pet zone.
Sustainability
Sustainability remains one of Brightline's top priorities. The company aims to provide extrodinary guest experiences, while being gentle on the environment and creating a positive social impact.
Sustainability remains one of Brightline's top priorities. The company aims to provide extrodinary guest experiences, while being gentle on the environment and creating a positive social impact. That's why it is reusing and recycling all materials removed from interior coach renovations. Its partnership with ReThreaded achieves both of these goals by diverting train seats from landfills to create something with social good. Brightline not only repurposes leather from its train seats with ReThreaded, but is helping bring attention to an immensely important cause throughout the travel and hospitality industry – which is human trafficking. Through this partnership Brightline is not only able to help reduce its environmental footprint from the waste, but is creating access and opportunity, which is something that rings true to its mission and vision.
Brightline also has the most environmentally friendly biodiesel-electric trains in service. Its locomotives meet the highest emission standards set by the federal government. Riding the train reduces CO2 emissions by 75 per cent per passenger mile (or kilometre) when compared to travel by a personal vehicle. This service will remove three million cars per year from area roadways.
Brightline currently serves Miami, Fort Lauderdale, and West Palm Beach, with its expansion station in Aventura and Boca Raton opening in 2022. Brightline's current construction project to Orlando is over 70 per cent complete with over 1,300 daily workers on the job tallying more than four million hours of work. Over an eight-year period, Brightline's corridor between Miami and Orlando will result in $6.4 billion in economic impact and over 10,000 jobs. Construction of the highly anticipated expansion to Orlando is on track to be complete by the end of 2022, with service to begin in early 2023. Moreover, discussions with local stakeholders remain underway regarding expansion to Disney and Tampa. Brightline expects over nine million annual passengers once all Florida stations are completed. The future expansion of MiamiCentral includes a Miami-Dade commuter rail system with stations in Wynwood, the Design District, Little Haiti, North Miami, and FIU's Biscayne Bay Campus.

Tom Rutkowski has extensive experience in train maintenance and design as well as facility operations and design. After arriving at Brightline in November 2014 (then named All Aboard Florida), Tom was tasked with the design, construction and commissioning of rolling stock as well as the maintenance facilities in West Palm Beach and Orlando. After successfully launching Phase 1 of Brightline service between West Palm Beach and Miami in 2018, Tom has been working on extending the service to Orlando and beyond. Phase 2 rolling stock is in production at the Siemens facility in Sacramento, CA and the Orlando facility began construction in May of 2019. Prior to joining Brightline, Tom spent over 20 years with NJ Transit spending the last seven years as the General Superintendent of Equipment.