Interior concepts that meet the needs of tomorrow's passengers
Julian Fordon, Senior Manager for Marketing Strategy and Communication of DB Regio at Deutsche Bahn (DB), tells Global Railway Review about the IdeasTrain project, and explains how a life-size mock-up is enabling the operator to realise their innovative concepts and enhance the interior of train design.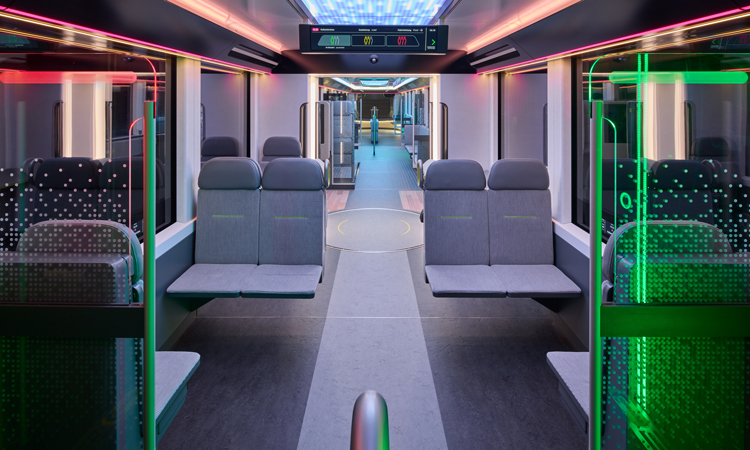 The IdeasTrain project arose from a cooperation team inside of DB Regio in 2016. The design support was provided by Munich-based design agency, neomind. Together, this team proposed the idea of how regional trains could be innovated from a customer's perspective, and specific concepts that could enable passengers to utilise their travelling time. The goal was to build a contemporary train interior concept on a level with other mobility systems. To have a realistic impression, it was necessary to build a 1:1 mock-up model of a real train. With this mock-up it was possible to experience the ideas and materials first-hand.
The team came up with concepts for product ideas based on a comprehensive analysis stage that involved customer surveys and researching technology. Initially, there were some 200 individual ideas for each IdeasTrain model, which were distilled into well-rounded design concepts.
The design process entailed inviting people to take part in frequent trials as we developed ideas and tested prototypes, as well as producing a white model for the IdeasTrainCity to perform a 'stress test' that simulated train travel during rush hour.
With a network of business partners from a wide range of sectors, DB joined forces to make the interior designs a reality. Over 50 of these partners will continue to enrich the project with their proposals and prototypes.
The IdeasTrainRegio
In December 2016 – after just 13 months of development – DB Regio produced its first mockup, the IdeasTrainRegio. This was a 26.4m-long mock-up of a double-decker car with more than 14 different concept modules to show how regional and commuter travelling could look in the future. First, it was just presented to selected stakeholders and partners, but in 2018 the worldwide train industry had the opportunity to see and touch the train at the InnoTrans trade fair. Even though the concept was developed as a prototype, the IdeasTrain is designed to be an open innovations platform that is open to all suggestions. Working together, DB Regio, as the main player in the regional sector in Germany, is addressing its customers' ever-changing needs.
A lot of widespread ideas, all centered around the passenger's daily needs, were integrated to create an open discussion. The IdeasTrain contains a sports module, a snack area with vending machines, as well as a massage seat or sleeping capsules. These ideas were all born from interviews with customers asking them what aspects could be included as part of daily commuter travel. Besides these visionary ideas, there were a lot of concepts to help todays' problems of commuting.
A budget area for inexpensive travel on short-distance routes was designed, as well as a family area with spacious compartments for families and groups. Special seats, with semi-circular shaped headrest surrounds, and a glass partition between seats absorb ambient noise for business travellers.
Rotating noise-cancelling seats block out sounds for quiet comfort on one hand, and new lounge benches are perfect for people who want to sit and spend time together on the other.
This new way of train development at DB Regio earned a lot of positive feedback and attention at InnoTrans 2018, leading DB Regio to start to develop first proofs of concept for real trains. Three years later, the first real IdeasTrain is about to become reality at the Sudostbayernbahn, with concept elements also taking part in the S-Bahn Hamburg and the upcoming redesign of the S-Bahn Stuttgart.
The IdeasTrainCity
Inspired by this, the IdeasTrain team began to explore what the metropolitan transport of the future should look like, realising that it could be worth developing another IdeasTrain – the 'IdeasTrainCity'.
In the next 10 to 20 years, DB expects more than one billion additional customers per year to travel on nationwide metropolitan transport. In order to create more capacity on trains, and at the same time offer a unique customer experience, the IdeasTrainCity was developed with a fully functional 1:1 model as a prototype for the S-Bahn and regional transport of the future in large metropolitan areas.
Additional capacities are realised through the flexibility of standing and seating areas. A new intuitive passenger information and passenger guidance system ensures good orientation within the train. Innovative, ambient lighting creates a new, feel‑good atmosphere, and aids psychological effects such as deescalation and subjective cold sense of space.
The IdeasTrainCity concepts contain different ideas to show solutions for flexible capacity in different evolutionary steps for the next 20 years.
The new passenger compartments feature a flexible standing and seating layout, as well as an intelligent system for informing and guiding passengers. There are displays integrated into the windows and screens suspended from the ceiling that will keep the passengers informed, communicating upcoming stops, connecting services and any disruptions. All of this information is visible at a glance.
Automatic seats help to rearrange the train layout for different daytime slots (rush hour or non‑busy periods) with either individual seats or large spaces to carry a high volume of travellers.
To provide commuters the opportunity to work onboard, several partitioned areas will provide space and privacy for flexible work while on the move. On the opposite side, a work desk to either lean or sit and work can be found. All while a LED display on the window provides the commuter with up-to-date information.
In the 'universal train' area of the IdeasTrainCity, the seats can be electrically repositioned to create a space laid out for people standing, featuring convenient rests for them. This enables us to create space for commuters, or for people going to major events, while offering numerous seating options in off‑peak periods. Lines of screens and a full-pane window display combined with an LED ceiling matrix, provide a new form of infotainment. The displays can also be used to create the right atmosphere for events.
To increase air quality in the train, a visionary air filter system with real-life algae growth to purify the air, was integrated. An optical light system displays a virtual image of the sun.
All of this is packaged in an elegant exterior design that, besides its sleek appearance, supports displays, and a LED colour-stripe that shows the colour of the specific S-Bahn line to navigate passengers instinctively.
The IdeasTrainCity concept was first shown at an internal DB event in the summer of 2021 (with just a few selected stakeholders and partners due to COVID-19), but with a greater digital appearance.
In 2022, DB Regio is planning to showcase the IdeasTrainCity at InnoTrans 2022 to further the discussion around innovative train development and increasing ride quality in our regional trains, in preparation for the upcoming mobility transition in Germany and Europe.

Julian Fordon has been part of the IdeasTrain project team since its start in 2016. He manages rollout projects that bring elements and concepts from the IdeasTrain project into rolling stock through redesigns or new train provisioning. With his background as industrial designer, he achieves the perfect fusion of technical benefit and aesthetical standards for customers.