'Don't put your life at risk, stay away from tracks!'
With level crossing and railway trespass related collisions amounting to over 90 per cent of all railway accidents, Isabelle Fonverne, Senior Advisor for Safety and Interoperability at the UIC, explains why raising awareness of safety initiatives is now more important than ever and how ILCAD 2022 will play a part in promoting messages.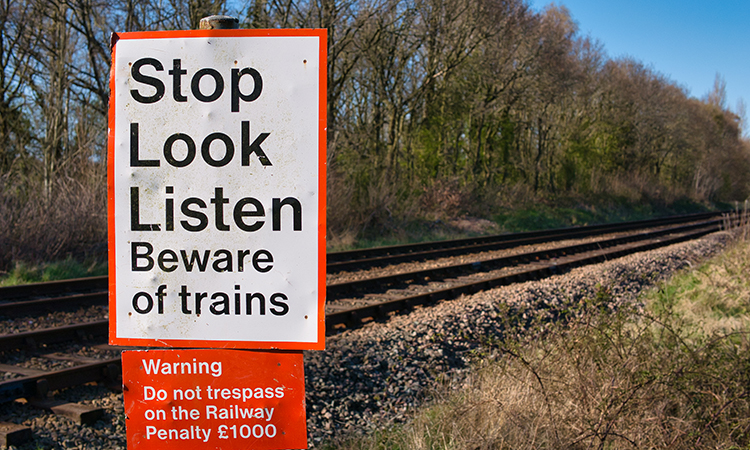 The International Union of Railways (UIC) leads activities on level crossing related topics through two global working groups with over 45 experts from around the world: the Global Level Crossing Network (GLCN) and the TreSP-Network.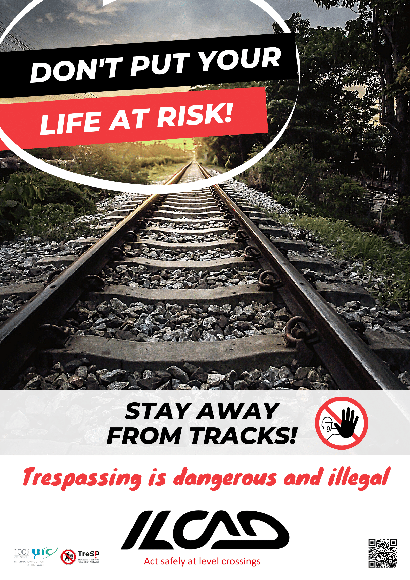 The UIC estimates that there are half a million level (grade) crossings around the world, with over 100,000 in the EU and over 200,000 in the USA, representing 20 per cent and 40 per cent of the total number of level crossings in the world, respectively.
In the EU and the USA, level crossing accidents and fatalities represent almost a third of all railway incidents. When incidents involving pedestrian trespass on tracks are included, this figure rises to 91 per cent of all railway accidents in the EU and 95 per cent in the USA.
All over the world, regardless of the country or culture, the railway sector faces the same problems at level crossings and around tracks. The vast majority of collisions at level crossings are caused by users who deliberately take risks or make bad decisions by mistake, out of habit or when distracted.
ILCAD is a worldwide initiative to improve awareness of level crossing safety. Since 2009, the campaign has been spearheaded by the UIC with the support of the railway community around the world. Approximately 50 countries usually take part in the annual ILCAD campaign.
During the COVID-19 pandemic, most countries experienced an increase in inappropriate behaviour by pedestrians, cyclists, and vulnerable people, both at level crossings and on or around railway tracks, causing a corresponding increase in near misses. Consequently, the ILCAD host countries have decided to focus the messaging and theme of this year's event on 'vulnerable people' with the motto: 'Don't put your life at risk, stay away from tracks!'
Sharing communication and support
Level crossings are high risk spots on the railway network to both road and railway users. Risk assessments, engineering solutions and innovations are used to upgrade the riskiest level crossings.
In 2022, the UIC will again share communication supports on a collaborative basis with all interested participating countries, to be printed and shared on social media or during public safety activities, including safety flyers, posters and videos in several languages.
Each year, a partner country hosts the launch event, an occasion to share good practices and projects to improve safety and reduce the incident toll.
This conference attracts railway industry representatives, road authorities, academics, and many others from around the world who are working to raise awareness of the dangers surrounding level crossings.
In 2021, the ILCAD launch conference was jointly organised remotely by Network Rail and the UIC. It was meant to have taken place at the National Railway Museum in York but was moved online due to the pandemic. Over 300 people from 47 countries (representing every continent with a railway) joined the 2021 conference. Speakers presented engineering, innovative solutions, and education measures to improve safety at level crossings.
ILCAD 2022
In 2022, the 14th ILCAD campaign will be hosted by the Association of American Railroads (AAR), the Federal Railroad Administration (FRA) and Operation Lifesaver, Inc. (OLI) on 9 June 2022 in Denver, Colorado, U.S., it will be preceded for the first time by a special session on 'Trespass and Suicide Prevention' on 8 June 2022.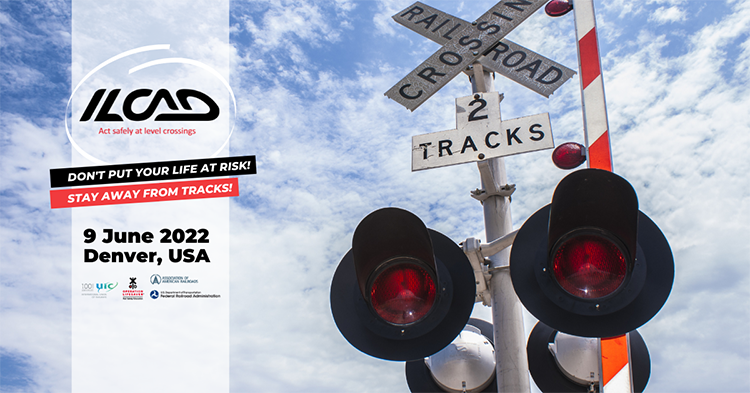 Around 20 speakers from Europe, Canada, Argentina, and the U.S. will discuss best practices and Engineering, Education and Enforcement measures to improve safety both at level crossings and on and around railway tracks.
The main themes of the ILCAD 2022 launch conference include technology (helping to educate and raise awareness), enforcement/regulations (joint initiatives with local authorities and police forces), and community outreach (utilising different channels to spread awareness of safety).
Tackling the problem together
Trespass and suicide events impact the entire railway industry with their adverse effect on safety, performance, reputation, costs, and efficiency. This is an issue that affects all parts of the business, and society as a whole, and is therefore a problem that we must tackle together.
The 'Trespass and Suicide Prevention' session on 8 June 2022 aims to share with our partners from industry the key activities being undertaken within the scope of existing programmes.
The objective of this session is to identify what exists, what else is needed, what individual organisations can do to help prevent trespassing and suicides, and how we can work much closer together on these issues.

Isabelle Fonverne joined the International Union of Railways (UIC) in 1992. Since 2009 she has been the Senior Advisor for Safety and Interoperability and is in charge of level crossing safety and trespass and suicide prevention issues within the UIC Safety Unit.