Benefits of adopting proactive rail maintenance strategies
Pedro Conceicao, CBM Technical Sales Consultant at Nomad Digital, explains how using proactive rail maintenance with real-time information can help operators to meet increasing demands and improve the passenger experience.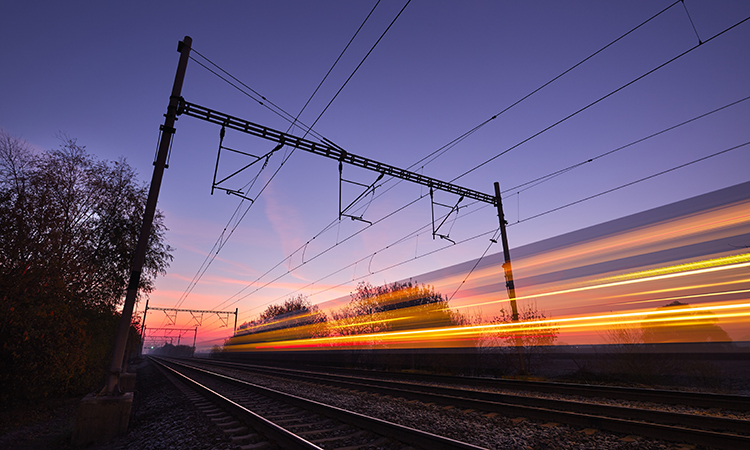 To what extent do you think rail operators are under more pressure than ever to change the way they maintain trains and tracks?
There are great expectations for rail transport. We are faced with an environmental emergency and rail has been proven to be the most energy efficient means of transportation than any other . Countries are promoting initiatives to push the replacement of road transport and shorter plane routes with trains. A personal environmental conscience is also growing within individuals, making people substitute their traditional travel means with rail travel.
This means, and we are seeing it already, that demand is increasing and with it, a need for higher capacity figures. Rail industry stakeholders are aware of these demand increases and understand that this will increase the pressure to have assets up and running and disruption free as much as possible, making the topic of asset availability critical. Obviously, this means that both static assets (rails, stations, signalling, power supply) and rolling stock assets need to be operated and maintained to offer the required availability and keep the whole system operating.
What are the pain points of managing reactive maintenance and why is a proactive approach more beneficial?
Reactive maintenance, or corrective maintenance, are all maintenance activities that occur because of a failed equipment/system. This means that the system is no longer performing the function as it was designed to do. In most cases it is completely out of service, originating that the asset (train) is either completely disabled or, in a best-case scenario if it has some redundancy, working in degraded mode. The train may not be capable or authorised to perform a service and therefore it is unavailable and un-operational until the repairs are carried out.
A proactive approach to a maintenance strategy creates an opportunity to better plan rail maintenance and manage the assets, to be the driver to achieving higher availability figures and system uptime (by up to 20 per cent), all with the obvious advantages to operation. Improvements on availability also creates opportunities in terms asset management, allowing to free more assets to improve the offer or create efficiencies by allowing the reduction of number of assets required for the same level of service.
What innovative solutions can Nomad Digital offer rail operators to help them become more proactive in their rail maintenance activities?
We offer Remote Online Condition Monitoring (ROCM) – a suite of digital solutions that allow users to transform the way they work and to advance to new rail maintenance strategies. At the core of it is high-end quality rail connectivity, but we also offer onboard IT system design, data acquisition, data handling and handling, data enrichment and also the inclusion of third party data into our infrastructure, be it onboard or on the wayside. As part of the suite, we have our optional and highly customisable front-end tool that allows users to visualise, analyse and interact with the data in many forms, independently of the fleet composition and builder and train system supplier. All of this is conceived with one objective in mind: to be the tools that better serve the user's needs – fit for purpose!
What results can ROCM achieve for rail operators?
Each user role will have different uses and benefits for the information we produce. ROCM can help each user role by making relevant vehicle data accessible to help them in their decision-making process.
We already mentioned availability above – allowing better planning of rail maintenance works to periods with lower demand and by proving opportunities to reduce the time required for maintenance activities. For example: replacing manual Condition Based Maintenance activities with remote automated Condition Monitoring or, when talking about Corrective Maintenance, allowing the diagnostic procedures to commence way before the train enters the depot (studies mention ~30 per cent of the time trains spend in the workshop is used for manual failure diagnostics). Simultaneously with greater levels of availability, this process automation through digitalisation, can trigger opportunities to improve resource efficiency, in particular manpower that can be diverted to other activities. This information also allows the monitored train systems to be used up to their operational limit. When using condition-based strategies and remote monitoring, as opposed to classic mileage or time-based maintenance which are unaware of the real condition of the system, this can result in some situations where the system is maintained too late (risk of failure) or too soon (not used to its full potential).
Identifying and understanding what is important for passengers is key and this should be kept in mind.
Looking at operational activities, there are also potential benefits to be reaped with the use of tools such as: real-time information on train and train system status, ability to forecast potential disruptions and mitigate them, hotline support to train staff, etc.
For roles that are responsible for the reliability analysis, the historical data can help to better understand and answer questions such as: is the system being properly maintained? Is it being properly operated? Do we have a reliability issue that might require a redesign?
Finally, regarding the Asset Management/Asset Ownership roles, the Total Cost of Ownership (TCO) is critical and is closely linked to the roles above and any opportunities to improve performance. Generating more revenue with your assets can be leveraged with higher availability, cost reduction can be obtained with improved rail maintenance efficiencies, and mitigating the risk of critical disruptions can reduce the likelihood of incurring penalties.
In what ways can the ROCM solution have a direct impact on improving the passenger experience?
Passengers should be at the centre of the strategy. Identifying and understanding what is important for passengers is key and this should be kept in mind.
ROCM, a Remote Online Condition Monitoring solution, is a suite of tools that offers the opportunity to improve the availability of trains and its' systems. By doing so, it offers passengers a punctual service which is free of disruptions and the upmost comfort with all amenities working as they should. Being able to understand what is happening with the train in real-time and/or to forecast how the systems' condition will evolve through time, allows for better planning and the opportunity to mitigate the risk of having a train or vital train system experiencing a disruptive failure while in service which could result in a poor customer perception of the quality of service.
If a rail operator is considering investing in Remote Online Condition Monitoring, what would you say to convince them that Nomad Digital's ROCM is the right solution for them?
Nomad Digital devises bespoke building block solutions that are flexible and customisable to suit the tailored requirements of operators. We support the design of the solution that fits the needs and requirements of the different users. We offer solutions that are scalable and can be upgraded should the needs of the operator change in the future. Our solutions and front-end application allow operators to have customised dashboards with seamless data visualisation and analysis, independent of builder or system supplier; a suite of future proof, modular solutions bespoke to individual requirements.

With more than 19 years' experience in rolling stock maintenance and extracting value from data, Pedro Conceicao is CBM Technical Consultant at Nomad Digital. Over the past 19 years working in the rail industry across European countries, Pedro has had responsibility for direct technical support to maintenance activities, staff training, technical procurement and re-engineering, maintenance optimisation programmes applying RCM methodology. As well as the introduction of new technologies to maintenance operations including NDT ultrasound techniques and semiautomatic wheel measurement. At Nomad Digital, Pedro also specialises in Business Development in areas including rolling stock digitalisation, IoT and use of automated and specialist data analysis methods.