Brightline Q&A: Patrick Goddard discusses the new Orlando station
Patrick Goddard, President of Brightline, provides details of the new Orlando station and explains how it will deliver a 'guest-first' travel experience for rail passengers.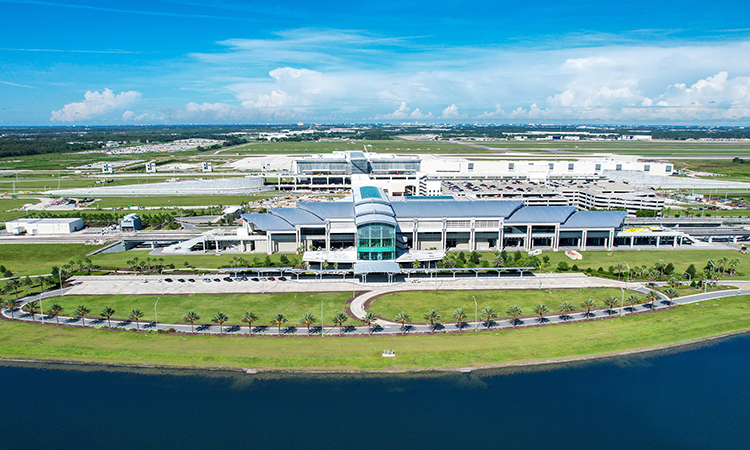 Photograph of the new Orlando station. Credit: Brightline
Can you give a general overview of the new Orlando station?
Brightline's new Orlando station will revolutionise train travel in America and continue our vision of offering a guest-first travel experience. The station is set to open in Central Florida later in 2023. It spans three-stories, features ground-breaking design and a unique synthesis of luxury amenities that meet the demand of today's modern traveller.  
At Brightline, we are the only provider of modern, eco-friendly, intercity rail in America and we currently serve Miami, Aventura, Fort Lauderdale, Boca Raton and West Palm Beach. 
How will the Orlando station meet the needs of passengers?
The passenger's journey will begin at the main entrance, located off the airport's expansive two-story glass atrium. Once inside the station, passengers will be able to purchase tickets from guest services or one of several self-service kiosks, and check luggage before proceeding through touchless turnstiles into the security screening area. Currently, Brightline is the only rail system in America that screens all passengers and bags prior to boarding. 
We offer two classes of service, SMART and PREMIUM (see below). The PREMIUM service will provide complimentary drinks and snacks in a dedicated lounge and train coach. Throughout the station, all guests will have access to free high-speed Wi-Fi, charging stations at every seat, 87 big screen televisions and a children's play area located in the SMART lounge. 
Who is Brightline working with for the design of the station?
The Orlando station has been designed by Bigtime Design Studios, an architecture firm based out of Miami, Florida, that also designed our newly opened stations in Boca Raton and Aventura, alongside the architect of record Sonny Fornoles of Borrelli + Partner. The buildout of the station is led by Orlando-based contractor Gomez Construction Co., a minority owned business whose headquarters are based in Orlando, Florida. 
What are the key features of the new station?
The station features an upscale retail experience with convenient in-station shopping and its Mary Mary Bar, serving hand-crafted cocktails and lite bites. Positioned at the far end of the station, the sit-down bar has a stunning panoramic view overlooking the train platform where guests can leisurely watch as trains arrive and depart the platform.  
Located above the bar is a flip-flap message board that can rotate alphanumeric text and/or graphics to form a message. The flip-flap will provide updated train schedules, boarding times, news of the day and other announcements complete with the flip-flap sound reminiscent of the first passenger train stations in America. 
Passengers will be able to access trains by escalator or elevators to the first level platform and board from one of two new track platforms. These platforms are 1,000 feet long and will accommodate a train with four coaches and two locomotives that will transport guests on the Orlando to Miami route in just over three hours.  
The 37,350 square foot station is located at the heart of Orlando International Airport's new 80,000 square foot Terminal C and connects directly to the airport's parking deck C, which will have more than 350 parking spaces reserved for our guests. An automated people mover connects the terminal to the rest of the airport facilities including Terminal A and B in under five minutes. 

Patrick Goddard, President of Brightline, is responsible for the company's multi-billion-dollar intercity passenger rail development and expansion that will connect Central and South Florida. Patrick leads the company's go to market strategy, including more than 1.5 million square feet of transit-oriented development.