Q&A with Jules Arlaud: HS2 Tunnel Boring Machine breakthrough
In this exclusive interview with Global Railway Review, Jules Arlaud, Project Director at Balfour Beatty VINCI, discusses the latest tunnel boring machine (TBM) breakthrough underneath Long Itchington Wood and what it means for the HS2 project.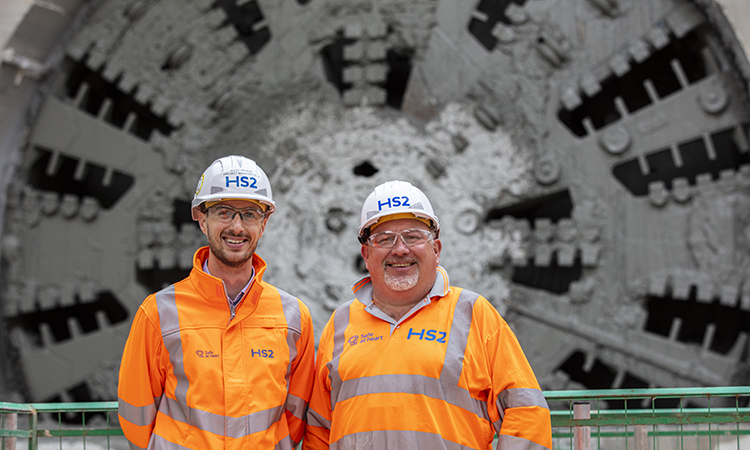 Credit: HS2
Can you give us an overview of the recent tunnel boring machine breakthrough in Warwickshire? 
It was really exciting to watch our tunnel boring machine (TBM) 'Dorothy' breakthrough in March, as she completed her one-mile journey underneath Long Itchington Wood. Launched in November 2022, it only took four mouths for this 2,000 tonne TBM to safely reach the other side, which is an incredible achievement.  
The journey we've been on, since we began tunnelling, has been intense and has required a high level of commitment, resilience and dedication from everyone who's been involved.
Dorothy was already in place, sitting just behind the diaphragm wall the night before the breakthrough. As soon as we resumed excavation the next morning, we immediately heard the typical high-pitched sound coming from behind the wall, caused by the TBM's cutterhead pushing up against it. Shortly after, the first cracks began to appear, followed by signs of movement behind the wall. Finally, Dorothy broke through the last few layers of concrete, glass fibre and reinforced polymer bars, causing the wall to fall forwards into the reception box. 
The journey we've been on, since we began tunnelling, has been intense and has required a high level of commitment, resilience and dedication from everyone who's been involved. Reaching this milestone safely, without any high potential incidents, as well as ahead of schedule, was only possible because of this project team, which I've been proud to lead. Sharing this moment with them was certainly a career highlight for me. 
Why is this breakthrough important for HS2? 
This is the second tunnel breakthrough we've delivered at our Long Itchington Wood site, making it the first complete twin-bore tunnel on the HS2 project. It's an achievement we're really proud of and follows years of careful planning, preparation and tunnelling expertise.  
When you stand in front of the North Portal, you start to get a real sense of what the completed HS2 route will look like. Both tunnels stretch underground for a mile in front of you. On your left, passengers will be travelling north towards Birmingham and on your right, high speed trains will head south towards London. 
Can you tell us more about the 2,000 tonne Tunnel Boring Machines themselves and how they are operated? 
There's a 10 metre rotating cutterhead towards the front of the TBM, which excavates the ground by using a high-pressure boring fluid (slurry) and an electric motor system to rotate the cutterhead. The action of perimeter jacks on the last installed concrete ring gives the TBM its pushing force. Dorothy is a variable density TBM, which means we could switch between different tunnelling modes in order to suit the different ground conditions present in Warwickshire. As the TBM moved forward, the excavated material was carried back out of the tunnel through a slurry pipe circuit and then processed at a slurry treatment plant on the surface. 
Behind the cutterhead and shield are the gantries, which weigh around 1,000 tonnes. These structures contain important systems which aid in the construction of the segmented tunnel walls. They include slurry pipelines, grout tank, control rooms, electrical systems, dust removal, ventilation and mechanisms for transport of pre-cast segments. This section also contains important safety features including a reinforced refuge chamber, protecting the crew in the event of an emergency. A team of 45 people was required to operate the TBM and other key facilities, including the slurry treatment plant and TBM segment management, working in three alternating 12 hour shift patterns to keep the machines running 24/7. The team was supported by an additional day crew, taking the total workforce number to around 170 people. 
How will these tunnels help HS2 to manage the potential environmental impact of the railway? 
These tunnels in Warwickshire will preserve the ancient woodland that sits above.
These tunnels in Warwickshire will preserve the ancient woodland that sits above. Long Itchington Wood is classified as a Site of Special Scientific Interest (SSSI) with complex ecosystems that have taken hundreds of years to establish. In addition, all the ground material excavated from the tunnel construction will be reused along the route for landscaping and embankments. 
What does this breakthrough mean for the HS2 project going forward? 
The breakthrough was a huge milestone for Balfour Beatty VINCI and everyone connected with the HS2 project. Now this twin-bore tunnel is complete, we're looking forward to launching our next TBM in North Warwickshire this summer, for the first drive of the Bromford tunnel. This twin-bore tunnel is longer, carrying HS2 trains 3.5 miles into Birmingham city centre.  
As for Dorothy, she will be disassembled, transported and reassembled at Bromford, along with her supporting facilities. She will then undertake the second drive of the Bromford tunnel, which is set to launch in early 2024. 

Jules Arlaud has worked in the construction industry for the last 13 years. Arlaud currently works as Sublot 1b (Tunnels) Project Director on HS2. He is experienced in delivering projects across multiple industries including water, transport, railroad bridges, subways, airports and tunnels.