LOROL maintains its focus on passenger safety at stations
Since taking over the London Overground concession in November 2007, passenger safety has been of paramount importance to London Overground Rail Operations Limited (LOROL) and despite a huge increase in passenger numbers – with daily passenger journeys up from 100,000 in 2007 to more than 450,000 today – we have achieved one of the lowest rates of accidents to passengers in the industry and won awards for our operational safety, writes LOROL's Customer Service Director, David Wornham. Most significantly, LOROL's rate of slip, trip or fall accidents is almost 50% lower than it was three years ago and boarding and alighting incidents have been reduced by more than 70% since 2010…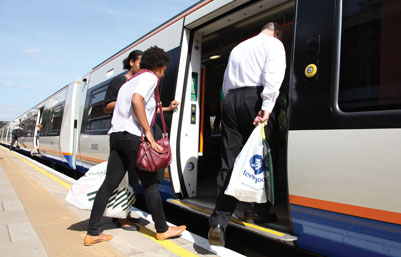 Of course, ensuring passenger safety on the railway demands a continued and constant focus on risk to passengers and investment to educate, inform and protect them. This is of particular importance to LOROL, as train capacity will further increase by 25% under the London Overground Capacity Improvement Programme that will deliver five-car trains to the London Overground during 2014 and 2015.
It is because of its commitment and responsibility that LOROL's Safety Executive Group re-invigorated our approach to passenger safety by establishing the Station Safety Working Group (SSWG) in 2012, empowering the Group to review station safety and identify areas for improvement wherever possible.
Representatives from a range of departments sit on the SSWG and the Group is led by LOROL's Head of Stations and Chaired by a Project Manager with many years of experience of stations. It also includes representatives from the Safety, Quality and Environment team, as well as local station managers and health and safety representatives.
The SSWG replaced LOROL's original Slips, Trips and Falls Group and has a much wider remit to promote passenger safety at stations rather than simply in reaction to these incidents. The Group holds its own budget and can therefore make positive changes at individual stations, as well as invest in longer-term initiatives to fulfil its responsibility. Together with partner organisations, such as Network Rail, the SSWG is able to identify opportunities and deliver projects that further mitigate risk.
Much of what it does can be considered basic – but that's what makes it works. The Group is most effective in identifying trends and then coming up with ideas to mitigate the issues.
A positive impact on passenger safety
Over the last 12 months in particular the Group has delivered a positive impact on passenger safety at stations across the London Overground network. Under its direction, we achieved our 2013 Safety Plan objectives of reducing the 2012 rate of injuries to passengers caused by slips, trips or falls on LOROL's stations by 5% in 2013, as well as the 2012 rate of injuries to passengers caused by boarding or alighting by 10%.
In fact, during 2013 LOROL achieved an 11% reduction on the rate of injuries to passengers caused by slips, trips or falls and a 48% reduction on the rate of injuries to passengers caused by boarding or alighting on stations against the 2012 result.
Key safety initiatives on the London Overground
LOROL's significant achievement of reducing passenger injuries at stations is the result of a focused and long-term approach to address risk at stations through a number of key initiatives, including:
Station risk profiles
Detailed risk profiles have been completed for the majority of London Overground managed stations, each providing a list of actions to reduce risk at the station. The actions in each risk profile are tracked by the SSWG and, where possible, actions are financed by the Group. Following each risk profile, the SSWG's budget holding power means positive change can be undertaken quickly. Projects that have been undertaken this year include: mirrors for blind corners at Kentish Town West, installed during April 2014; at Bushey in March 2014 and Hackney Central in October 2013 the SSWG oversaw the purchase and installation of new anti-slip mats in the ticket hall which, according to reports from the station team at Hackney Central, have significantly reduced levels of water coming into and onto the ticket hall floor; and chemical treatments of tiled floors in ticket halls at Dalston Junction and Brondesbury over the last year have further contributed to minimising the risk of slip, trip or fall incidents at these stations.
Introduction of a Station Incident Handbook
Earlier in 2014, two Station Incident Handbooks were introduced for surface and sub-surface stations. The aim of the handbook is to provide a handy reference guide for staff outlining the processes that must be undertaken for incidents such as a detrainment, equipment faults and accidents and assaults. They will be updated annually.
Working with industry partners
Projects to improve passenger safety at stations have also been undertaken with industry partners. For example, at Willesden Junction, LOROL's Infrastructure and Projects team worked with Network Rail to develop waste ground adjacent to the platforms to install a large passenger waiting room. The project has reduced passenger overcrowding on Platforms 4 and 5 at this station and therefore helped to lessen the risk of incidents when passengers are boarding and alighting.
Support for vulnerable passenger groups
A programme to promote buggy safety was launched in 2013 to ensure that passengers with buggies are not exposed to unnecessary risk, especially when boarding and alighting. An Oyster Card holder with specific advice to this passenger group has been created and is handed out to passengers at stations and plans are in place to create leaflets and posters with this safety advice. Work will also continue in 2014 to support vulnerable passengers, such as mobility impaired passengers, and will be rolled-out in conjunction with staff training initiatives for maximum impact.
Station Staff Training DVD
The SSWG led the production of a training DVD that was released to station staff in May 2014. The DVD forms part of a training and briefing package, discussing situations that station staff encounter regularly and offering guidance and information on how to handle them, including dealing with disabled and ill passengers, snow clearance, hazard spotting and managing contractors working at the station. Feedback has been very positive as it brings to life concepts discussed as part of a wider day of training.
The Customer Service Ambassador
The introduction of a new Customer Service Ambassador role at LOROL-managed stations has further helped to improve passenger safety. This role offers LOROL the opportunity to better manage crowds and congestion, particularly on platforms and with investment in mobile PA systems at seven stations already we have been able to ensure we are communicating in a clear, up-to-date and authoritative manner to promote passenger safety, particularly at busy periods. While 11 roles were filled initially, it has worked so well that LOROL has introduced a further 10 and is aiming to take this figure to 30 in total by the end of 2014. We are also extending the reach of the team to support both staff and passengers on the Gospel Oak to Barking line during peak hours, where continued growth of the line means it is now full to capacity to help drive down delay minutes.
Suicide prevention campaign
A suicide prevention campaign in conjunction with the Samaritans aims to prevent suicides from taking place on our railway. At risk workshops for individual high risk stations, such as Norwood Junction or Bushey, we work with Network Rail, the British Transport Police and the Samaritans to consider what we can do to reduce the risk of suicides. This may be via the introduction of physical barriers, publicity at stations and on platforms, or by training our staff. A considerable number of front-line staff in stations and control are attending training by the Samaritans to help staff recognise suicidal behaviour and how to best respond to it and managers attended training to understand how to support staff should the worst happen. Over the years, many of our staff have saved lives through their intervention.
LOROL is committed to working with and supporting other train operating companies (TOCs) to address this issue. In line with this commitment, our Head of Safety, Quality and Environment, Simon Ward, has recently become a member of the National Suicide Prevention Strategy Group.
He is also a member of the newly formed industry Passengers on Trains and Station Group, ensuring we can learn from other TOCs' experience and share our own best-practice, as well as influence industry strategy in this key safety risk area.
A commitment to further improve passenger safety
LOROL has set itself the challenging objective of further reducing the rate of injuries to passengers caused by slips, trips or falls at stations in 2014 and reducing the rate of injuries to passengers caused by boarding/alighting on LOROL's stations over the next year.
To achieve this, LOROL's SSWG is maintaining its focus on passenger safety at stations, continuing to concentrate efforts on stations presenting a high risk and working with front-line employees, industry partners and stakeholders to ensure that every effort is made to minimise risk to passengers at every stage of their railway journey.
We are well on track to achieve our objectives for the coming year, and as long as we continue the good work done to date and keep complacency at bay, I have no doubt we will achieve this.
Biography
David Wornham is LOROL's Customer Service Director and is responsible for delivering a step-change in the operator's customers experience and ensuring they deliver their promises to Transport for London. David has been in the rail industry for more than 17 years, starting in front-line roles in Revenue and Stations. David has enjoyed a varied career in management roles over the last 10 years at Gatwick Express and Heathrow Express covering diverse grades of staff from on-board catering teams to drivers.