LOROL maintains its focus on passenger safety at stations
Since taking over the London Overground concession in November 2007, passenger safety has been of paramount importance to London Overground Rail Operations Limited (LOROL) and despite a huge increase in passenger numbers – with daily passenger journeys up from 100,000 in 2007 to more than 450,000 today – we have achieved one of the lowest rates of accidents to passengers in the industry and won awards for our operational safety, writes LOROL's Customer Service Director, David Wornham. Most significantly, LOROL's rate of slip, trip or fall accidents is almost 50% lower than it was three years ago and boarding and alighting incidents have been reduced by more than 70% since 2010…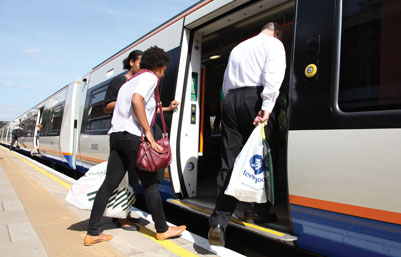 Of course, ensuring passenger safety on the railway demands a continued and constant focus on risk to passengers and investment to educate, inform and protect them. This is of particular importance to LOROL, as train capacity will further increase by 25% under the London Overground Capacity Improvement Programme that will deliver five-car trains to the London Overground during 2014 and 2015.
It is because of its commitment and responsibility that LOROL's Safety Executive Group re-invigorated our approach to passenger safety by establishing the Station Safety Working Group (SSWG) in 2012, empowering the Group to review station safety and identify areas for improvement wherever possible.
Representatives from a range of departments sit on the SSWG and the Group is led by LOROL's Head of Stations and Chaired by a Project Manager with many years of experience of stations. It also includes representatives from the Safety, Quality and Environment team, as well as local station managers and health and safety representatives.
The SSWG replaced LOROL's original Slips, Trips and Falls Group and has a much wider remit to promote passenger safety at stations rather than simply in reaction to these incidents. The Group holds its own budget and can therefore make positive changes at individual stations, as well as invest in longer-term initiatives to fulfil its responsibility. Together with partner organisations, such as Network Rail, the SSWG is able to identify opportunities and deliver projects that further mitigate risk.
Much of what it does can be considered basic – but that's what makes it works. The Group is most effective in identifying trends and then coming up with ideas to mitigate the issues.
The rest of this article is restricted to logged-in members. Login or subscribe free to read it.