Foreword: Collaboration in electrification
Since privatisation of British Rail in the 1990s, one of the strengths of the UK railway industry has been the active involvement of a wide range of private sector companies, bringing technologies and skills from other sectors as well as adding the commercial and competitive disciplines of the private sector, writes Jeremy Candfield – Director General of the Railway Industry Association (RIA). But the commercial and technical drivers alone cannot produce the improved efficiencies that must be found to deliver the railways of tomorrow. That requires a greater level of collaboration across the supply chain and considerable advances are being made in reaching this aim. A leading example of the closer working relationships can be seen in the way that the UK rail industry has pulled together to develop the National Electrification Programmes…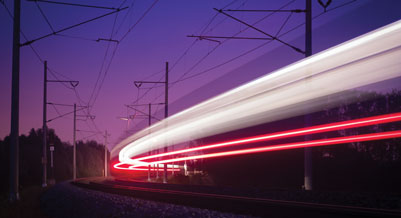 After the completion of the East Coast Main Line electrification there was little new UK electrification for over 15 years, with electric trains operating on only around 40% of the network. Nor was there any political appetite for new electrification. As late as 2007 UK government policy expressly ruled-out 'all-or-nothing' projects, such as network-wide electrification or a high-speed line. The industry needed to find a way of demonstrating how to achieve the benefits of electrified railways: lighter vehicles with lower whole-life cost; better acceleration and enhanced capacity; zero emissions at the point of use and reduced reliance on hydrocarbons.
Despite the lack of new electrification in the UK, British suppliers had been continuing to innovate and make technical developments and had been delivering new electrification around the world. To bring their experience and expertise to bear, the suppliers' organisation, the Railway Industry Association (RIA), working with infrastructure manager Network Rail, co-ordinated production of a series of reports by an expert working group. These were instrumental in gaining approval for new electrification. By 2009, major schemes to electrify Brunel's Great Western Main Line and routes around the English North West had been announced and in 2012 a national programme was launched, committing to around 3,000km of new electrification in 2014-2019. These routes, including a north-south 'Electric Spine' for freight, will see 50% of the UK network electrified, which could rise to 60% by 2024.
Delivering £4 billion of new electrification provides a significant challenge and it was immediately apparent that cross-industry collaboration would again be needed. RIA members teamed-up with Network Rail colleagues to form the Rail Electrification Development Programme (REDP) – a joint client/supply chain initiative aimed at identifying and seeking to mitigate key programme risks. Greatest of these was the availability of competent construction and design resource so a survey of existing resources was carried out so that people development requirements could be assessed and planned. A range of other potentially problematic areas were considered by joint working groups, including efficient and safe design.
More than 60 individuals from over 20 companies volunteered time and expertise over 18 months. When the national electrification delivery frameworks were let in 2014 to ABC Electrification, Amey-Inabensa, Balfour Beatty and Carillion-Powerlines the value of REDP was recognised and its work has continued – now as the Rail Electrification Delivery Group – in working groups and providing ongoing knowledge transfer between projects, between companies and between people, finding and sharing best-practice. With minimal recent experience of UK electrification unforeseen issues are likely to appear. Effective collaboration is particularly important in addressing problems as they emerge, and then in ensuring that lessons learnt are shared to avoid repetition and gain further improvements.
All of this has been made possible because of the two-way sharing of information between Network Rail and its supply chain, and the recognition that an early and consistently collaborative approach is the only way to ensure best value, best quality and the safe delivery of the programme.
Many other examples of collaborative working, alliancing and early contractor involvement can be found and most major projects now depend on it, such as the £6.5 billion Thameslink project which includes the £500 million complete rebuilding of London Bridge Station, the fifth busiest station in Europe. RIA's own Value Improvement Programme is being used to improve collaborative culture and behaviour in a number of focused areas, including the National Footbridge Programme, part of the Midland Mainline electrification scheme and the major Derby Area Resignalling Scheme. It is also noteworthy that British Standard BS11000 is the first official framework for collaboration, and that Network Rail and an increasing number of suppliers are BS11000 certified. It is the intention that BS11000 will become ISO 11000 in due course.
With very large expenditure taking place on railway projects around the world, as well as continual rebuilding and modernisation schemes, it is vital that railways learn how to get the best from their supply chain by working in closer collaboration and partnership with their suppliers.