Swedish high-speed rail – an important investment
In Sweden there is now a solid majority in the parliament in favour of building high-speed rail lines between Stockholm and Gothenburg, and Stockholm and Malmö. The government has therefore appointed a group of negotiators – the National Negotiation on Housing and Infrastructure – with the mission of enabling a rapid implementation. The group will present proposals for financing principles, formulate a development strategy and identify track and station locations. Crister Fritzson, CEO of Swedish passenger train operator SJ, explores what the future holds and why high-speed rail in Sweden is an important investment…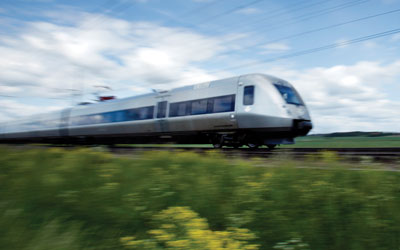 To begin with, we are positive about the entire high-speed rail venture and consider it a major step towards lowering CO2 emissions for passenger services; because that is what high-speed rail lines do, through connecting cities and bringing them closer to each other.
The mission is multi-faceted. The aim of the negotiation mission is to expand public transport services, improve accessibility and stimulate housing construction in Sweden's three major cities: Stockholm, Gothenburg and Malmö. At the same time, infrastructure investments across Sweden will enable the construction of some 100,000 new homes.
Effectively, the negotiation also entails the co-financing of infrastructure projects, in which multiple parties will be actively involved. The negotiators have the task to investigate and evaluate ways of financing. It could, for instance, be entirely financed by the Swedish government, but also relevant municipalities and county councils, as well as users and private investors, have been mentioned; at least in the opinion of the negotiation group. The government's negotiators will therefore travel around Sweden in the autumn to meet municipalities, regions and county administrative boards.
Technically speaking, Sweden plan to develop its first high-speed rail line, with speeds of up to 320km/h, as soon as possible. Trains must be able to run from Stockholm to Gothenburg in 2 hours, and to Malmö in 2 hours 30 minutes. The stated aim is that the high-speed rail lines will be completed by 2035.
The high-speed rail venture is a huge project for Sweden and an important investment for the country, but particularly for SJ. The negotiation group's analysis and choices will be crucial to the investment's delivery of all possible and essential effects.
SJ has performed two internal tasks: we have reviewed and assessed the entire market to achieve an overview of the key conditions, and we have worked through a business case for SJ which includes a calculation of how passenger volumes may change. This process has led to several conclusions.
The high-speed rail system's conditions for offering something really positive with radically increased train travel in Sweden requires a holistic approach and a clear and common vision that is shared by all stakeholders and players. A number of important conditions must also be in place.
However, we see a risk that the investment will not achieve the desired impact unless everything is done correctly. The essential conditions that we at SJ have identified are radically shortened travel times and a system with an exceptional robustness.
Endpoint travel times must be 2 hours for Stockholm–Gothenburg, and 2 hours 30 minutes for Stockholm–Malmö.
Robustness is crucial. Total confidence in high-speed train services is crucial to achieving the success we are aiming for.
The financing solutions will obviously be crucial to SJ and any others that decide to take on the challenge of operating high-speed trains on a commercial basis in Sweden. The prerequisites must also not exclude conventional rail-lines and other types of trains.
In terms of travel time, we have assumed that the planned line will be constructed for speeds of up to 320km/h. However, speed is not the only important issue for this line. As far as possible, the line must be connected to the destinations, otherwise we will face a situation with mixed lines which seriously endangers the robustness.
According to the current plan for the high-speed rail system, the high-speed lines join the existing main line on the way into Stockholm, Gothenburg and Malmö. We will, effectively, have a high-speed rail system with a 'mixed line' – and those lines currently have, and will continue to have, very high capacity utilisation. A punctuality level of 95% for high-speed rail services requires operational prioritisation that creates the right conditions. We are presently concerned that the final part of the route has been planned so that trains will run on the conventional rail line, and these very endpoints are exactly where today's most serious bottlenecks occur. If the robustness of the high-speed system fails, lack of confidence in the high-speed rail system may prove difficult for us. We would like to know whether it is possible to prioritise differently in order to build a high-speed rail line closer to Stockholm, for example.
However, the robustness of the future line may still be the most important issue. Routing and track quality are only the first steps towards a well-functioning high-speed rail system. However, robustness is critical for passengers deciding to travel by train. Robustness refers to punctuality, restoration capacity and length of delays. All three dimensions are affected by how services are planned and by operational prioritisation.
Another aspect affecting robustness is how the government agency with responsibility for Swedish infrastructure – the Swedish Transport Administration (Trafikverket) – will decide how the new lines are to be operated. One scenario is that the infrastructure owner decides to reduce capacity for high-speed trains with endpoint services to maximise opportunities for regional services. While regional services are obviously important, the high-speed rail line will free-up space on the existing conventional main line. Our firm opinion is that if the chosen solution does not meet the needs of endpoint services, the travel volume will not increase sufficiently to enable commercial viable business.
International experience shows that well-functioning high-speed rail systems require punctuality. The Swedish infrastructure owner has set a punctuality target of 95% for the high-speed rail line. That is positive. A punctuality level of 95% is sufficiently high, but this punctuality must apply to the entire high-speed rail system, meaning all the way into Stockholm, Gothenburg and Malmö, respectively – that is what matters to passengers.
Since we are still in the early stages of the process, is there any reason to revise the entire route to see whether anything more can be done?
Another challenge is the type of service that will operate the line – meaning the speed of the trains. International experience shows that systems with only high-speed trains are highly punctual, whereas systems with mixed services are significantly less punctual. A few European countries serve as less effective models and examples. In counties where the level of punctuality is less than 80%, which is lower than our inter-city rail services at present, this low figure is due to mixing services on the lines. Operating trains that run at speeds of 250km/h and 320km/h on the same line may be feasible, but when speeds drop to 200km/h, the difference is so great that robustness is affected.
The development and success of the railway has not been linear. In the 1980s, air travel captured market share from rail transport. Since the 1990s, rail transport has gradually recaptured market share from air travel. In the 2000s, passenger kilometres increased significantly. The increase is partly related to investments in faster, more modern vehicles, but also to SJ's transition from a public utility to a commercial company with a modern business model and, not least, dynamic pricing.
This development is positive from a sustainability perspective, in that travel is moving away from less sustainable modes of transport to trains, which have a limited environmental impact and provide an unbeatable means of travel in terms of safety.
It is high time to invest in the future. Infrastructure requires continued investment in general, and rail in particular, since only track-bound services can effectively solve our growing need for mass transport, not least in Sweden's three growth regions around Stockholm, Gothenburg and Malmö.
In Europe, high-speed lines have been developed, or are being planned, for trains travelling at speeds of 250km/h or more. France was first, and we can see that high-speed trains can replace air travel for journeys of up to 600km. When travel times fall below the two-hour mark, air travel can be replaced entirely, although in many cases, various modes of transport are working in unison. And, in Japan, the market share of high-speed rail is a full 30%.
In total, we can now in Europe travel on some 6,650km of rail, with an additional 250km in the foreseeable future, giving us a European high-speed network that stretches from Birmingham in the northwest to London, Paris, Lyon and Montpellier, Bologna, Florence, Turin, Rome and Naples in the southeast. And from Madrid in the southwest to Malaga, Seville, Barcelona, Perpignan, Brussels, Rotterdam, Hannover, Mannheim, Stuttgart, Frankfurt, Leipzig, Hamburg, Berlin, and Krakow in the northeast. A scenario whereby all of these are connected, with Sweden playing its part and taking responsibility for the Scandinavian section of the trans-European high-speed network, is fully realistic.
Now, Sweden needs to make the correct assessments and plans and roll-out the high-speed lines correctly. My approach and remarks are obviously far from sufficient for the Swedish high-speed rail venture, but I strongly believe they are necessary prerequisites for success, and for the development of a viable and sustainable high-speed rail system.
Biography
Crister Fritzson has been the Chief Executive Officer and President of SJ AB since 2012, and is also Chairman of the Association of Swedish Train Operating Companies, plus Board Member of Systembolaget AB – the Swedish state alcohol monopoly in Sweden. Prior to SJ, Crister was the CEO and President of the Teracom Group.
Issue
Related topics
Related regions